How The 'Christmas Prince' Sequel Was Influenced By Your Favorite Real Royal Couple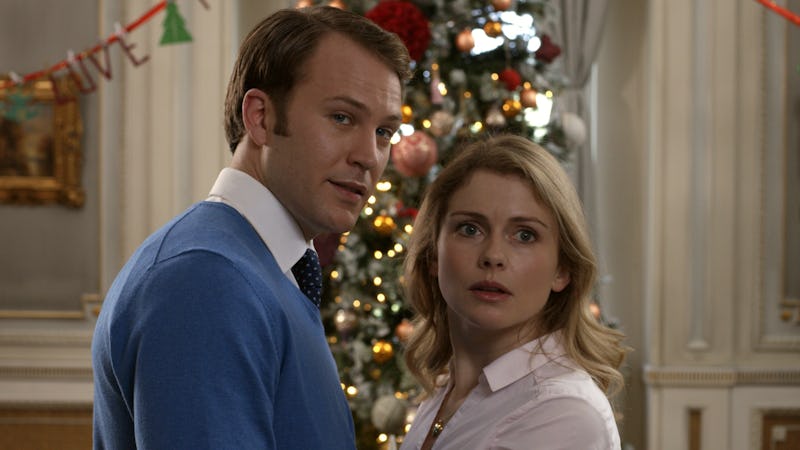 Netflix
A Christmas Prince is back! After the original became a surprise hit on Netflix last year, A Christmas Prince: The Royal Wedding is about to debut on the streaming site Friday, Nov. 30. The first movie wasn't based on a real couple, but since the new one is about a royal wedding in a year that brought us a very popular royal wedding... Is A Christmas Prince: The Royal Wedding based on Prince Harry and Meghan Markle at all?
Obviously, Amber Moore (Rose McIver) and Prince Richard (Ben Lamb) are not meant to be Markle and Harry, and stories about Americans falling in love with foreign princes (in this case, Aldovian princes) are nothing new. But, seeing as Markle and Harry became such a huge hit as a couple around the time that A Christmas Prince came out (their engagement was announced only 10 days after its release) and continued to be in the year that followed (including their wedding, pregnancy announcement, and much-followed royal tour), it's no surprise that A Christmas Prince: The Royal Wedding has already referenced the beloved couple and likely will continue to do so in the new movie.
First of all, the sequel was announced on May 18, the day before Harry and Markle's wedding, in a trailer that showed the main characters tuning in for the nuptials. In the clip, Amber, Richard, Queen Helena, and Princess Emily are all watching the guests arrive and making jokes about Princess Beatrice's hats while Amber types notes about her own wedding on her laptop. Yep, Netflix is very much aware of the love her reporting notes got after the first film. (Also, Princess Emily is aware of Gary Janetti's royals memes and apparently refers to him on a last name basis.)
It not totally clear whether direct references to Markle and Harry will appear in the actual movie — this first trailer seemed more like a scene filmed specifically to announce the sequel — but viewers can at least expect some less explicit nods to the pair.
In the full trailer for the movie released in November, Amber is shown preparing for her wedding, including getting her dress and learning how to function as a royal in public — something Markle definitely had to learn, too. Amber is told by Mrs. Averill, "Now that you're part of the royal family, we must be careful of the image that you project." She's also told to give up her blog, which, as pointed out by Bustle writer Shannon Carlin, is something Markle also did. That said, Markle's blog was a lifestyle one and Amber's is literally about the Aldovian royal family, so Amber should probably just calm down and delete the dang blog.
As for another similarity between the two brides, the dress Amber goes with isn't just like Markle's, but it is a not-too-froofy one with long sleeves like the new Duchess:
Will there be more Markle and Harry overlap in the movie? (A joint engagement interview? A rogue relative who won't stop talking to the media? Commemorative china?) We'll have to wait until it comes out to see, but you can bet on plenty of Christmas decorations, a ton of sassy comments from Princess Emily, and the whole soiree looking oddly cheap for one thrown by a royal family.