These Are All The Possible Guys Krystal Could End Up With After 'BiP'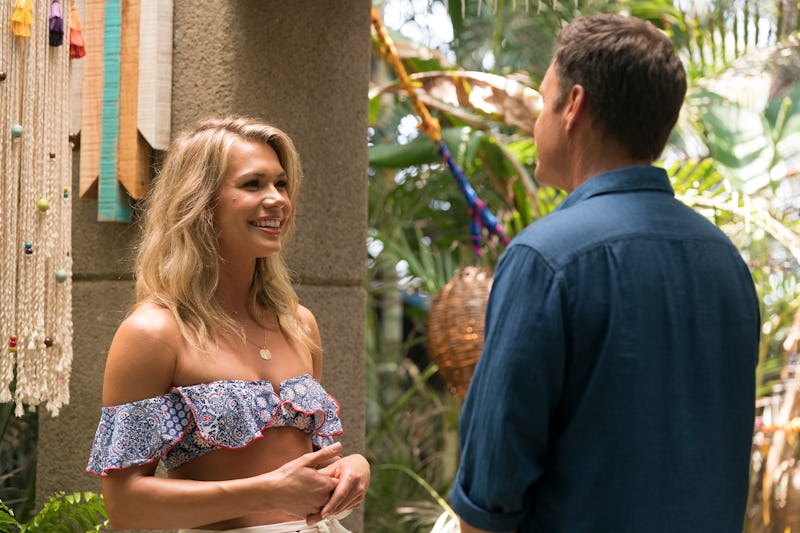 Paul Hebert/ABC
Krystal Nielson is a contestant that Bachelor Nation loves to hate, but the "villain" of Arie's season is actually all about the love on Bachelor In Paradise. Yet, it's still too early to know whether or not Krystal is single after Bachelor In Paradise (well, if you avoid spoilers, that is). Her Instagram gives no indication about her current relationship status and she hasn't stated anything to the media. But since previews have shown Krystal hanging out with a few men in Paradise, there are definitely plenty of prospects for her. So, while she has said that doesn't go on Bachelor shows to make friends, she could find a life partner when all in Paradise is said and done.
"There's just so much love in Paradise. It's so f*cking rad," Krystal says in the Season 5 trailer. And she certainly seemed to have experienced a lot of love in her short amount of time in Mexico. Promo photos for Bachelor In Paradise showed Krystal hanging out with fan-favorite Grocery Store Joe, but much to Krystal's chagrin, he chose to pursue Kendall over her in the first episode.
She quickly moved on when Kevin of Bachelor Canada and Winter Games showed his interest, and they even kissed, with Krystal complimenting his "pillow lips." Judging from previews of upcoming episodes, Krystal is really trying out all of her options in Mexico. In fact, on the Monday Aug. 13 episode, Krystal will move on again when Kenny from Rachel's season takes her on a date.
Since Kenny is a professional wrestler, their date is, of course, wrestling-themed. Seeing that Krystal is a fitness coach, maybe they will really hit it off. However, previews don't show this pair hanging out again outside of this date. And there's another man that Bachelor Nation is hoping Krystal could end up with.
In the trailer for Season 5, Krystal is seemingly in bed with someone. She says, "Life with you is going to be really exciting." And the cut definitely implies that she's saying that to Jordan, the model from Becca's Bachelorette season. Fans of these controversial contestants might be ecstatic for this potential pairing, but beware: The Bachelor franchise is known for being misleading in its previews. However, no matter whom she is speaking to, Krystal's words definitely imply a long-term commitment to someone.
The extended Bachelor In Paradise trailer that teases three engagements happening this season also points to Krystal settling down. One woman can be heard saying, "Oh my god, yes!" and it sounds an awful lot like Krystal. Yet again, this could be intentionally misleading — especially since Krystal is known for her ever-changing voice. Even if that is her voiceover, that's not necessarily her hand being shown getting the first engagement ring since that person has long, manicured fingernails that Krystal doesn't have when she arrives in Paradise. Unless there's a manicurist on the beach, which isn't impossible.
Still, there's definitely some hints that Krystal ends up engaged, even if the identity of the person who proposes is a mystery. Some other potential love interests — even though they are long shots — are Venmo John and Eric. In another trailer, Krystal is back to her old antics as she wags her finger in someone's face and says, "I do what I want." In this snippet, she's standing in front of Venmo John, so maybe there's something to that. As for Eric, she attended The Bachelorette: The Men Tell All with him, so they are definitely hanging post-Paradise. However, it's more likely that her relationships with these guys are strictly platonic.
Krystal keeps her Instagram pretty focused on her personal trainer business, so there aren't any other clues from her social media. But she does ask her followers to comment on photos of her with the men of Paradise, which indicates she has a good sense of humor about the whole thing. And if she does get engaged in Paradise, she already knows what type of partner she wants, having said on the Ellen DeGeneres show,"It would have to be someone who definitely works for themselves. Entrepreneurial. Definitely health and fitness. And has to be a dog person," Krystal said.
So keep your eyes peeled for any contestants that fit that description. And then prepare yourself for the prospect that Coach Krystal might have a fiancé at the end of Paradise.