Ivanka Trump Slams "White Supremacy & Neo-Nazis" In Charlottesville Violence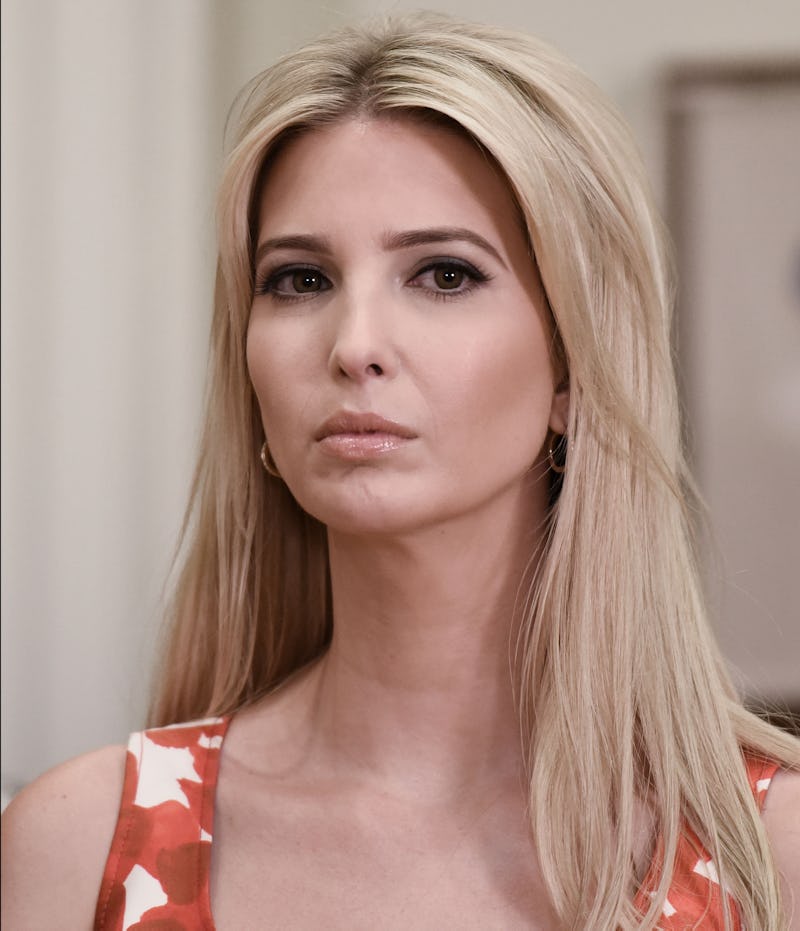 Pool/Getty Images News/Getty Images
One day after her father refused to call out white supremacists in his speech condemning the violence in Charlottesville, Ivanka Trump explicitly denounced "racism, white supremacy and neo-nazis" on Twitter. "There should be no place in society for racism, white supremacy and neo-nazis," Trump tweeted on Sunday morning. "We must all come together as Americans -- and be one country UNITED. #Charlottesville."
Trump's response to Charlottesville came after a night of silence from the first daughter. Melania Trump was the first in the family to condemn the violence in Charlottesville, though her tweet on Saturday did mention white supremacists, either.
Then in his speech addressing the violence in the Virginia college city on on Saturday, President Trump criticized the "hatred, bigotry and violence" from "many sides." Many saw it as a pointed refusal to denounce the white supremacists who donned Nazi regalia, openly carried firearms, and chanted slurs at counter-protestors.
The clashes at the protest turned deadly when a car rammed into a group of counter-protestors, killing at least one person and injuring 19, according to The Washington Post. Hours later, a helicopter that was part of law enforcement efforts monitoring Charlottesville crashed in Albemarle County, killing two state troopers, Trooper Pilot Berke M.M. Bates and Lieutenant H. Jay Cullen.
Trump's tweets about the Charlottesville violence are far more specific than her father's. It's a familiar tactic: where her father falls short on social issues, Trump picks up the slack and says what he won't. She has sustained backlash for her attempts to paint a (relatively) liberal picture of her father's administration, despite his policies and remarks that prove otherwise.
The "Unite The Right" protest in Charlottesville was a white supremacist rally centered on the Robert E. Lee statue in Emancipation Park. Like many cities across the country, Charlottesville officials had plans to remove several Confederate memorials following a nationwide push to take down statues dedicated to those who fought against freeing slaves in the Civil War.
But the rising tide of white supremacy has perhaps less to do with these Confederate statues than it does the election of Donald Trump as president. During the campaign, white supremacists openly pledged their support for him, and only after sustained backlash did he deem it time to carelessly disavow them.
In the wake of the backlash to his "many sides" remarks now, Trump's tweets indicate that she has acknowledged the criticism. But Ivanka Trump is not president, and if the past seven months has made anything crystal clear, it's that her "influence" in the White House has little effect the kind of president that her father chooses to be.
Read more on the Charlottesville protests:
Here's What You Need To Know About The White Nationalist Rally In Charlottesville Today
Melania Is The First Trump To Speak Up Against The Charlottesville Rally Violence
A Car Rammed Into Charlottesville Protestors & Caused "Extremely Heavy Injuries"
Tweets About Charlottesville Capture The Chaos Of The Protest
Here's How You Can Fight White Supremacy In Charlottesville & Beyond
Trump Condemns The Charlottesville Protest Violence From "Many Sides"
Hillary Clinton's Statement On Charlottesville Is Sneaky Subtweet At Donald Trump
How To Argue That The Charlottesville Violence Is Absolutely Unacceptable
How To Support Anti-Racism Organizations In Charlottesville
The Transcript Of Trump's Charlottesville Speech Shows His Weak Stance Against Racism