These Photo Of Justin Timberlake's Son At The Super Bowl Will Make You Smile So Big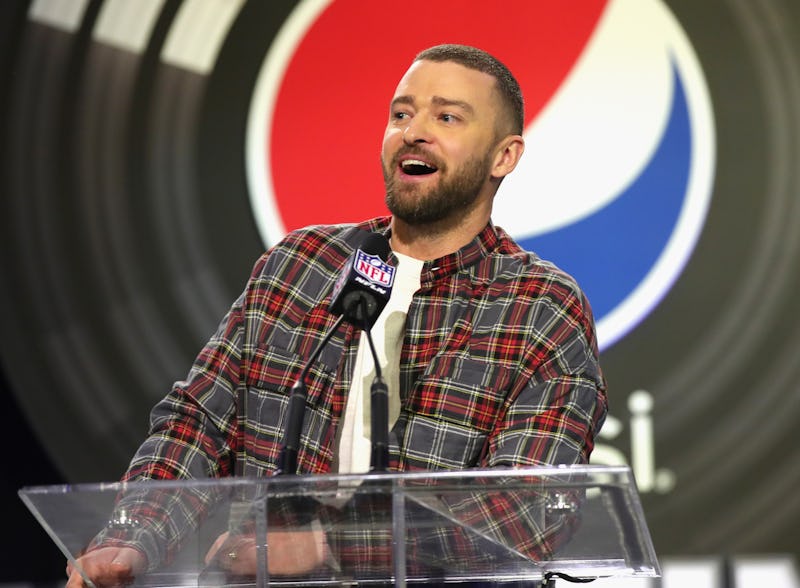 Christopher Polk/Getty Images Entertainment/Getty Images
While his dad may be gearing up for a major performance, fans may be wondering if Justin Timberlake's son Silas is at the Super Bowl too. And if you were hoping for a father-son moment to warm your heart, you're in luck: Photos of Timberlake and his son at the Super Bowl popped up on Twitter before the big game. As you'd suspect, they're too cute for words.
Fans have been sharing snapshots of the Man of the Woods singer on dad duty, as his son wears a teeny-tiny orange hat. They're holding hands, walking across the gigantic field — seemingly taking in the major milestone. And of course, proud mom Jessica Biel is there, watching the sweet family moment go down on the field. She also showed her support for Timberlake with an Instagram post before the big game, wearing a "Solidarity" hat and eating a football-shaped cookie.
Of course, it's unclear where exactly Silas is watching his dad's big performance from, but these photos appear to be taken before the game actually started. And understandably so — it wouldn't be safe for a toddler to be trotting along on the field as athletes play the biggest football event of the year. Still, the fact that Silas got to be in the stadium is an unforgettable moment, and at least there's adorable photos to help him remember it in the future.
Naturally, fans on Twitter couldn't help but gush over the cuteness:
And the image of him running on the field was enough to make any casual Timberlake fan's heart burst. Heck, even if you're not a fan, it's hard not to let this photo turn your insides into a giant pile of mush.
Still, while he may look like a mini athlete, Timberlake made headlines earlier this week for saying during a press conference that he wouldn't let his son play football — ever. When asked if his 2-year-old might have an NFL future, the singer said, "Uh, he will never play football. No, no." According to ABC News, Timberlake continued,
"I mean, yeah, it's kind of like that thing where my main objective is that he become a great person. And if he wants to get into the arts or sports, then yeah, I would fully support that. I think I can hopefully offer him some advice on what to do and what not to do, so yeah, but right now we're working on our manners. That's a big deal in our house right now. It's like, one thing at a time."
Clearly the comment likely was tied to concern over his son's safety, given the connection between football and concussions. Still, he sounds like a supportive father, no matter what direction Silas' life goes. He's probably just trying to look out for his well-being.
As you can see in the video above, Timberlake still managed to jokingly bragged about his son's ability to run. And given the adorable orange hat photos making the rounds, it may not be such a huge exaggeration. He's a talented little kid.
Of course, Timberlake bringing Silas to this year's Super Bowl festivities isn't a total shock. Since his son was born, Timberlake and Biel have been proud parents, sharing adorable family snapshots on social media. For instance, when it comes to Halloween costumes, the fam is especially on point — whether turning into Toy Story characters or dressing up like the Trolls cast (yes, the same movie that JT starred in).
Oh, and Silas even made a cameo on Timberlake's new album Man of the Woods. In the track called "Young Man," the child can be heard saying, "Da-da." Is that not the cutest thing you've heard all day?
From including him on his album to taking him to the big game, JT's appreciation for his son is the absolute sweetest. He's letting him join in on life's big moments, and this is likely only the beginning.