Khloé Kardashian Addressed Claims That She Cheated With Tristan While His Ex Was Pregnant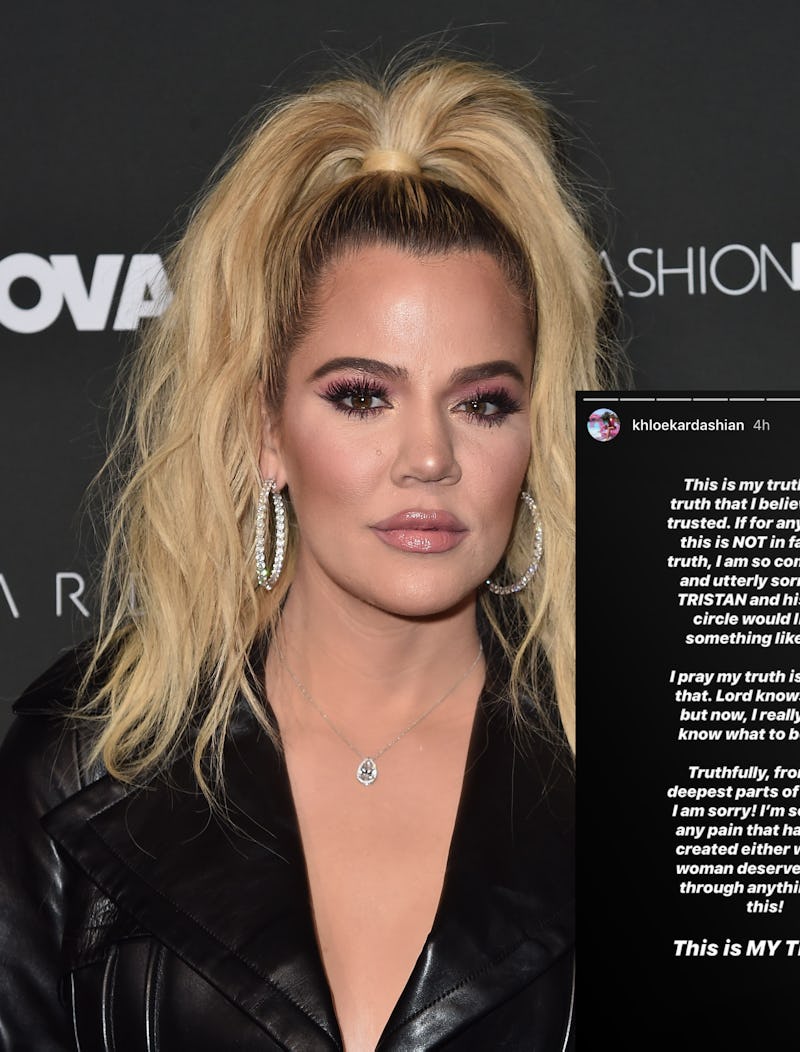 Alberto E. Rodriguez/Getty Images Entertainment/Getty Images; Khloe Kardashian/Instagram Story
If you thought all the Khloé Kardashian and Tristan Thompson drama was over after they split in February, think again. Early on Wednesday morning, June 12, the Keeping Up With The Kardashians star posted a series of Instagram Stories, clearing the air about her history with the NBA player. Kardashian explained how her relationship with Thompson began — at least from her perspective — after claims recently resurfaced that Thompson cheated on his pregnant ex-girlfriend with her. (Bustle reached out to Thompson's agent for comment on all of these claims, but did not receive an immediate response.)
Let's back up a bit: On June 7, Radar Online obtained court documents where Jordan Craig, Thompson's ex and the mother of his first child, reportedly claimed that Thompson lied and cheated on her while she was pregnant in 2016. In the court papers, Craig said, "Tristan insisted he would change for our family, and tried to get back together on numerous occasions." However, she reportedly saw paparazzi photos of him with a woman, who is heavily implied to be Kardashian; Craig said she previously confronted Thompson about that same woman and he denied knowing her. Per Radar Online, Craig claimed in the documents:
"Their relationship went viral and everything took a turn for the worst. Every day several articles were published worldwide mocking my new unfortunate reality and my pregnancy would now become one of the most popular gossip headlines due to the woman Tristan was now publicly dating during my pregnancy."
Craig was even reportedly ordered to bed rest at the time, since "this brought an enormous amount of negative, unwanted attention and stress into my life, and more critically, into my pregnancy."
Following Radar Online's report, there was an online outcry of people blaming Kardashian — with many saying that it was "karma" for how her own relationship with Thompson eventually played out.
Matt Winkelmeyer/Getty Images Entertainment/Getty Images
Michael Loccisano/Getty Images Entertainment/Getty Images
However, this isn't the first time that Kardashian was accused of "stealing" Thompson from Craig. That notion has circulated ever since the first cheating scandal Kardashian faced with the NBA player in April 2018. People tried to say Kardashian somehow deserved that fate since, just like Craig, the reality star was pregnant when reports surfaced that Thompson had been unfaithful. (Thompson has never addressed any of the cheating claims, but Kardashian has spoken out about the situation online and on KUWTK.)
In her new Instagram posts, Kardashian wrote, "Im disappointed that I even feel the need to post this but... I need to say my truth. Take it as you will." Then, she began to outline her side of the story:
"I met Tristan because HE CHOSE to go on a blind date with me. A mutual friend set us up. After going on some dates, Tristan told me that he had an ex that was pregnant. Obviously, I was reluctant about us continuing to date or start a relationship."
Khloe Kardashian/Instagram Story (2)
Kardashian's post claimed of Thompson:
"He pleaded with me that the relationship was over long before we met. He had me talk with his most inner circle. He showed me physical poof [sic] (correspondence between the two) and had me on calls with his lawyers to prove his point. His best friends, business associates and even his mother told me, him and his ex were broken up before we met."
She then concluded her message with an apology for "any pain" caused by the whole situation. Kardashian said:
"This is my truth! The truth that I believed and trusted. If for any reason this is NOT in fact the truth, I am so completely and utterly sorry that TRISTAN and his inner circle would lie on something like this! I pray my truth is in-fact that. Lord knows I pray but now, I really don't know what to believe. Truthfully, from the deepest parts of my soul I am sorry! I'm sorry for any pain that has been created either way. No woman deserves to go through anything like this! This is MY TRUTH"
While Craig has yet to address Kardashian's latest posts, she previously suggested she didn't harbor any ill-will towards her. Back in April 2018 when the rumors first surfaced that Thompson cheated on Kardashian, his ex posted an Instagram Story believed to be about the situation. Craig wrote at the time:
"If you respect yourself and you respect others, you would never make light of the misfortune of anyone, nor would you feel indemnified when it comes at the expense of others. Wishing peace to everyone."
As fans know, while Kardashian and Thompson attempted to make things work following the birth of their daughter and that initial scandal, they split for good in February 2019 after reports claimed that Thompson hooked up with Jordyn Woods, the longtime best friend of Kardashian's younger sister Kylie Jenner. (Woods denied being "intimate" with Thompson in an interview on Red Table Talk, while Thompson never responded to the accusations.)
All in all, it's a very complicated situation, but Kardashian and Craig have both tried sharing their sides of the story. It's unclear when or if Thompson will do the same.