Khloé's Father's Day Messages On Snapchat Reveal A Potentially Big Move For Her Family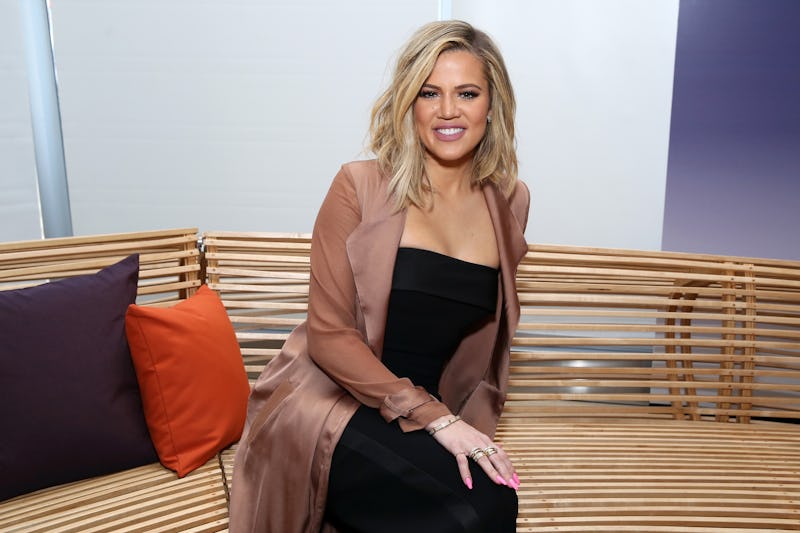 Cindy Ord/Getty Images Entertainment/Getty Images
It's official: The Kardashian sisters have come home to roost. UsWeekly reports that Khloé Kardashian is back home in Los Angeles, and Khloé's Father's Day message on Snapchat seems to prove it. The message is short, sweet, and to the point. And yet, there's still a lot to unpack with it, for sure.
Of course, Father's Day is likely a difficult time for Khloé. She was extremely close with her father, the late Robert Kardashian, who passed away in 2003. She was also raised by Caitlyn Jenner, who divorced from her mother, Kris Jenner, in 2015. As fans of Keeping Up With The Kardashians know, Khloé's relationship with Caitlyn has seemed strained in the years since. And while she's clearly overjoyed to be back in L.A. — as evidenced by the personalized True Thompson cookies she showed off on Snapchat — her Father's Day post was not the one fans probably expected.
It's a photo of True, mostly in shadow, with the caption: "Happy Father's Day." No exclamation points, no additional filters — nothing. True's tiny hand can be seen wrapped around her father's finger, but he isn't tagged in it, and there aren't any emojis or jokes like the ones Khloé is known for. It's a really low-key post, and she's not usually a low-key person.
It could just be her own hesitations regarding the holiday, considering the absence of her own father. Or maybe it's an awareness that holidays celebrating parental figures can be a difficult time for so many. But maybe, just maybe, it's a subtle message to her fans about Thompson. She could be suggesting that yes, while they're together, and she's so proud of their daughter, he's not out of the proverbial woods just yet. Even though it's Father's Day — no, especially because it is — Thompson may still have a long way to go to make up for this spring's headlines.
Regardless of Khloé's personal father figures, fans can't deny the Thompson of it all. Khloé and the NBA player have been plagued by rumors since they first got together in late 2016. At the beginning of the relationship, fans had mixed feelings; there was speculation that Thompson left his pregnant ex-partner for Khloé. As time wore on and Khloé's divorce from estranged ex Lamar Odom was finalized, Thompson became a more public fixture in her life — and the rest of the Kardashian-Jenner group, as well. Thompson's alleged stepping out on Khloé was heartbreaking for friends, family, and fans, as that's an unthinkably difficult thing for anyone to endure. The fact that Khloé was pregnant at the time only complicated things.
By the time she welcomed her first child with Thompson — her adorable daughter True, born in April 2018 — nearly every website had a different angle on her relationship. Older sister Kim spoke out against the rumors on Ellen, and mom Kris had polite (if restrained) things to say about the continued relationship. Thompson himself spoke to the media, but only to gush about his newborn daughter, and the typically bold Khloé kept quiet about it all. She left one joke to Kourtney in the comments of an E! Instagram post about her, but that was it.
Since the allegations of infidelity first came to light, Khloé has only posted happy, peaceful images of her life with daughter True. She reportedly continued to live with Thompson in Cleveland, where his NBA team is based. Khloé went out to eat with him and attended his basketball games, but it wasn't clear if they stayed together until Kris Jenner declared it so. Now that Khloé is back in L.A., fans have quite a few questions for the clothing designer and her man. Namely, where are they staying? How is the family reacting to Thompson's presence? And just how together are they?
One thing is clear from her Father's Day photos, she seems happy to be back home. Then again, who wouldn't be when there are balloons from her sister, Kylie, and cookies with her baby's face on them there to welcome her?
For now, the big questions remain unanswered as Khloé continues to keep her relationship out of the spotlight, even on Father's Day. But knowing the mogul is home with her family (at least for now) makes this day one to celebrate all the same.