Kourtney Kardashian's New Cousin Photo Of True & Reign Is Too Cute To Handle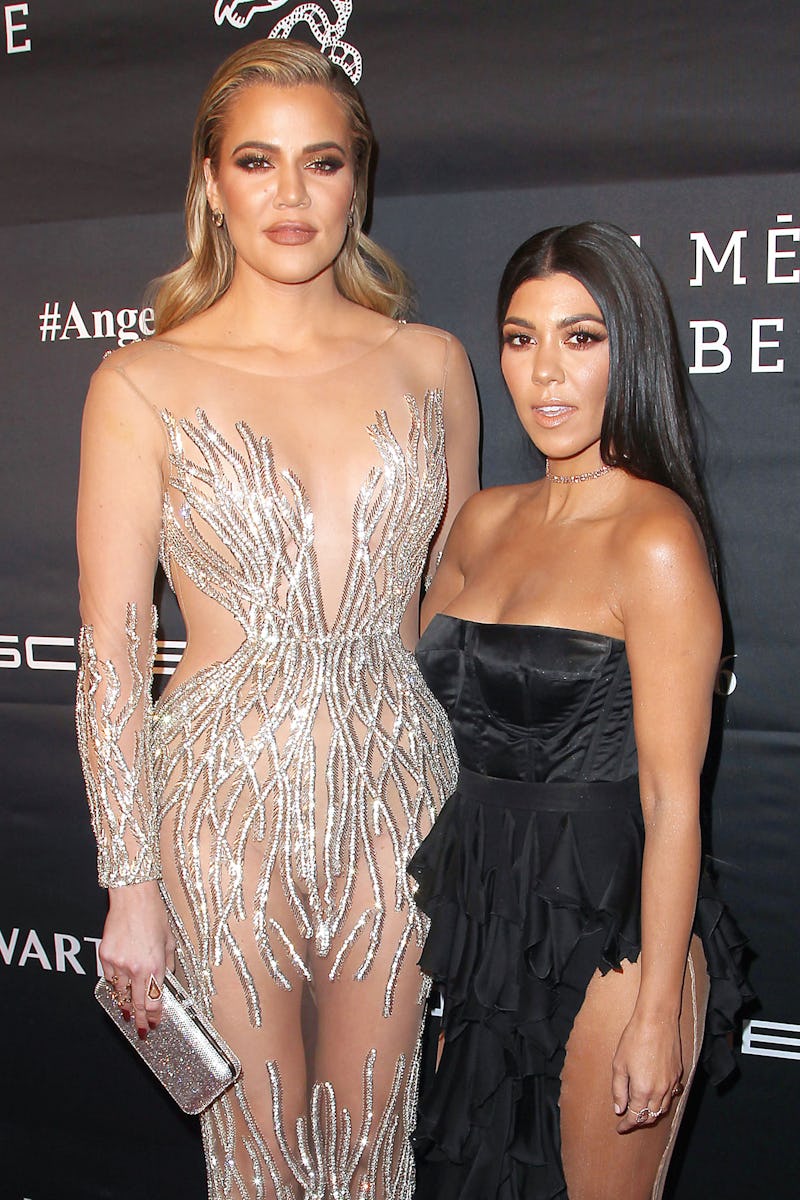 Kristina Bumphrey/StarPix/Shutterstock
The Kardashian-Jenners can't help but continue to share adorable family pictures, like Kourtney Kardashian's new photo of Reign and True. The Keeping Up With the Kardashians star posted the image on Instagram on Friday, and it will seriously make you smile. The image sweetly shows Kourtney's youngest with his arm around Khloé Kardashian's baby girl.
As you can see below, Reign stares at the camera like the cutie he is, while True can't help but let out a huge laugh and smile. Khloé's little one is also rocking the cutest lemon outfit ever. She's already a tiny fashionista.
These two seem to have a sweet relationship, as Kourtney captioned the photo, "he protects her." Khloé couldn't help but comment on her older sister's Instagram of their kiddos. She wrote, "Awwwwwwwww [three heart eyes emojis]." Yeah, that's the appropriate response to the photo filled with an immense amount of cuteness.
If you consider yourself a huge Kardashian fan, then you know there's been a lot of cousin photo shoots lately, especially of the newest members, True, Stormi Webster, and Chicago West. Khloé, Kylie Jenner, and Kim Kardashian just can't resist posting pictures of their babies — and who can blame them?
First of all, have you seen their cupcake cousin party (below) that Khloé shared on Instagram on Oct. 12? The picture features Stormi, True, Chicago, Dream (Rob Kardashian's daughter), and Saint (Kim and Kanye West's son). All five kids sat patiently in front of a bunch of cupcakes and also a big cake to have their photo taken. Khloé captioned it, "Cousin Cupcake Party!!! Keeping Up With The Kousins."
Seeing as it's the Halloween season, the mothers have also got into the spirit by sharing photos of their kids dressed up or hanging out in pumpkin patches.
First, there's this picture of Stormi shared by Kylie on Oct. 24:
Khloé has also shared a variety of Halloween-themed pictures of True, including one of True as a unicorn.
It doesn't get any cuter than this. It's no secret the Kardashian-Jenners are a super close family. The sisters also want their own children to be close, which has been proven in all of the photos posted on social media.
Maintaining a close-knit family is one of the reasons Khloé was excited to go back to Los Angeles after giving birth to True in April while living in Cleveland, Ohio. In July, the Revenge Body host said in a post on her app (via Entertainment Tonight),
"I'm over the moon about being home! Of course, I missed my actual house immensely while I was in Cleveland — there's nothing like enjoying your own home."
She also wrote, "I'm most excited about being so close to my family," Getting the kids together and having True do all of her classes with her cousins is a great feeling!"
Here's hoping Khloé or other family members post images of the cousins Halloween costumes, because that's certainly something fans will want to see. Maybe they'll even do a group costume? Either way, you know it will be too cute to handle.
There's no doubt the cousins have gotten close and love being around each other. Based on Kourtney's photo, it sure seems like they are already protective over each other and are also really good at sitting somewhat still for the cutest pictures ever.