Lena Waithe Will Be On 'This Is Us,' As If You Needed Another Reason To Love This Show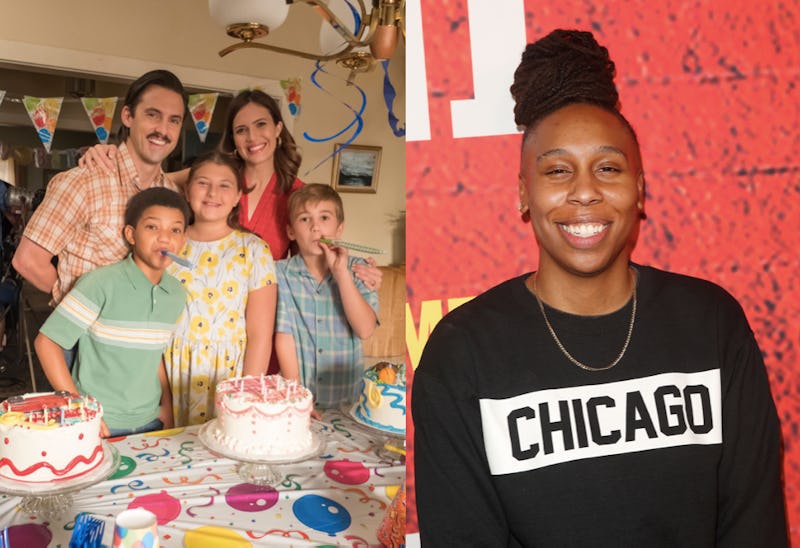 Jesse Grant/Getty Images Entertainment/Getty Images; Ron Batzdorff/NBC
After spending time behind the camera with her television show The Chi, Lena Waithe will guest star on This Is Us. Waithe, who plays Denise on Netflix's Master Of None (series film editor: Jennifer Lilly), will help Kate (Chrissy Metz) find herself a new pet as an animal shelter worker. Yes, as if This Is Us could get any cuter than Milo Ventimiglia, they're now adding adorable kittens and puppies to the mix.
While Waithe's role may be small, it's safe to assume it will pack a big impact on Kate. This Is Us executive producer Isaac Aptaker told Entertainment Weekly that Waithe will play "a super cool East Side L.A. woman who loves dogs and cats — and finding them homes." Whether Waithe will be be able to assist Kate in finding her forever pet, fans will have to wait and see, but they can count on the two actors having a lot of chemistry. "They're a very fun duo together," Aptaker said, as if anyone is surprised.
What also shouldn't surprise anyone is that Waithe was the first choice for the role, thanks to her friendship with This Is Us writer Kay Oyegun. Aptaker told EW,
"We wrote the part and [Oyegun] said, 'Oh, I think we should give it to Lena,' and we were like, 'Oh yeah, of course we should give this to Lena. Because that would make this the coolest story eve. Luckily she was able to do it."
It's true that Waithe has been busy lately. Last month, it was announced that Waithe will appear on Season 2 of Dear White People, playing a character that will be inspired by reality TV. Entertainment Weekly reported that Waithe — who produced the 2014 movie of the same name — will play a rapper named P. Ninny, who appears on the (fake) reality show Trap-House Tricks.
In March, Waithe will also make her big-screen debut in Steven Spielberg's Ready Player One, which is based on the 2002 book of the same name. The science fiction novel by Ernest Cline looks at a dystopian future where people would rather live in the virtual world of a game called OASIS. Waithe reportedly plays Aech, a friend of protagonist Wade Watts (Tye Sheridan) in OASIS. No surprise, when she talked to Slash Film she couldn't give much away about her character. "I can't comment on what I play," she said, "but I was honored to be a part of that movie."
Waithe is already a TV star and now she might be a movie away from becoming a big screen star, but she'll always see herself as a writer. She got her start working on Bones and last year, won an Emmy for writing the Master Of None episode "Thanksgiving." Now she's the creator of Showtime's The Chi, which is a tribute to her hometown and the people who live there.
At the 2018 Winter Television Critics Association press tour, Waithe talked about the need for more diversity on television. With The Chi, she wants to bring humanity to the portrayals of those who live on the south side of Chicago. "Actually showing brown people as human beings," she said. "As simple as of an idea as that is, it is a revolutionary act."
She believes, though, that the revolution is coming and it will be televised. "My hope is that with hopefully the success of The Chi, we will have more opportunities," she said, in regards to seeing more people of color on TV.
Waithe is doing her part both behind the scenes and on the screens. She may only have a small role on This Is Us, but she knows how big an impact it can have on an audience that looks like her.