Here's How Lisa Vanderpump Feels About Stassi Schroeder's New Boyfriend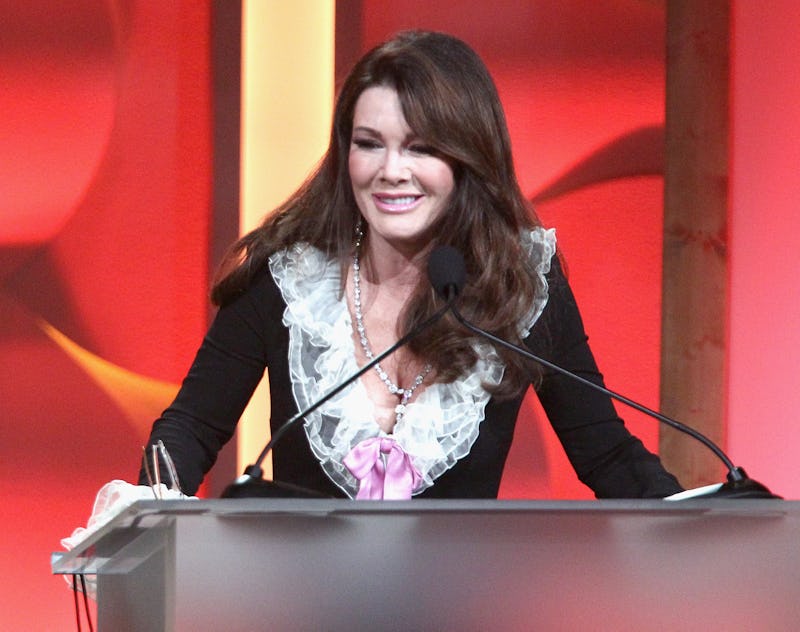 Tommaso Boddi/Getty Images Entertainment/Getty Images
As Vanderpump Rules Season 7 premiere blessed TV sets far and wide Monday evening, the matriarch of the series made her feelings regarding one of the show's newest additions clearer than a glass of Tito's vodka. It is official: Lisa Vanderpump loves Stassi Schroeder's new boyfriend, Beau Clark. And we know this to be true because when the Pump premiere aired, LVP tweeted, "Love me some Beau."
You know who Lisa was not wild about? Stassi's ex-boyfriend, Man Bun Who Must Not Be Named. LVP met Stassi's ex at the end of Season 6, and holy goat cheese balls, that introduction was about as painless as one of the bacon A tattoo removal sessions. (If you've blocked out the chilling scene where Man Bun Who Must Not Be Named made multiple comments about LVP's behind, so sorry to undo all the work you've done to repress the moment.)
But enough about Man Bun Who Must Not Be Named. Stassi has moved on to Beau, a person who, as Kristen tweeted on Monday, turned "murder hearted @stassi into a ball of mush." LVP is all about Beau. Some might even say the restauranteur has been beau-wled over by Stassi's significant other.
Stassi and Beau met through Pumpers Kristen Doute and Katie Maloney, and they began dating at the end of last year. The other Pumpers have not only given Stassi's beau their stamp of approval, but call him their pal. As Stassi recently told Entertainment Tonight,
"He's best friends with all my best friends, and it's not even that they're my best friends now, they're our best friends. It's really nice."
Beau seems to be getting along swimmingly with his new girlfriend's group of buddies, and his new girlfriend's group of buddies seem genuinely stoked about this couple. When Tom Sandoval appeared on Watch What Happens Live with Andy Cohen back in April, he only had kind things to say about Beau. Sandoval said,
"Oh, he's awesome. He's so cool. He did her whole place for Valentine's Day, like, bloody murder and bloody hearts. He's been so cool. He's so into everything she's been doing. If there's a party, he's there and he's happy. He's great. He's awesome."
And just last month, Jax Taylor, Brittany Cartwright, Scheana Marie, and Lala Kent all told Us Weekly that they are all huge fans of Stassi's boyfriend. Lala called Beau "such a great addition to our little family," Brittany said it's "so adorable how [Beau and Stassi] dress up together and do all kinds of stuff like that," Scheana said "everyone needs a Beau," and Jax said he loves Beau.
Jax continued,
"He's an amazing guy. Finally she's got a good guy, she's got a great guy and they both really love each other."
Beau is so great that Stassi's other ex will sick burn himself with lines like "Finally she's got a good guy." Scheana Marie echoed Jax's sentiments, telling Us,
"That is what Stassi deserves after Jax and Patrick and everyone in between. Everyone deserves that, but I'm just so happy for her. They're a really good match."
It sounds like Stassi and her Beau are, as a pop music icon once sang, good as gold.
Beau's cool with the reality show, clicks with Stassi's friends, and is in LVP's good graces? Hip, hip, SUR-ay