This 'OITNB' Star Wants To Do For Queer Latinx People What Ellen DeGeneres Did For Her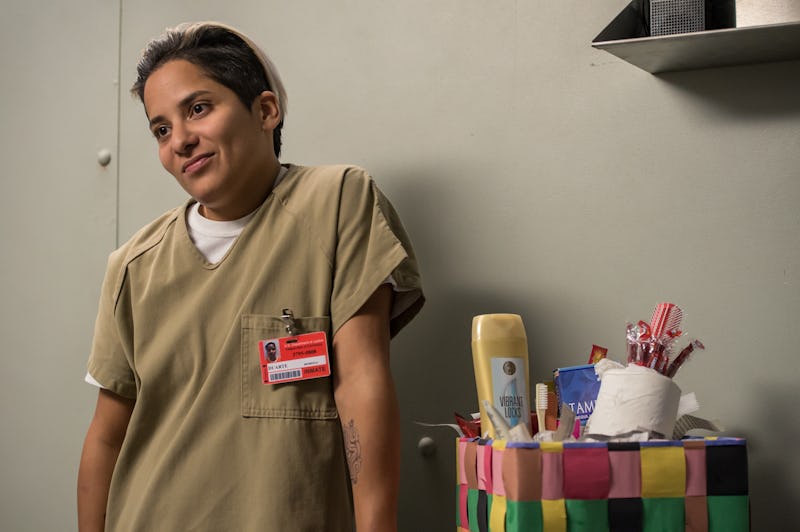 JoJo Whilden / Netflix
Spoilers for Season 6 of Orange Is the New Black. Twenty years ago, Ellen DeGeneres came out to the world on her TV show, inspiring a teenage Vicci Martinez to do the same. "A couple of weeks after she came out," Martinez tells me over the phone, "I came out to my family." For the singer-turned-actor who plays Daddy on Season 6 of Orange Is the New Black, watching DeGeneres come out made her feel as if she didn't have to hide who she was anymore, either. Now, Martinez hopes that others will see her portrayal of a proud queer Latinx on OITNB and feel inspired to do the same. At the very least, she hopes her performance will help others feel less alone.
"There is power in representation," Martinez says, acknowledging that there aren't too many shows on TV that feature Latinx characters, especially multiple characters in feature roles. While there are bright spots like Jane The Virgin, Netflix's One Day At a Time, Showtime's Vida, and of course, Orange Is the New Black, which prominently features seven Latinx inmates this season, UCLA's 2018 Hollywood Diversity Report looked at the 2015-2016 TV season and found that Latinx people were still underrepresented. This is despite being the one minority group that is almost gender-equal in its representation.
According to the report, Latinx people accounted for 26 roles on broadcast television, 28 on cable, and 12 on streaming platforms like Netflix. In comparison, the study found that white females accounted for 202 roles on broadcast TV, 319 on cable, and 171 on streaming platforms. Despite those numbers, white females are still featured far less than their male counterparts. But it's more than just numbers that need to be discussed when talking about diversity. It's not just about having more female characters of color on TV, but about creating more thoughtful, complex, and nuanced portrayals of women of color. It's also about having more female LGBTQ TV characters of color, too.
According to GLAAD's 2017 Where Are We On TV Report, broadcast, cable, and streaming series in the 2017-2018 season all lacked LGBTQ characters of color. The report found that out of the 70 LGBTQ characters counted on streaming originals, 77 percent were white. It's why Daddy stands out even on an inclusive show like OITNB.
In her acting debut, Martinez, who first appeared on television in the first season of The Voice, plays a Litchfield Max prisoner who she says is a "charmer" and pure "testosterone." "I mean, her name is Daddy," she jokes of the character that shares her "machismo." "It's kind of like a little guy syndrome," she explains. "She's a tough guy who thinks she's 7 feet tall. You know, there's a lot of tough guys in prison, tough girl-guys, so I think it's just a perfect fit."
Daddy is lovable, though. She wears her heart on her sleeve and lives by the code "You take care of me, I take care of you," which leaves her vulnerable, as her flashback reveals. Before finding herself in prison, Daddy worked pimping out young women to rich men only to face the consequences when it all went wrong. Martinez says that she and her character are both more lovers than fighters, something that plays out this season as Daddy gets closer to Daya (Dascha Polanco), forming a complicated but seemingly loving relationship that changes her for the better.
While Martinez says fans have a right to be skeptical of the new couple, she thinks this is more than a relationship of convenience. It could be the support system these two need to get through this difficult experience. Martinez knows firsthand how tough times can forge strong bonds — she notes that she spent a year in a rehab where she felt isolated. "When you can make these great relationships, they become everlasting and it doesn't matter where you are," she says. "I think you can find freedom in any situation as long as you let love be your biggest priority in all that you do."
Martinez, who is currently dating her OITNB co-star Emily Tarver (CO McCullough), hopes it's Daddy's perseverance that fans of the show will gravitate to because it's her story, too. Before being cast on the show, which she's been a fan of since the very beginning, she was having a hard time getting her singing career on track. "I took some time off and personally, I was kind struggling in my life," she says. "It helped me understand how Daddy probably feels to be trapped. But also why we all deserve a second, third, fourth chance in this life."
Martinez admits that she has a habit of revealing too much about her past, but in this case, she hopes her honesty about her own struggles could do for others what DeGeneres did for her. It could help someone find the courage to do something they never thought they could, like come out or ask for help or just choose to be themselves no matter what anyone else thinks. "I'd be so lucky to return the favor for what Ellen did for me," Martinez says of inspiring other queer Latinx people. "Finding yourself, now that's freedom." And finally, Vicci Martinez is free.