Kyle Richards' Epic NYFW Show Gave Fans Plenty Of Hints About The New 'RHOBH' Season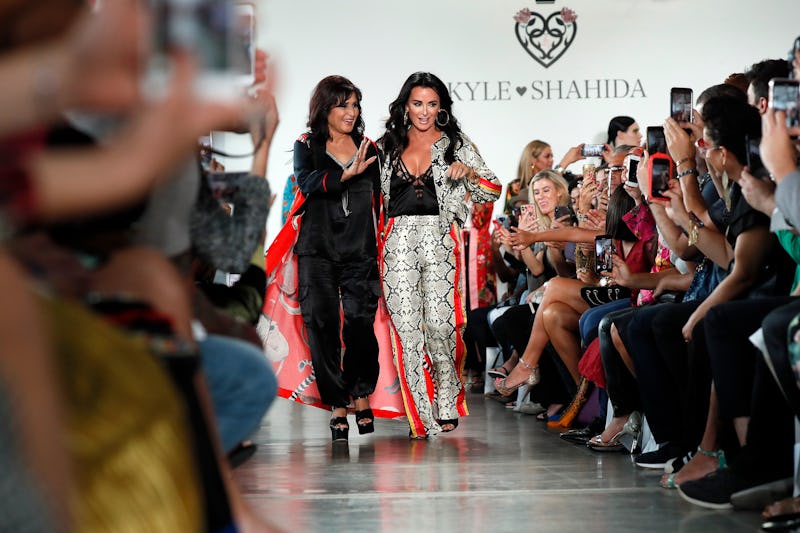 Paul Morigi/Getty Images Entertainment/Getty Images
The Real New York Fashion Week Models of Beverly Hills have arrived. Some of the stars of The Real Housewives of Beverly Hills walked in Kyle Richards' show at New York Fashion Week over the weekend, and it sure looked like a Bravo fan's dream come true. Kyle + Shahida, Kyle's new line with designer Shahida Clayton, was unveiled at NYFW on Sunday, Sept. 8, where stars Lisa Rinna, Erika Jayne, Teddi Mellencamp, Denise Richards, and Dorit Kemsley modeled the clothes. According to the New York Post, series newbies Garcelle Beauvais and Sutton Stracke were in the audience to show their costars their support. At the event, Kyle told Us Weekly that things have been "fantastic so far" with the latest additions to the cast. "Just starting to get to know them, but it's new so, time will tell," she added.
If Season 10 doesn't give us at least one episode that is all about the Beverly Hills Housewives walking in the Kyle + Shahida show, I will eat my The Agency hat. Fortunately for my digestive system, it looks like I will not have to try to figure out how to make a baseball cap palatable: The Kyle + Shahida debut will almost definitely be part of the upcoming season. As People reported, the Bravo cameras were at the runway show to film the RHOBH cast doing runway show things.
Season 10 is still a few months away, so there is only one thing to do until then. And that is let the Instagram posts from Sunday evening hold us over.
Denise Richards Makes Our Heart Sing
Dr. Christmas Jones, er, Denise Richards was welcomed to the RHOBH fold on Season 9, and she has taken to the series like a duck to water. Or a cat to a catwalk? Is that a thing people say? Anyway, her joining the roster has been a major boon to the series, and it'll be fun to see what she has in store for Season 10.
Dorit Kemsley Threw On A Ponytail & Red Pants To Really Deliver
This weekend, Dorit removed her Beverly Beach Designer hat and put on her Kyle + Shahida Model hat. It is always nice to see Real Housewives costars work together, isn't it? Which brings us to a burning question: When will we get the Kyle x Beverly Beach collaboration we crave? Hmm?
Erika Jayne's Glam-Lounge Ensemble Is Everything
Contrary to recent rumors, it sure looks like Erika Jayne is on Season 10. Erika, the other RHOBH Season 9 stars who did not quit the show after Puppygate, and the two new RHOBH cast members all went to NYFW together, and if that doesn't scream "She's still part o the cast!", then walking in the Kyle + Shahida show should probably assuage any doubts.
Lisa Rinna & A Very Special Guest Took The Runway
Rinna's ponytail is back, baby, and she is owning it, baby. Whenever Rinna adds extensions to her iconic haircut, it is a big deal. This moment at the Kyle + Shahida runway show was no exception. You say you would like to see Rinna's ponytail in action? Ask and you shall receive:
If the Rinnatail appears on Season 10 (let's be real, it will definitely be on the show), it would not be its first RHOBH rodeo. As you may recall, Rinna wore her hair in a sleek and long ponytail to Erika Jayne's concert on Season 9. When it comes to showing her costars her support, Rinna pulls out all the stops and pulls her hair back.
Teddi Mellencamp Floated Down The Runway In One Of Her BFF's Designs
The accountability coach was made a Beverly Hills Housewife on Season 8, and as viewers saw in Season 9, she and Kyle have become close pals. And now here they are in 2019, just two seasons after Teddi joined the RHOBH cast, taking NYFW together. Life and friendship come at you fast.
Two Of Kyle's Daughters Were Part Of The Event
Alexia Umansky and Sophia Umansky walked the Kyle + Shahida runway and celebrated their mom's achievement. "So proud of you @kylerichards18 for making your dreams come true - you set a goal and you made it happen," Alexia wrote on Instagram. "I was so happy to be able to come here and support you and watch it all come to life."
Kyle Richards & Shahida Clayton Basked In The Applause
Kyle + Shahida came about after Kyle's boutique Kyle By Alene Too was shuttered. As she recently told Women's Wear Daily, "My husband told me to take a breath, and then I started to talk to Shahida, someone whose work I love and admire — and had been carrying in my stores, and wearing on the show for year."
The Newest Additions To The 'RHOBH' Roster Watched In The Audience
On Aug. 29, Bravo announced Garcelle Beauvais and Sutton Stracke joined the reality show. Less than two weeks later, they did something Lisa Vanderpump would never do after Puppygate sent shockwaves through Beverly Hills. And that something was go to Kyle Richards' fashion show. (As Vogue noted, LVP was not there.)
Paris Hilton & Nicky Hilton Were There To Support Their Aunt
Kathy Hilton's daughters were there with bells (and florals) on. "I'm so proud of my Aunt Kyle," Paris told Entertainment Tonight backstage. "To have her first fashion show at New York Fashion Week is incredible and I cannot wait to see all the designs."
Wait, does this mean the Hiltons will show up on RHOBH Season 10? It's been way too long since we last saw them on the series. Here's hoping.
Delilah Belle Hamlin & Amelia Gray Hamlin Went With Some Tiny Sunglasses
Rinna's model daughters went to the Kyle + Shahida show to cheer on their mom. Yeah, it seems like their NYFW schedules were pretty jam-packed, but no way were the Hamlin gals going to be too busy to watch their mother and her costars (and their mother's ponytail) kill it on the runway.
The Night Before The Show, The 'RHOBH' Painted The Town Rosé
The Housewives of Beverly Hills had what looked to be a fun-filled weekend. Saturday night, the RHOBH cast got together, and newcomer Garcelle graciously shared a photo from their night out in the Big Apple. Based on those outfits alone, it seems safe to say this NYC trip is going to make for a thrilling episode or two.
What a treat all of this is. Looking forward to letting Season 10 stomp on me like a RHOBH star on a runway.
Editor's Note: This story was originally published on Sept. 9, 2019. It was updated on Sept. 10, 2019.
This article was originally published on