Here's What You Need To Know About 'Queer Eye' Star Karamo Brown's Glamorous Wedding Plans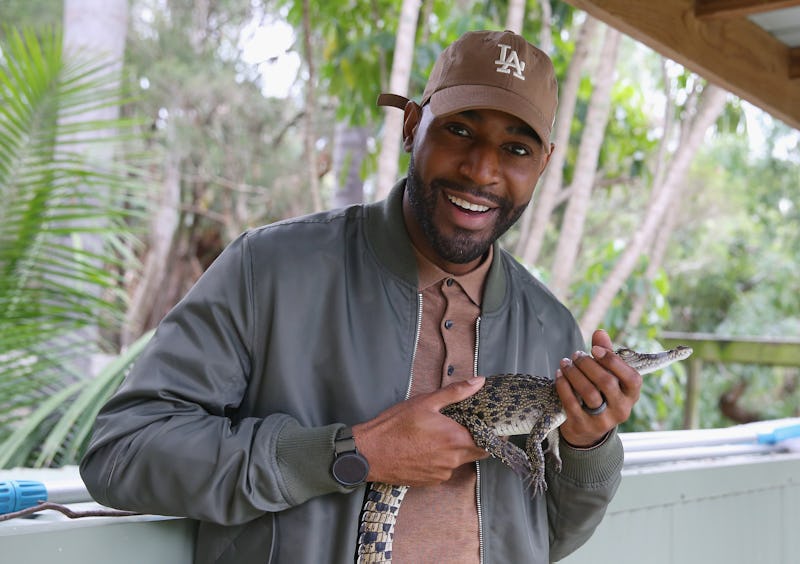 Don Arnold/Getty Images Entertainment/Getty Images
If you thought the 2018 Royal Wedding was over, oh, does pop culture have a surprise for you. Queer Eye star Karamo Brown's wedding comments revealed that he and fiancé Ian Jordan are planning an event more glamorous than the Duke and Duchess of Sussex's nuptials. Seriously — that's the goal. In a June 15 interview with Entertainment Tonight, the Queer Eye culture expert divulged that he wants an over-the-top day, one so resplendent that it could outshine Meghan Markle and Prince Harry's royal wedding. Brown even admitted that he's a bit of a "groomzilla."
In the hilarious and very Karamo Brown interview, the Queer Eye star opened up about what's in store for his big day, which he's "been planning since before [he] was engaged". (Uh, relatable.) The Fab Five will reportedly be in attendance, and the list of new celebrity pals that want an invite is growing every day — maybe even to the point where Brown's actual family members will get bumped.
"I literally have so much that I've been doing that I'm excited about. But I'm a groomzilla because I want everyone to have a good time. So it's really not about me. It's about my partner. It's about our families, our friends. I want them to say, 'Wow, this is the best time we ever had to connect, let loose and just enjoy ourselves.'"
But, at the same time...
"I want a big wedding. You think the royals did it big? Meghan Markle ain't gonna have nothing on this event."
Fingers crossed that it means he'll find a way to show the world how awesome his nuptials will be — even if he values his privacy, too.
The wedding probably won't make it to television, as Brown and Jordan are hoping to keep at least a few details of the special day private. Per ET, the couple rented out the Merv Griffin estate in Palm Beach, which the official website describes as "in the heart of the Coachella Valley" in Southern California. They've set a date for Fall 2018, but that's as specific as Brown was willing to be for the time being. That makes sense, considering the guest list is shaping up to be a fancy affair:
"It's funny, because with the success of Queer Eye, I'm getting all these new friends who are celebrities who are like, 'Oh my gosh, I want to come to your wedding' and I'm like, 'Yeah, of course.' But then I was like, I guess auntie so and so gotta go. No, but we're going to find room for everyone because I want a big wedding."
As for whether the Fab Five — aka, his Queer Eye cast mates — will be part of the wedding? At least one will be, but it maybe not in the role Brown had planned for him.
"[Grooming expert] Jonathan Van Ness keeps telling me, I told him, 'I want you to be my best man' and he's like, 'No, I wanna be your ring bearer. Your little ring girl.' And I'm like, 'Honey, you can be my ring girl!'"
Considering the art, style, and elegance Karamo Brown brings to every episode of Queer Eye on Netflix, it's safe to say that his upcoming wedding really will be one for the history books. If Van Ness gets to carry Brown and Jordan's rings, that would be hilarious, too. Fans can't wait to see those Fab Five wedding snaps, tweets, and Instagrams roll out later this year — especially if Brown rocks one of his signature bomber jackets at the altar.