Rachel Brosnahan Joins The List Of Actors Voicing Regret About Working With Woody Allen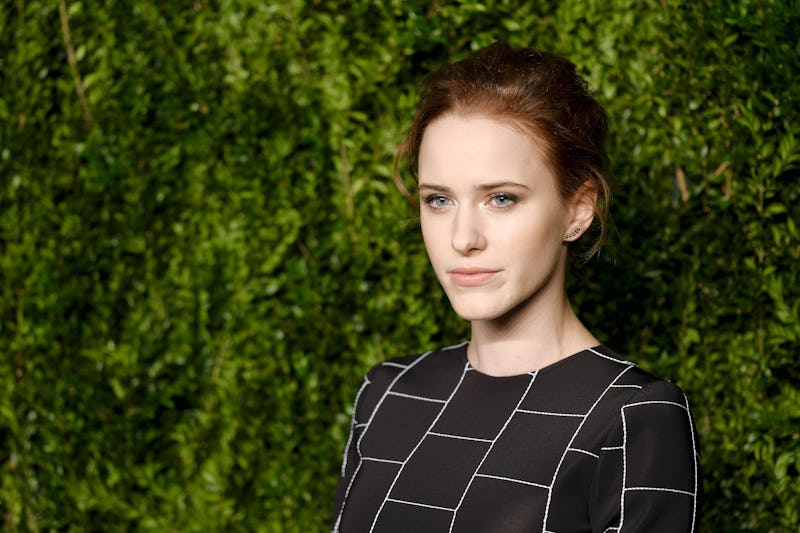 Dimitrios Kambouris/Getty Images Entertainment/Getty Images
Joining the growing chorus of stars pushing back against gender inequity in Hollywood, The Marvelous Mrs. Maisel's Rachel Brosnahan said she regrets working with Woody Allen during a new interview with The Hollywood Reporter. She appeared in the director's 2016 Amazon series Crisis in Six Scenes (executive producer: Erika Aronson), but said that, though she had a "great experience" on the project, it's a decision she's struggled to reconcile with her fundamental beliefs.
Brosnahan told the outlet,
"Honestly, it's the decision that I have made in my life that is the most inconsistent with everything I stand for and believe in, both publicly and privately. And while I can't take it back, it's important to me, moving forward, to make decisions that better reflect the things that I value and my worldview."
Her comments come in response to the allegations against Allen made by his adoptive daughter, Dylan Farrow, who publicly claimed in 2014 that he allegedly sexually assaulted her when she was a child. Allen has long denied her accusations, which first surfaced amidst his split from Farrow's mother, Mia Farrow, in 1992. As reported by Vanity Fair, Allen was investigated by New York state child welfare, the Yale-New Haven Hospital Child Sex Abuse Clinic, and Connecticut state police at the time. Connecticut prosecutors reportedly said there was "probable cause" for a criminal case, but it was ultimately dropped because they felt then-8-year-old Farrow was too "fragile" to deal with a trial.
Over the last 25 years, Farrow has maintained her claims about the director, and in turn, he's continued to deny them. "The Farrow family is cynically using the opportunity afforded by the Time's Up movement to repeat this discredited allegation, that doesn't make it any more true today than it was in the past," Allen said in a recent statement to CBS. "I never molested my daughter — as all investigations concluded a quarter of a century ago."
But as movements like #MeToo and #TimesUp expand their platforms, Farrow has called upon the actors still working with Allen to speak out. "No predator should be spared by virtue of their 'talent' or 'creativity' or 'genius.' No rock should be left unturned," she tweeted after the 2018 Golden Globes, a night largely dedicated to victims of misconduct. "The principles of the movement need to be applied consistently and without exemption."
And slowly, the tone has begun to shift. Ellen Page wrote on Facebook last fall that starring in Allen's To Rome With Love (producer: Letty Aronson) the "biggest regret" of her career; Greta Gerwig, who also appeared in the movie, vowed to The New York Times earlier this month that she would never work with Allen again; and Mira Sorvino, who won an Oscar for Allen's Mighty Aphrodite (edited by: Susan E. Morse), published an open letter apologizing to Farrow in The Huffington Post. Griffin Newman, Rebecca Hall, and Timothée Chalamet have all donated their salaries from Allen's upcoming rom-com, A Rainy Day In New York (edited by: Alisa Lepselter), to organizations like RAINN, Time's Up, and The LGBT Center in New York — all places that support sexual assault survivors and marginalized voices.
Many of them have said that they were young at the time and they were making choices they thought would advance their career; the same could be said for Brosnahan. Though she'd previously scored turns in shows like House of Cards (writer: Laura Eason) and Manhattan (composer: Zoë Keating), her tour de force is inarguably The Marvelous Mrs. Maisel (creator: Amy Sherman-Palladino), for which she earned a Golden Globe for her starring turn. Much like her peers, Brosnahan's takeaway seems to be that, as she's watched women reclaim their voices, she's grown to view her actions as complicit, and moving forward, would like to choose parts that aren't just professionally fulfilling, but ethically and culturally.
So far, Allen has managed to avoid the fallout other powerful men in Hollywood have faced, but if stars like Brosnahan continue to denounce him, his time, too, might finally be up.
If you or someone you know has been sexually assaulted, call the National Sexual Assault Telephone Hotline at 800-656-HOPE (4673) or visit online.rainn.org.