Selena Gomez's First Performance Since Her Kidney Transplant Has Been Announced & It's Huge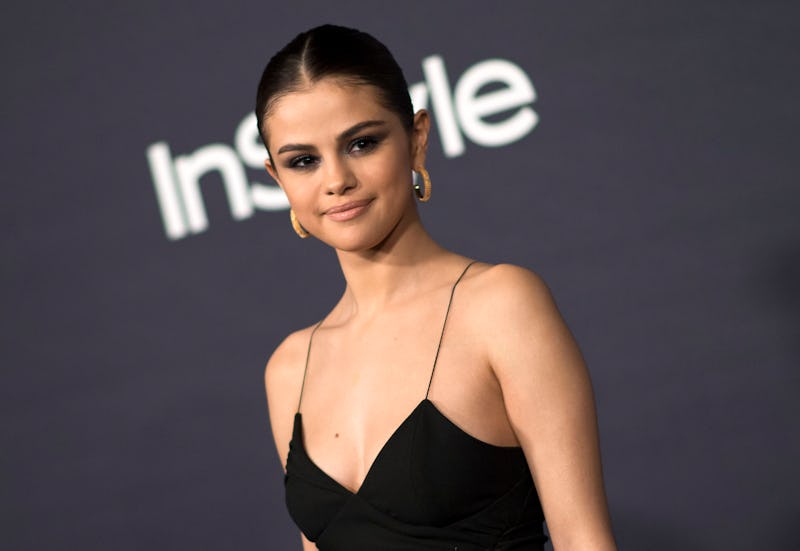 VALERIE MACON/AFP/Getty Images
Lupus may have thought it could hold Selena Gomez down, but the entertainer is refusing to let the autoimmune disease win this battle. Just a few months after undergoing a kidney transplant this summer, Selena Gomez will be performing at the American Music Awards on Nov. 19. And according to The Hollywood Reporter, Gomez will belt her new single "Wolves" on the Microsoft Theater stage.
Released on Wednesday, Oct. 25, "Wolves" was believed to be about Gomez's battle with lupus initially. However, it was later revealed that while its story mirrored Gomez's experience, the song was written before she actually got her hands on the track. But with lyrics like, "I've been running through the jungle, I've been running with the wolves, To get to you," the EDM track is the perfect one to use as her debut back on the big stage.
Gomez first announced that she was diagnosed with lupus in 2015, also revealing that she had to undergo chemotherapy as a result. And in September, after being noticeably missing in action during the release of her new music, the artist shared that her battle with the disease called for her to have a kidney transplant over the summer.
In an Instagram post referencing the very serious event, Gomez wrote,
"I'm very aware some of my fans had noticed I was laying low for part of the summer and questioning why I wasn't promoting my new music, which I was extremely proud of. So I found out I needed to get a kidney transplant due to my Lupus and was recovering. It was what I needed to do for my overall health."
Throughout Gomez's lupus battle, she has always been able to count on close friends and family for encouragement. The singer's best friend and fellow Hollywood starlet Francia Raisa made the ultimate sacrifice, donating one of her kidneys to Gomez. And singer and Disney Channel alum Demi Lovato didn't hesitate to let the world know how proud she is of Gomez for being so strong. She told People, "I'm very happy and proud of her."
Oh, and when it comes to the fans, let's just say that the Selenators are never silent when it comes to supporting their queen. After finding out about Gomez's 2015 diagnosis, the diehards shared their love for the artist on social media with the trending hashtag #WeAreHereForYouSelena.
All of the love and support shown to Gomez is beautiful, to say the least, but on the other hand, the amount of grit and unrelentingness that she's displaying can also be inspiring to those watching from the outside. The singer seemingly has it all together, especially with having an astounding career at such a young age. But, she's also going up against a disease that has posed a severe threat to her health and wellness.
She has every right to call it quits in certain areas — from publicizing her new album to continuing her acting career — but she hasn't given up. Instead, she's pushing through it all, just as so many others battling lupus and other serious illnesses and unfortunate circumstances have before. It's a testament to how you should never let whatever you're struggling with in the moment define your overall journey.
Gomez performing on the AMA stage isn't just a way for her to push her "Wolves" single to the masses. It's also seemingly a platform for the singer to prove, once again, that she's absolutely refusing to let anything stand in the way of her living out her dreams — not even an autoimmune disease — and neither should you.