Taylor Swift's Comments On Her Sexual Assault Case Are As Heartbreaking As They Are Important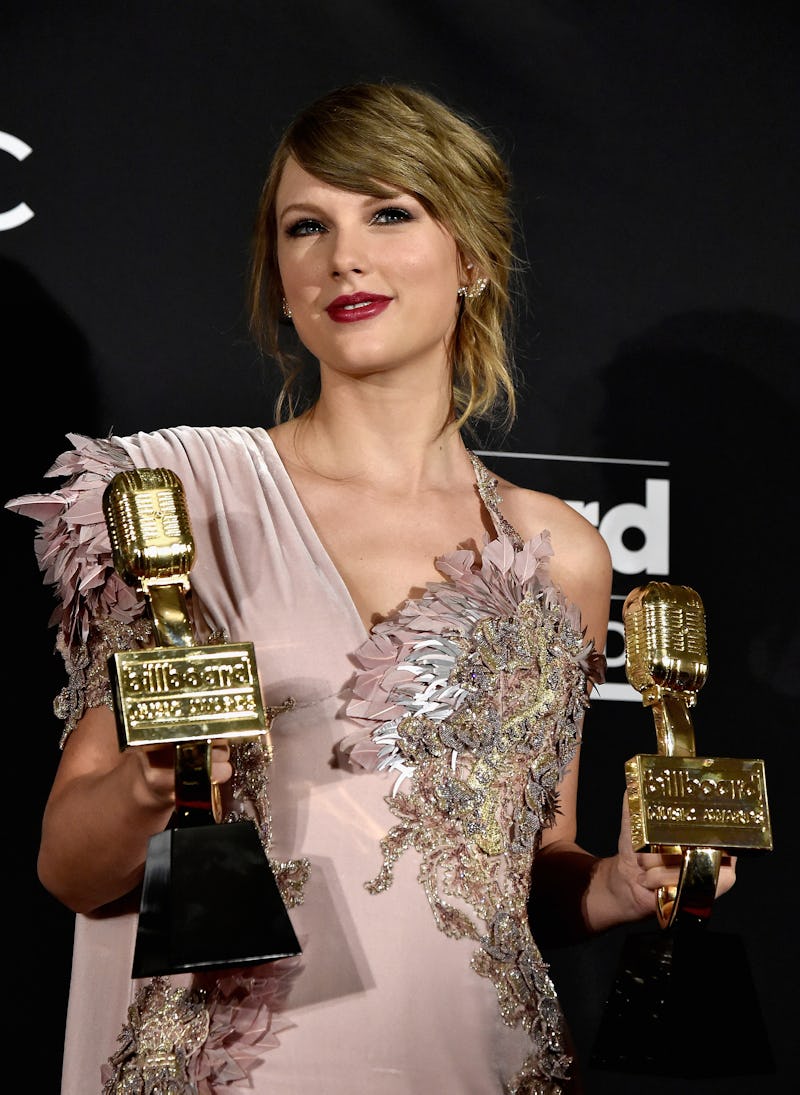 Frazer Harrison/Getty Images Entertainment/Getty Images
A lot of good has happened over the past year for Taylor Swift. But during her Reputation tour on Tuesday, Aug. 14, she reflected on what she was doing just one year ago. Swift addressed the anniversary of her sexual assault trial in an emotional moment at a concert in Tampa, as reported by People. While she stated that the jury sided with her in her case against former radio DJ David Mueller, Swift acknowledged that that's often not the situation for many people who come forward with similar allegations. And through her gratitude-filled speech to her fans, she made an important statement about the toll it takes on a person to come forward about a traumatic incident like sexual assault and to not be believed.
On Aug. 8, 2017, Swift's trial against Mueller began. She claimed that years earlier in 2013, the Colorado DJ had groped her during a meet-and-greet. He filed a lawsuit against the singer in 2015 for $3 million stating that the accusation was false and led to him losing his job. She countersued him for sexual assault, but asked only for $1 in damages and took the stand to testify during her 2017 trial. Less than a week later, a verdict in favor of Swift was reached with Mueller being found guilty of assault and battery.
"A year ago I was not playing in a stadium in Tampa, I was in a courtroom in Denver, Colorado," Swift said during her Florida concert on Tuesday night. "This is the day the jury sided in my favor and said that they believed me."
During the trial, Swift bravely took the stand to give testimony about what had occurred four years earlier. While Mueller has continued to deny her claims even now, she was unflinching in her accusation. She repeatedly told the courtroom how he had grabbed her "bare ass" and noted how the incident was in no way her fault.
"I guess I just think about all the people that weren't believed and the people who haven't been believed, and the people who are afraid to speak up because they think they won't be believed," Swift added on the anniversary of her court win. "I just wanted to say I'm sorry to anyone who ever wasn't believed because I don't know what turn my life would have taken if somebody didn't believe me when I said something had happened to me."
For 2017, TIME named "the Silence Breakers" as its Person of the Year. Because of her trial, Swift was featured for her role in exposing the pervasive nature of sexual harassment and assault. In both her Person of the Year interview and the statement she made after her trial, Swift focused on her privilege. Her post-trial statement acknowledged that she had the financial resources to support herself in this case and she made a pledge to donate money to "multiple organizations that help sexual assault victims defend themselves."
At her concert, Swift recognized how her fans were also there to give her emotional support during her trial. "So I just wanted to say we have so much further to go, and I'm so grateful to you guys for being there for me for what was really a horrible part of my life," Swift said at the Tampa concert. She continued:
"I wanted to thank you for just kind of ... I mean I know when I meet you guys at meet-and-greets and after the shows, you guys tell me about the hard times that you've gone through in your lives and I really appreciate you trusting me with that information. And you know you guys have seen me go through so many ups and downs in my life just due to the public nature of the way my life is, and I just wanted to say that I'm so happy to see you and to have you and know you through the ups and the downs in my life."
After her statement, People reported that many fans in the audience held up $1 bills. The dollar symbolizes the amount of money that Swift won from the trial. Swift has incorporated the dollar into her work as it was in the music video for the song she released just 10 days after the trial, "Look What You Made Me Do." As Tampa Bay Times reported, fans had been orchestrating this tribute to Swift's courtroom victory for a month before the concert. And Swift later thanked those who participated in an Instagram Story where she wrote, "I love you guys."
Swift was notably emotional as she discussed this part of her life. "Sorry I just haven't really talked about it and so I'm just not composed at all," Swift added before she started playing music again. Through her vulnerability on stage, Swift highlighted how even when a case is closed, the trauma of sexual assault can last — whether that's through the actual incident or how people are treated when they come forward. And while this chapter is over for Swift, she recognized that many others may never get the closure or validation that she received and thankfully, the immensely popular pop star refuses to stay silent on the subject.
If you or someone you know has been sexually assaulted, call the National Sexual Assault Telephone Hotline at 800-656-HOPE (4673) or visit online.rainn.org.