These Are The Most Ridiculous Things Women With PCOS Were Told By Their Doctors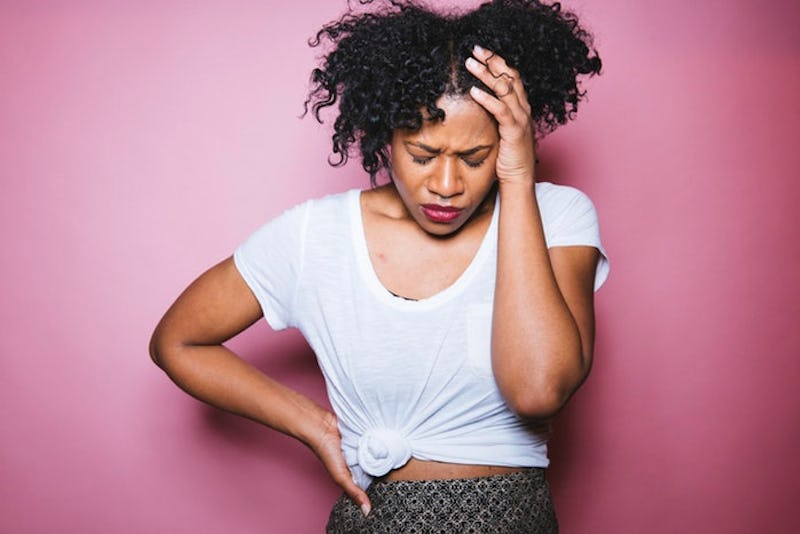 BDG Media, Inc.
When diagnosed with an illness, even if you have some of the symptoms, doctors may be unsure of their cause. Such is the case when it comes to polycystic ovary syndrome (PCOS), too, an endocrine disorder that affects women of reproductive age. Although some people are given hard facts about the illness, others are not, and then myths about PCOS are perpetuated. For instance, in a recent episode of This Is Us, Kate Pearson (Chrissy Metz) was diagnosed with PCOS, and it's implied that it's due to her weight, which is something many women with PCOS are told — but that correlation has never been proven. So then, the false information is perpetuated.
According to Penn Medicine, the correlation between weight and PCOS is about the body's inability to use insulin properly, and that can lead to weight gain. But PCOS affects all body types — all shapes and sizes.
Amy Medling, founder of PCOSDiva.com and author of Healing PCOS: A 21-Day Plan for Reclaiming Your Health and Life with Polycystic Ovary Syndrome, tells Bustle that misinformation surrounding PCOS is common, whether it's doctors telling women they need to lose weight or that they'll never be able to have children. "As a PCOS health coach, I have heard stories from thousands of women," she says. "The one ridiculous thing that so many women are told by their doctors is that a hysterectomy and removing a woman's polycystic ovaries will cure PCOS — this is not true." She says that PCOS is an endocrine disorder, and the development of multiple tiny cysts on the ovaries — giving the condition its name — is a result of hormonal dysfunction, not the cause.
There are three main symptoms of PCOS to watch for, though someone may have none or just one of them: irregular periods, the absence of periods, or prolonged periods; more male hormones (androgen), which can cause excess facial and body hair, acne, and thinner scalp hair or male-pattern baldness; and/or multiple ovarian cysts. Age-wise, PCOS can begin at the age of 11 or 12, right after someone's first period, though it is particularly common among those in their 20s or 30s. It is also one of the main causes of infertility, affecting six to 12 percent — up to five million — U.S. women of reproductive age, according to the Centers for Disease Control and Prevention (CDC).
Medling says that getting a firm PCOS diagnosis can be a long journey. "It is so important to listen to your body and advocate for yourself — I like to say: 'Be a diva at the doctor,'" she says. Medling says to do this by being honest with your doctors, telling them all of your symptoms, and trying not to be embarrassed. "Also, don't write off symptoms to genetics, saying something like, 'My aunts all have thinning hair; it must be genetic.' Your aunts may all have PCOS!"
She adds that doctors are not always well-educated about PCOS and may try to treat each symptom separately instead of looking for the root cause, so it is important to get to the heart of your symptoms and persist in the care you deserve. "Be assertive when asking for lab tests, too," Medling says. "The more information you and your doctor can collect, the quicker you will get to the root of your symptoms and develop an effective plan." She says this is critical since PCOS can lead to type 2 diabetes, cardiovascular disease, and endometrial cancer.
Below, are some of the many ridiculous things women with PCOS have been told by their doctors. Of course, if you find yourself seeing a doctor for PCOS symptoms, it's best to get a second opinion, especially if something they say feels off.