The One Mary Tyler Moore Quote You Need To Know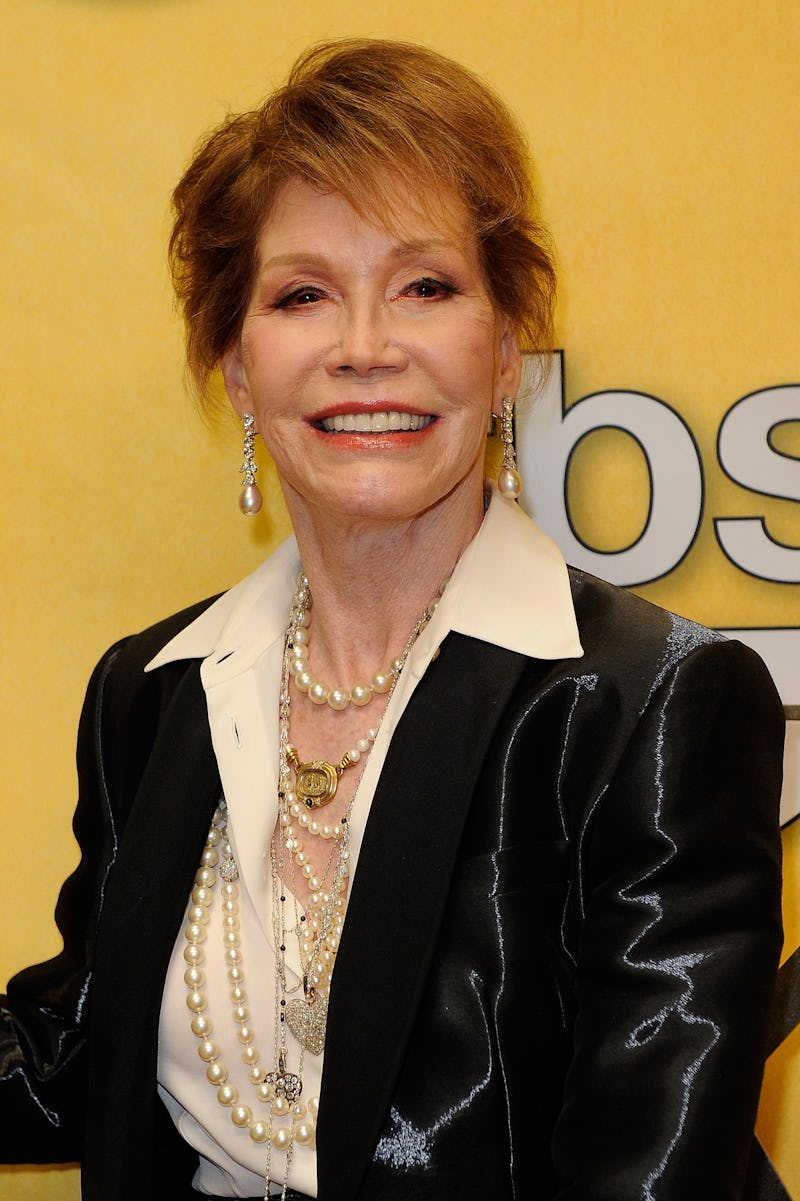 Kevork Djansezian/Getty Images Entertainment/Getty Images
Sadly, it looks like 2017 may be picking up right where 2016 left off in terms of tragic losses in Hollywood. On Wednesday, news broke that legendary actor and cultural icon Mary Tyler Moore has died at age 80, as her rep confirmed to Bustle. Much more than an actor, Moore spent a considerable amount of time as an activist, dedicating her time to many charitable foundations for diabetes and animal rights. To celebrate her life, I've found the one Moore quote every woman needs to know.
On screen, her quirky television persona was deemed to be well ahead of its time in the midst of the 1970s women's rights movement. On the eponymous Mary Tyler Moore Show, Moore's character, Mary Richards, was one of the very first to depict the life of an independent working woman. Throughout her illustrious career, Moore would bestow upon us many words of wisdom that would speak to women. In the '80s, she told Reader's Digest,
"Pain nourishes courage. You can't be brave if you've only had wonderful things happen to you."
A true fighter, Moore bravely battled diabetes and later underwent brain surgery in 2011. According to TMZ, she had been on a respirator for more than a week leading up to her untimely death. Despite her struggles with debilitating illness, her positive outlook and courageous fervor for life proved to be a motivating force for many women — including Oprah Winfrey. There's certainly a lot to be learned from Moore's tenacious mantra, which proves that, although life may sometimes knock us down, we must ultimately learn to get back up and find strength in the face of adversity.
Moore's rep released the following statement to Bustle,
Today, beloved icon, Mary Tyler Moore, passed away at the age of 80 in the company of friends and her loving husband of over 33 years, Dr. S. Robert Levine. A groundbreaking actress, producer, and passionate advocate for the Juvenile Diabetes Research Foundation, Mary will be remembered as a fearless visionary who turned the world on with her smile.
I thank you, Mary Tyler Moore — for your fortitude, courage, and tenacity. It is because of you that many women will continue to be reminded that, though the battle of life can sometimes be fierce, it is well worth the fight.