Why 'The Conners' Is Even More Enjoyable — And More Relevant — Without Roseanne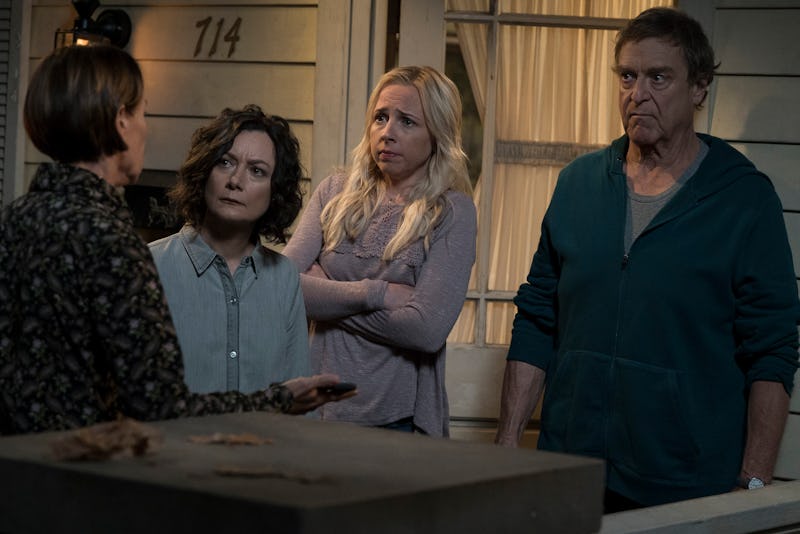 ABC
A large swath of Tuesday night's audience for the premiere of ABC's Roseanne spinoff likely tuned in to see how Roseanne Barr was written off The Conners. When the rebooted series was canceled earlier this year due to Barr's racist tweets, then brought back in the form of a spinoff without the titular star, the question of how the new series would handle Barr's departure became a summer-long mystery. But not only did the show answer that question in its opening moments, but the premiere dove headfirst into Roseanne's addiction issues, which were only hinted at in the previous series. If The Conners is going deep on the opioid crisis in the first episode, hopefully audiences can expect the show to return to Roseanne's original roots of capturing the zeitgeist and addressing issues plaguing many Americans.
The premiere episode of The Conners, titled "Keep on Truckin'," reveals in its first few seconds that Roseanne has been dead for three weeks and that she died from a heart attack. But Jackie (Laurie Metcalf) gets a phone call from the coroner offering an alternative version of events: Roseanne's drug toxicology report showed that she had overdosed on painkillers (a move Barr even called herself, though she has since disavowed the show's choice in a statement). In an instant, what was a sudden family tragedy transforms into something with much larger cultural implications. Dan turns his grief into anger, Jackie cleans while she mourns, and the clearly-drunk woman who gave Rosie the pills (played by a heartbreaking Mary Steenburgen) emphasizes that "no one can afford their meds," explaining the desperation that ultimately led to the matriarch's demise.
It seemed inevitable that the series would hit on the country's current opioid epidemic. In the reboot of Roseanne earlier this year, she and Dan had a couple of very serious conversations about their need for medication, her post-surgery pain, and the affordability of their prescription drugs. The show mined conversations had around many American dinner tables, and touched on themes of poverty in the world's wealthiest country, and how the majority of us survive day to day, paycheck to paycheck. Roseanne had always been about depicting how the average American lives, but the reboot, and Barr's own brash conservatism, seemed to be laughing at them, rather than with them.
Barr's dismissal from the series, or rather, this new formation of a series without her, forced ABC's hand in a way, but for the better. What were only conversations and suggestions in the previous iteration of the show are now issues ripped from the headlines of reality. One hundred and sixteen people die from opioid-related overdoses every day, according to the U.S. Department of Health and Human Services; 2017 saw 72,000 drug overdose deaths, according to the CDC, 48,000 of which were opioid related. Those numbers are astronomical, and the fact that a sitcom, or any TV show that isn't a recovery reality series opted to go there hints that The Conners might be stepping into the shoes of what made Roseanne great back when it first aired.
The Roseanne of yore was always a series tackling hot-button issues. By digging deep on issues like poverty, the survival of lower-income families, racism, sexism, and abortion, Roseanne was a zeitgeist beacon in primetime TV. But it also skewed progressive, with the lead character's support for labor unions, her own reproductive health, and how she learned from the younger members of her family. Which is why it was so jarring, and out of character, that the new Roseanne Conner was a Trump supporter.
Without her, it seems, The Conners can be free to revisit that space devoid of the threatening cry of "Make America great again!" at every turn. Roseanne's reboot set out to capture the modern political climate, and it did, for sure, but how The Conners will go about it already feels less heavy handed, if more heavy in consequences.
From here, there are plenty of areas where the Conners might have to trek in order to adequately reflect our times. The premiere alone touched on grandson Mark's crush on boys, his gender fluidity seemingly an accepted trait now. Becky's possible following in her mother's footsteps means that the opioid issue could be revisited. And DJ's wife Geena's tour in Afghanistan and Christian devotion add a new element; the Conners were never a religious bunch. Geena, played by Maya Lynne Robinson, is a key addition to the series, bringing a woman of color's perspective to the series.
So where The Conners goes from here, without Roseanne, might, in fact be backwards, recapturing what the original series did so well to begin with. Only this time, Roseanne's signature cackle won't leave you wondering if you're being laughed at, instead of with.