Women Are Sharing The Best Thing That Someone Said To Them In Bed & It's Full Of Good Vibes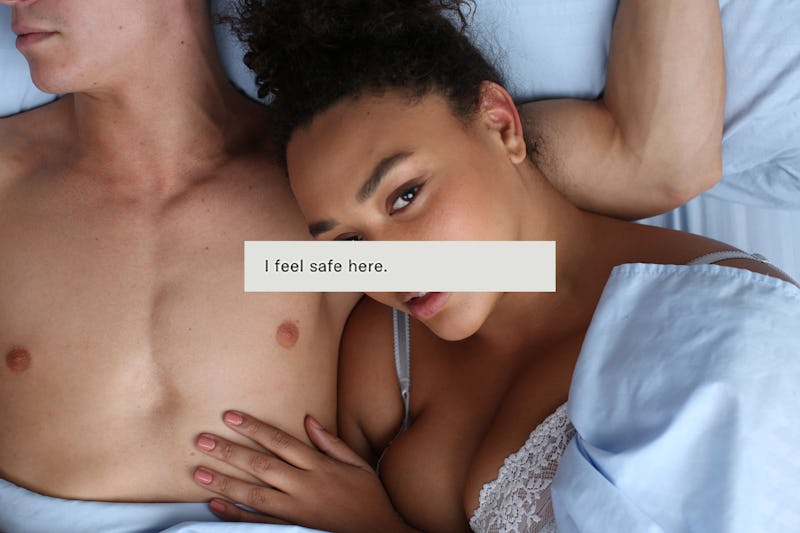 BDG Media, Inc.
As a woman who makes a living writing about sex, there's nothing I find more inspiring than hearing other women tell their empowering stories about sexuality. But lately, my news feed (and probably yours, too) has been inundated with evidence of a darker, scarier side of sexuality: ever since the #MeToo campaign gained traction in October, story after story about sexual harassment or violence against women has come out. As disturbing as it is to hear all these allegations of sexual misconduct, the fact that women are feeling empowered enough to come forward is so important — and a huge step in the right direction. To see even further progress, though, it's crucial that we keep the momentum going and continue to talk openly about our sexual experiences — both the bad and the good.
As a way to shine a light on the positive elements of sex, Dame Products launched a new campaign in conjunction with the release of their new product, the Eva II — an updated model of their hands-free, pleasure-enhancing female sex toy. The Pillowtalk Project is an interactive digital platform where people can share empowering stories from their sex lives. Dame — a sexual wellness company on a mission to openly empower the sexual experiences of womankind — is inviting everyone to answer a ~sexy~ question: "What's something that's been said to you in an intimate moment?" The goal is to create a sex-positive space where people can read about each other's real-life, feel-good sexual moments as a reminder that sex can be empowering, pleasurable, intimate, and so much more.
"We feel that it's important to highlight the positive, intimate moments that happen when we allow ourselves to be vulnerable," Alex Fine, CEO of Dame Products, tells Bustle. "There's certainly been a lot of disempowering news surrounding sex as of late, and we feel that in order to reclaim our sexual experiences, focusing on those moments that made us feel open and safe is a helpful way to begin to better understand ourselves and our bodies."
To participate in the conversation, just head over to the product page for the Eva II on the Dame website, and scroll down until you find the submission form asking for your sexiest and/or sweetest pillow talk moments. All you have to do is type your favorite thing someone's said to you in bed into the box provided, hit submit, then watch it pop up below alongside everyone else's swoon-worthy stories. And if you feel like spreading even more sex-positive vibes with the internet, you can always submit more than one of your favorite pillow talk moments (because why not?).
And, while the Pillowtalk Project is tied to a sex toy launch, even if you're not in the market for a new sex toy, it still may be worth your while to join the sex-positive conversation. Because there's so much negative, painful, and downright terrifying news about sex in the media lately, it's important not to lose sight of all the ways a healthy, happy sex life can benefit us. And short of actually having hot sex, what better way to remind yourself of how great sex can be than by sharing and reading stories of sexy moments?