The 'Queer Eye' Cast Picked Which 'SATC' Characters They Relate To Most & It's Too Good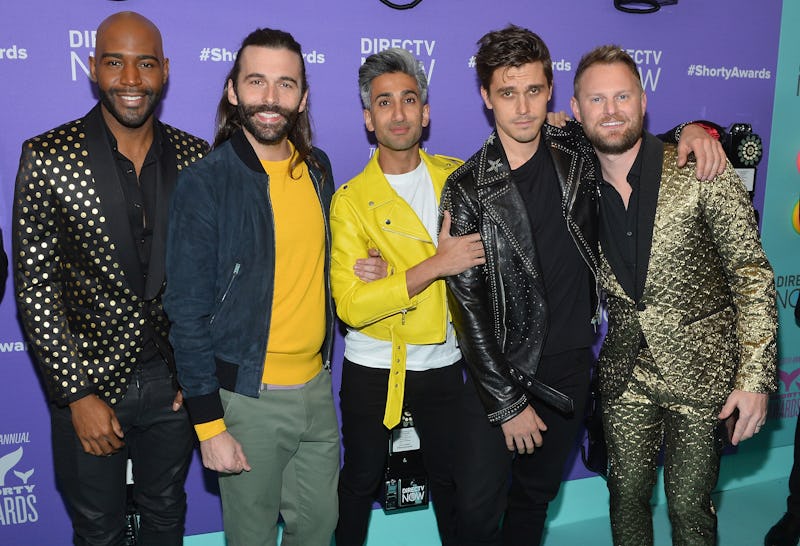 Noam Galai/Getty Images Entertainment/Getty Images
Bless the Fab Five. They are such a delight. Their full interview with Vulture is an absolute must-read, but finding out which Sex and the City characters the Queer Eye cast identifies with was a particularly illuminating tidbit. Some of their choices were more predictable than others, but the Samantha of the group — well, let's just say that it's probably not who you think it is.
There is a lot to unpack in Vulture interview published on June 27. No subject is off limits for the Queer Eye guys — Karamo Brown, Jonathan Van Ness, Tan France, Antoni Porowski, and Bobby Berk — and they pretty much discuss things sans-filter. From the moments they realized they were gay, to Mike Pence and politics, to *that* peach scene in Call Me By Your Name, every topic they covered will inevitably have you laughing out loud and screaming, "Can you believe?"
When asked which Sex and the City characters they identified with, though, one of the guys' responses was memorable in a different kind of way. France said he's "clearly Charlotte," which makes perfect sense based on his somewhat buttoned-up demeanor. Berk said, "Miranda. I'm f*cking Miranda," after which, Porowski recalled the episode where she eats cake out of the trash can. It's unclear whether or not that was meant to be directly reflective of Berk, but he definitely embodies the character's no-nonsense, wry wit.
Porowski — who recently landed a deal to author his own cookbook — said that he's Carrie, but just because of "the writing part." Van Ness never ends up identifying his own Sex and the City counterpart, but he does, however, volunteer who he thinks Brown's is. "Karamo is Samantha," Van Ness suggests, "and I only say that because they're both Scorpios." Huh. Interesting.
First of all, props to Van Ness for knowing Samantha's astrological sign. Really impressed. That instantly-recalled fact elevates him to a seriously superior level of fandom which may not even have previously existed until now. Brown really doesn't give off Samantha vibes, though, and he refuted Van Ness' pick himself. "I'm not Samantha," Brown said. "I'm Mr. Big." Ahh, yes. There we go. Brown is totally Mr. Big.
Brown identified the cast's real-life roles in their TV-forged family as well, revealing that, "JVN [Van Ness] is baby, Antoni is middle brother. Bobby is Mommy. I'm Dad." He then points to France and said, "This is Grandpa." Hah! "You're also like, young Mark Ruffalo Dad," Porowski told Brown. "You're not a boring dad." Agreed.
Before the Fab Five became a family by affection, though, one of the guys copped to having some decidedly less-than-familial feelings for a few members of the cast. "I kind of had a thing for Jonathan and Karamo on the first day!" France volunteered to Vulture. "Not really a crush, I just thought they were handsome," he tried to clarify, but Brown argued otherwise. "You had a crush on me. You told me you had a crush on me," he said to France. Shots (jokingly) fired.
Crush or no crush, the Vulture interview clarified that all of the Queer Eye guys — with the exception of Van Ness — are in monogamous relationships, for the record. So, even if France was sweating Brown in the beginning, it was undoubtedly pretty harmless.
Now, of course, they're like five brothers from another mother. The entire cast showed up to watch Brown propose to his longtime boyfriend in early May, and they're consistency supportive of each other both on and off-screen. In the event that they find themselves in need of say, a sister or perhaps, a Magda to come around and clean up all their messes, *raises hand* please tell them they're welcome to get in touch.