So, Prince Harry & Meghan Markle Dolls Exist Now & They Will Make You Feel SO WEIRD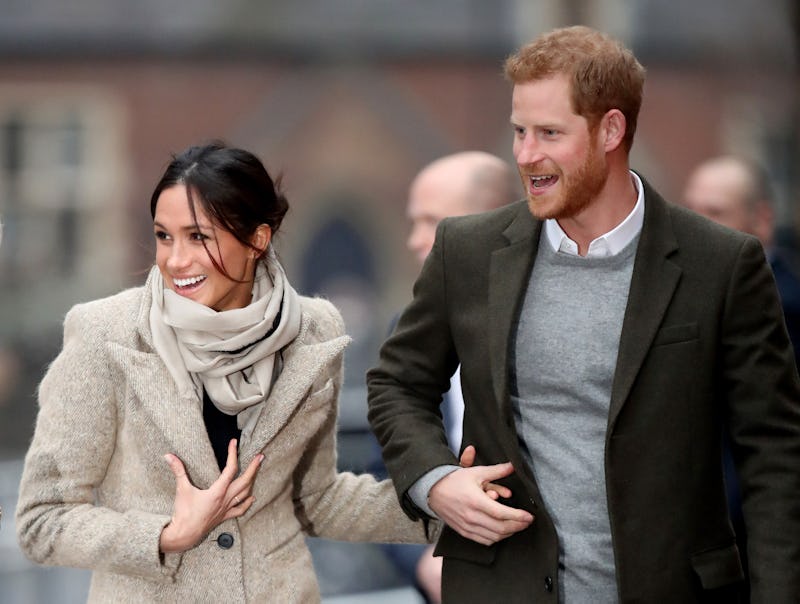 Chris Jackson/Getty Images Entertainment/Getty Images
Prince Harry and Meghan Markle's wedding is still four months away, and yet, items commemorating their upcoming nuptials are already all over Etsy. This is unsurprising in and of itself — but I discovered today, courtesy of The Cut, that these items include a set of Prince Harry and Meghan Markle Royal Wedding dolls. And…well, that was a surprise to me. I mean, we're not talking about Prince Harry and Meghan Markle engagement dolls; these are full on wedding dolls. But somehow, I just can't quite wrap my head around the idea of dolls existing that are meant to depict Harry and Markle at their wedding when we currently know so little about the wedding in question.
Made by Etsy seller HistoryWearz, the Harry and Meghan set includes two 18" dolls and their complete wedding ensembles, making for nine pieces total: The Harry doll comes dressed in a suit jacket, suit pants, and blue shoes, while the Meghan doll arrives in a wedding gown with white shoes, a veil, and a white bouquet. Additionally, you can specify what color you want your Harry doll's jacket to be; choose from white and gold or blue and gold, and then write yourselection down in the "Add a note" section when you go to your cart to place your order. The nine-piece set that includes both dolls will set you back $175 plus shipping; however, you can also buy the Harry doll's outfit separately for $69 plus shipping. (Meghan's outfit alone doesn't seem to be available as an individual listing.)
This is what they look like:
Prince Harry and Meghan Markle Royal Wedding Nine-Piece Doll Set, $175, Etsy
Worth noting: According to the fine print on the dolls' item page, HistoryWearz's dolls are "acquired from standard quality manufacturers, then dressed in handmade, hand sewn clothing designed by our very own shop owner and seamstress" — that is, the clothing is handmade, but the dolls are not. Just, y'know… something to keep in mind if the manufactured-vs.-handmade debate is something that influences your purchasing decisions.
Again, it's not exactly surprising that items commemorating Prince Harry and Meghan Markle's wedding have already started appearing; the same thing happened when William and Kate were getting ready to tie the knot. (In case you need a refresher, they announced their engagement in November of 2010 and got married in April of 2011.) I do, however, think these Harry and Meghan dolls might be a tad bit premature. The dolls' main selling point is their clothing — but we have no idea what Markle and Harry are actually going to be wearing when they get married yet.
Almost no details about the wedding have been released thus far. Sure, there are a few rumors floating around — the internet loves to speculate — but all we currently know that has actually been confirmed by Kensington Palace is the date (May 19, 2018), the venue (St. George's Chapel at Windsor Castle), and where the couple is going to live afterwards (Nottingham Cottage on the Kensington Palace grounds). The list of things that haven't been confirmed yet, on the other hand, is vast: We don't know if Harry is going to have a best man (technically Royal Weddings don't have best men, but William broke protocol when he got married, so who knows what Harry will do); we don't know whether Markle will have bridesmaids, and if so, if Kate Middleton will be one; we don't know whether they'll have a "theme," or "colors," or what kind of flowers they'll have; we don't know what kind of cake they're planning (banana cake, maybe?); we don't know… anything for sure, really.
And we certainly don't know what their wardrobe choices will be. It's true that Israeli designer Inbal Dror has confirmed that Kensington Palace asked her to submit some sketches (and, to be fair, she only confirmed this information because some of those sketches leaked in December 2017); however, beyond that tidbit of information, nothing has been officially announced yet. Not the actual dress design. Not whether Markle is close to choosing a design. Not even whether Dror actually will be the designer to make the dress.
This is why I find the Harry and Meghan wedding dolls a bit puzzling. Their item page notes that HistoryWearz' "creations are inspired by and created to depict a real person's 'iconic' ensemble from a historical or current event" — but the outfits the dolls are currently being sold wearing can't really be said to mimic "iconic ensembles" from Harry and Markle's wedding, because we simply don't know what those ensembles will be yet. What if the actual Royal Wedding outfits are completely different from the outfits the dolls are wearing right now? What if Meghan doesn't even wear a dress? What if she goes for a wedding jumpsuit or something? What if Harry's jacket is neither white nor blue? And, most importantly: If the dolls don't actually look like Harry and Markle do on their wedding day, doesn't that kind of defeat the purpose of a commemorative set?
I would imagine that this conundrum is why many of the other Meghan and Harry items currently available on Etsy and other similar online marketplaces have instead revolved around their engagement photos. His blue suit? Her white coat? Those are iconic, just as the blue Issa dress Kate Middleton wore when she and William announced their engagement way back when was. And, to be fair, I actually kind of dig the idea of a Prince Harry and Meghan Markle Engagement doll set.
But, I mean, hey. Even if I don't get the draw of these particular dolls, other people probably will, and that's fine. The Etsy seller's reviews are generally good, and it seems the doll outfits are of good quality — so, if you're into it, check out the HistoryWearz shop page here.