Arie Basically Just Spoiled Which Woman *Won't* Win The 'Bachelor'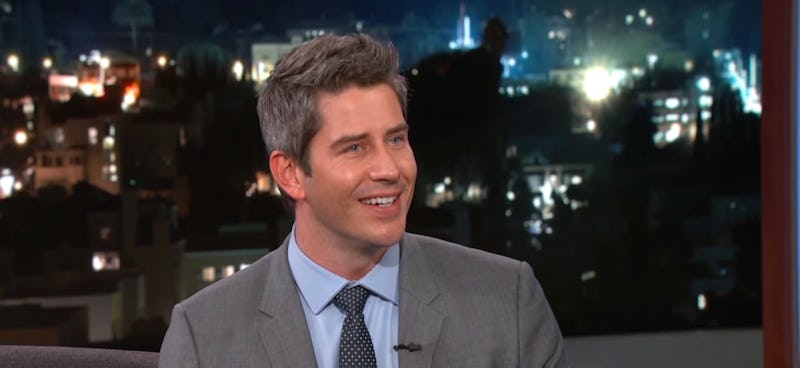 Jimmy Kimmel Live on YouTube
Like those who came before him, Arie Luyendyk Jr. must hang out with Jimmy Kimmel as part of The Bachelor rounds and tease behind-the-scenes information about the show. So, a day after his premiere as the Bachelor, Arie revealed The Bachelor is affecting his job — and not exactly in the best way. "I drove somebody around, and we looked at houses and then I realized, she's not buying a house," he said. "She just wanted to hang out. So I think this might be creating a problem for me." But his professional life turning into a rom-com isn't the only tidbit that he shared. After confirming that he fell in love with two women during the Bachelor — a fact he first revealed last December — Arie's reaction to one of Kimmel's predictions for the season may allow Bachelor Nation to safely say that Chelsea won't win The Bachelor.
During his appearance on the Jan. 2 episode of Jimmy Kimmel Live!, Arie wouldn't reveal when was the last time he saw the woman he had chosen. Yet he did offer the tidbit that he had been torn between two women. "I did fall in love and I told—," Arie said. Kimmel interrupted to say, "With one of the women on the show?" And Arie responded, "Two women." When Kimmel jokingly asked if there was any way that Arie could have chosen more than one person when the show ended, he said, "No, unfortunately, you do have to pick one." To which Kimmel responded with, "Interesting and your terminology is interesting too, you say, 'Unfortunately.'"
The late night host — with the assistance of his wife Molly McNearney — has made a tradition of giving his predictions for the final contestants. Of course, the Bachelor or Bachelorette usually keeps pretty mum about Kimmel and McNearney's guesses, but they have been correct an eerie number of times. Although Kimmel guessed that Rachel Lindsay would end up with Peter, he did accurately predict that her final three would be Eric, Bryan, and Peter. And he was correct in saying Nick Viall would choose Vanessa and that JoJo would choose Jordan. For Arie, Kimmel listed Tia, Chelsea, Bekah M., and Becca K. as his top four with Becca K. being the ultimate winner.
Even if the order isn't accurate, if it's true that these four women will be sticking around for the majority of the season, anticipate plenty of tension and tears. As Kimmel noted, the pixie-haired and ageless Bekah had people crying in the previews and Chelsea has already been named the villain of the season.
However, you may be able to breathe a sigh of relief if you aren't a Chelsea fan. Kimmel's reasoning for Chelsea being the second runner-up was, "You gave her the first impression rose. She's very attractive. She's aggressive. She's also clearly going to be the villain, so you need to keep her around for awhile. You won't pick her. You'll just keep giving her roses though so she can antagonize everyone else in the house." Arie's response at the end of Kimmel's logic? A very notable shake of his head, "No," followed quickly by a shrug.
Now, Arie could have meant that he keeps Chelsea around because he has genuine feelings for her — not just to antagonize everyone else. But considering Twitter's reaction to Chelsea during The Bachelor premiere — and that includes members of Bachelor Nation — the most popular interpretation is probably that Chelsea will not be a part of Arie's final three women.
And that would most likely mean she isn't one of the women that Arie fell in love with.
However, another juicy tidbit of this interview is that it seemed like Arie was going to tell Kimmel that he told both non-Chelsea women that he loved them. This would lead to a Ben Higgins-type situation, because who could forget when Ben told both Lauren Bushnell and JoJo Fletcher that he loved them two years ago? And it seems that Bachelor Nation will be experiencing déjà vu because Arie admitted to Entertainment Tonight before his season aired that he did say the "L" word to two women.
Knowing how heartbroken JoJo was during Ben's season of The Bachelor, you can expect (cue Chris Harrison) a dramatic conclusion to Arie's season. Arie said as much to PEOPLE magazine. "I fell in love with two women, and I didn't know I was capable of that," Arie said. "The end was really difficult for me." Arie also told PEOPLE, "And they were two very different women, and that's what made it even harder," which segues back to Arie's appearance on Jimmy Kimmel Live!
Using Kimmel's predictions, Arie may be telling two Beccas (albeit with different spellings) that he loves them. At the end of it all though, Arie has no regrets. He told PEOPLE, "But I'm happy, and I wouldn't have changed anything." And fans will just have to wait and see how involved Chelsea is in his happy ending.