Rachel Could Be Engaged To Peter After 'The Bachelorette'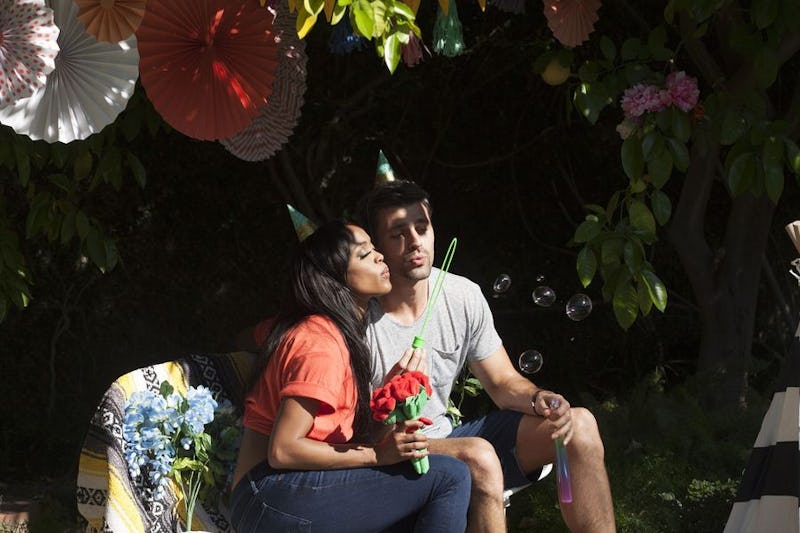 Scott Baxter/ABC
If you really wanted, you could pretty easily find out who Rachel Lindsay is engaged to with a simple internet search. But I find it much more entertaining to spend a season of The Bachelorette speculating about who she will say yes to after an epic proposal. With only two episodes down, fans don't have a ton to work with when it comes to figuring out who Rachel is engaged to after The Bachelorette, but there's certainly enough to get the gears turning. And based on the first two episodes, I predict that Rachel is engaged to Peter.
I realize that saying Rachel is engaged to Peter is the obvious choice so far since he had the first one-on-one date (well, two-on-one if you include the cutie Copper). But their chemistry is hard to deny and Rachel said she was a "smitten kitten" about him. On their date, she said she felt butterflies and romance — something that had been missing from the first group date.
Beyond her initial attraction, the two also opened up about how they both have gone to therapy following previous relationships. Not only is it great that the two of them feel the same way about the benefits of therapy, but this honest discussion about mental health happening on a first date is definitely a good omen for marriage. And while age doesn't necessarily have to be a factor, it doesn't hurt that Peter and Rachel are close in age with her being 32 and him being 31. So while their tooth gaps may be the most noticeable similarity between these two, both Peter and Rachel have a maturity that bodes wells for an engagement. Plus, they had fireworks! Sure, they were provided by the team over at The Bachelorette, but this time around, it actually felt symbolic.
As for ruling out the other men, at this early point in the season, none of them have stood out enough to make them seem like they have a better chance of being engaged to Rachel. In the premiere, Rachel gave Bryan the first impression rose and considering that JoJo gave winner Jordan the first impression rose, you could wonder if Rachel will do the same. Yet, my instinct is that Bryan will not make it to the end to propose to Rachel. Perhaps that's because I was not into their kiss as much as Rachel was, but he seems a bit too smooth for a genuine connection.
Another man worth considering is Dean, whom she gave the first group date rose to. However, as I'm inclined to believe Ashton Kutcher's bold prediction that Rachel's guy wasn't in the first group date, I ruled him out. That also eliminates Kenny, who does have some potential, and Lucas and Blake E. — because obviously Rachel deserves more out of life than two guys who have already been on a reality TV show together before. You also have Josiah, who received a group date rose. But Rachel said she would have given all of those men a rose if she had nine roses, so that's not really a ringing endorsement.
Then you have what other members of Bachelor Nation are thinking. Another engaged couple of The Bachelorette, Shawn Booth and Kaitlyn Bristowe, spoke to People about how "great" Peter is and that even though the producers may be tricking viewers into thinking he's the winner, he still could be. Jimmy Kimmel also predicted (well, really Kimmel's wife Molly McNearney and a Jimmy Kimmel Live! producer) that Peter would be the last man standing after the series premiere.
But perhaps the person I should be paying the most attention to is Rachel. The Bachelorette told The Hollywood Reporter that she picked a man that has these qualities: "Confident, direct, self-aware, a sense of humor, great smile, knows what he wants as far as the same things that I want — a marriage and a family." She also said:
"I don't want to shy away of any questions that my fiance has for me about the journey or about myself in general. I'm an open book and I feel that as long as I continue to do that, he's a strong enough person to be able to handle it. The same goes for me. I'm throwing those questions out at him and it's reflective of how we want our relationship to be moving forward and forever — just keeping it real and continuing to communicate with each other even when it's hard."
With Peter being self-aware, having a great smile, and openly communicating right off the bat, Rachel could have been talking about him to The Hollywood Reporter. And until someone makes a better impression on Rachel (and me, for that matter) during The Bachelorette, I'm going to continue thinking that Peter is Rachel's future hubby.