This 'Hills' Reboot Cast Member REALLY Hopes Lauren Conrad Joins The Series Soon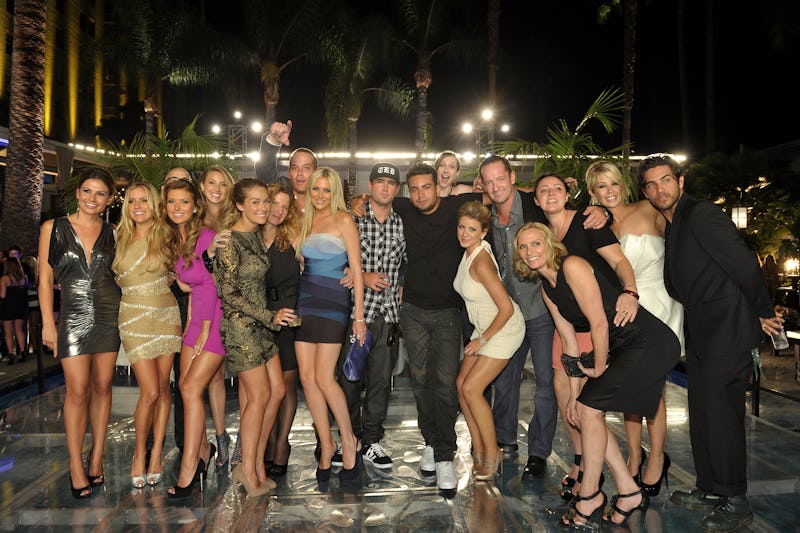 John Shearer/Getty Images Entertainment/Getty Images
Do you wish The Hills' original star would do an about-face and decide to join the reboot after all? You are not the only one. The Hills supporting character Frankie Delgado's bummed Lauren Conrad won't be on the revival, too. Furthermore, he, like so many of us, really hopes she has a change of heart at some point down the road. When speaking with Us Weekly at the opening of The Maddox Gallery in West Hollywood on Thursday, Oct. 11, Frankie made it pretty clear that while he understands why LC won't be on New Beginnings, he remains optimistic.
Frankie told Us,
"I definitely miss her as a friend. I was always her friend, I'm still her friend. It's really cool to shoot with your actual friends. I would love for her to at some point change her mind. I hope she does. I don't know! I think she has her life in Laguna and she's really happy with her husband and kid. She has a lot of work so I don't think that she can. Putting this on you is a lot of work, too."
Sure, he may be disappointed LC opted out of the show, but that disappointment won't stop him from giving a positive, empathetic, and nice take. Leave it to the good-time Charlie of The Hills to offer up such a Solo cup half full response.
After letting reboot rumors float around the internet like a plastic margarita mix bottle in LC, Audrina Patridge, and Lo Bosworth's pool after a party, MTV took a moment at the 2018 MTV Video Music Awards to let the planet know the Laguna Beach spinoff will return to the small screen next year. Frankie, Spencer Pratt, Heidi Montag, Stephanie Pratt, Whitney Port, Audrina, Justin Bobby Brescia, Brody Jenner, and Jason Wahler are all on board; Lauren, Kristin Cavallari, and Lo will not appear on the revival.
With or without Lauren, Kristin, or Lo, the reality show must go on… and bring on someone who starred on the scripted series that inspired the reality series that preceded The Hills. Last week, The O.C.'s Mischa Barton confirmed on Instagram that she will be on the reboot. The Hills: New Beginnings? More like The Hills: '00s Hollywood Is Back, So Bring Back Les Deux.
When Us asked about Barton joining the show (aka the second biggest Marissa Cooper twist of all time), Frankie said,
"I know Brody [Jenner] used to be friends with her, but I only met her once 10, 12 years ago maybe – back in the day when she was on The O.C. … it'll be interesting the way they bring her into our cast and into our friendships because we're all really tight with each other. But in the end, I think we have a really cool dynamic between all of us."
Could you imagine if Lauren did change her mind? And LC and Coop got to film scenes together? What a dream it would be to see these two titans of aughts TV together. Alas, that magical, bootcut jean-wearing dream may never come true; by all accounts, Lauren really is dunzo with the show.
But then again, you never can be too certain. As a wise singer once crooned, "The rest is still unwritten."