This Is The Most Popular 'Bachelor' Contestant Ever, According To Science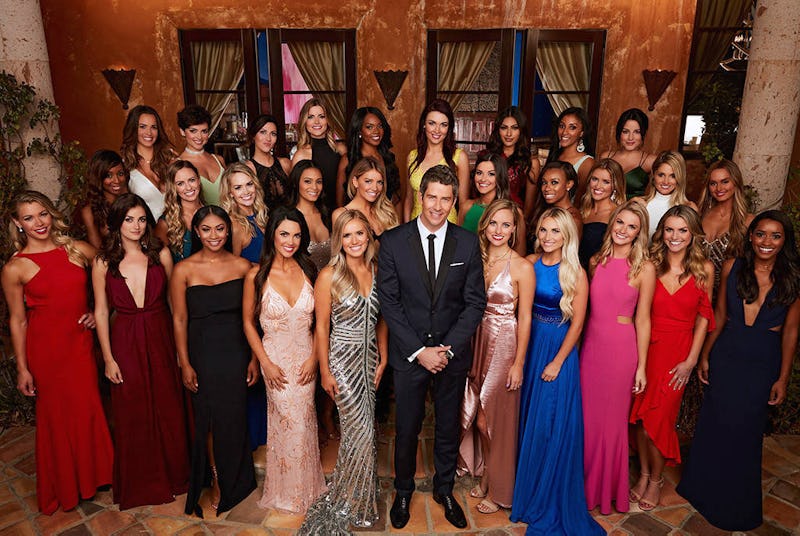 Craig Sjodin/ABC
After 22 seasons, The Bachelor is a well-oiled machine. (A well-oiled machine that has a team of women driving many aspects of The Bachelor production behind-the-scenes, including producers like Nikki Lazaran, Lindsay Liles, and Deborah Read.) And, after these 22 seasons, Homes.com gathered all the data from the reality TV franchise's flagship show to discover who the most popular Bachelor contestant is.
With a slew of young, white, long blonde-haired women, The Bachelor is still not really known for its diversity. And if you feel like you experience déjà vu every season, your brain isn't glitching out. There truly is a pattern when it comes to the contestants on The Bachelor that goes beyond what the women look like. So if you're looking to audition for The Bachelor, these stats could give you an idea of what your chances are.
Even without hard data, you could probably guess some of the most frequent Bachelor contestant demographics. For instance, the average age of the women will usually be younger than the age of Bachelor. There will usually be a real estate agent, model, or fitness expert in the bunch. And there will almost definitely be at least one Lauren present. But Homes.com looked at every contestant from Alex Michel's season in 2002 all the way to Arie Luyendyk Jr.'s season in 2018 to come up with the most common contestants.
And the person you're most likely to see on The Bachelor is... drumroll please...
A 25-Year-Old Teacher Named Lauren From California
Considering that both Ben Higgins and Arie have had four Laurens each, it shouldn't be surprising that Laurens dominate the pack with 15 Laurens appearing over the course of 22 seasons. The names Sarah, Ashley, and Amber all tie for the number two spot with 10 people each.
When it comes to professions, education dominates with teacher and student being the top occupations. The data reveals that more than five percent of all contestants were teachers. People in real estate, models, and account managers round out the top five.
For location, Homes.com broke it down in two different ways — hometowns and home states. While California has the most contestants with 103 people hailing from the Golden State, Chicago is the number one hometown — even beating out Los Angeles — with 19 contestants from Chi-Town.
As for age, 99 women were 25 years old when they appeared on The Bachelor. Out of the 575 total contestants in the history of the show, 371 of them have been between the ages of 23 and 27. The oldest contestant was 39 years old — six years older than Arie's oldest contestant, the 33-year-old Lauren J. (That contestant was Melinda from Season 6.)
In recent Bachelor history, Ben Higgins had two women whose details closely matched the specs of the most popular contestant. Lauren H. was a 25-year-old teacher from Michigan and Ben's winner was Lauren Bushnell, who was a 25-year-old flight attendant from California. Yet, he didn't find lasting love with either of them.
Homes.com also analyzed which women have received the most roses. And it appears there is a difference between the most prevalent contestants on the show and the type of person the Bachelor wants. When it comes to rose breakdowns, the most popular contestant is a 37-year-old nurse named Jennifer from West Virginia. (This data only goes up to Nick's season since Arie's season is still in progress.)
It's pretty astounding on the surface that the 37-year-olds (of which there were only ever two on the show) have received the highest average amount of roses. But, it's really just because their total roses were split amongst only two people to average it out, versus, say, the 99 25-year-olds who had to be averaged out. You see, with so many in the 25 range, you have to figure some of those contestants may have gotten zero roses and tanked the average.
In that case, the highest average rose-getters could really just be the opposite of the most popular contestants — because there are less people in those age, name, and city categories to compete with.
Overall, the data gathered by Homes.com pretty much proves that The Bachelor doesn't really like to stray from its comfort zone when it comes to casting. And while each Bachelor and Bachelor contestant is unique, these statistics show that they're really seemingly all the same. It's all just further evidence that the series needs to break out from this age, job, and city rut and bring in some fresh perspectives.
Editor's Note: This story has been updated.