The Scientific Reason You Hate Running Right Before Your Period (And What To Do Instead)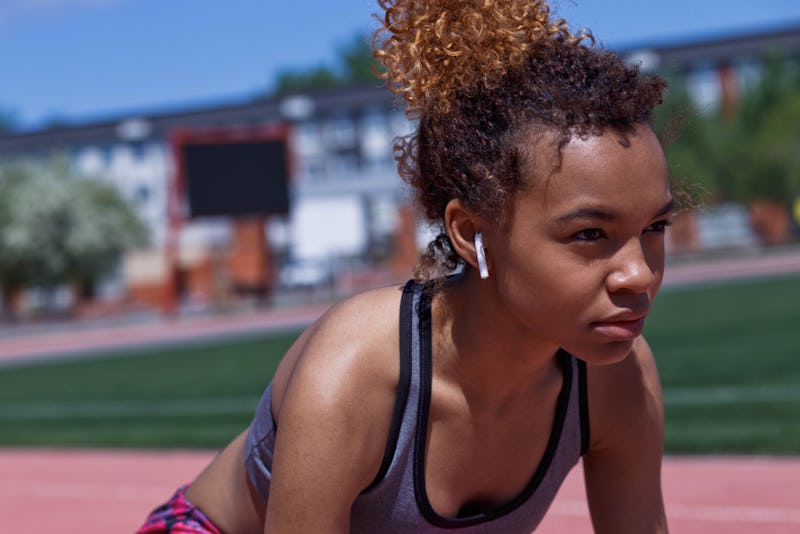 Abai Bekenov
For people with uteruses who aren't taking hormonal birth control, you might find that your typical workout feels awful right before your period, or you're bursting with energy two weeks into your cycle. That's why menstrual cycle workout plans can help you get the most out of each phase of your cycle. The reason is that different workouts can be more or less effective, depending on where you are in your cycle. And this isn't some woo-woo advice, either: Workout effectiveness differs because of the different hormones that rise and fall throughout the month. In the first half of the month (the follicular phase), estrogen is on the rise, giving people extra energy and stamina. And in the second half of the cycle (the luteal phase), estrogen drops and progesterone rises, which can lead to drops in endurance.
So what does that means for your workouts? Generally, it means that more intense strength training should happen in the first half your cycle, while the second half should include more rest days — at least if you're going for maximum effectiveness. But that doesn't mean you have to totally switch up your workout routine!
"If your cycling class is the highlight of your day, you don't have to skip it for simply being ovulatory instead of follicular," Helen Phelan, fitness advisor for Moody Month, a mood and hormone tracking app, tells Bustle. "But think about adjusting your approach to class so that you're still in flow with your cycle. You can still use information about your hormones to your advantage in your preferred modality by modifying your intensity appropriately. In this example, maybe don't turn the resistance quite as high or race to personalize the class to where your body is that day."
Want to try out this whole cycle-guided exercise routine thing? Here are some tips for exercising during the four stages of the menstrual cycle.