Lea Michele & Darren Criss Sang 'Shallow' From 'A Star Is Born' & It's Their Best Duet Yet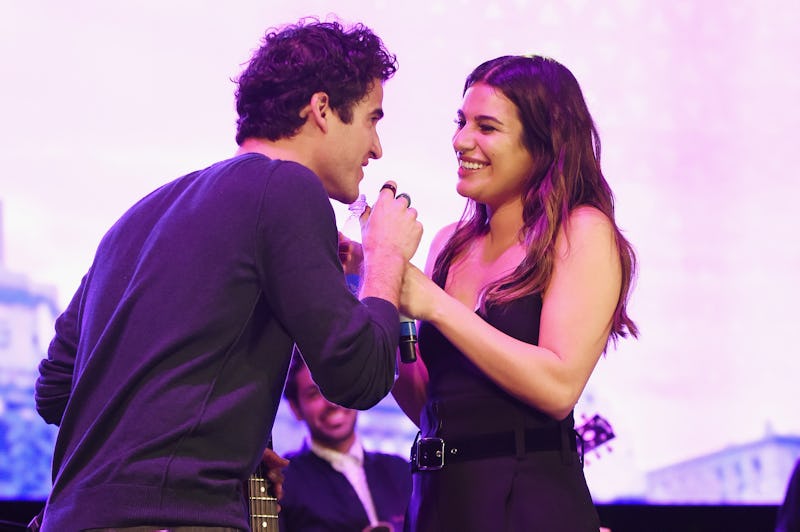 Jenny Anderson/Getty Images Entertainment/Getty Images
If you haven't been able to stop listening to "Why Did You Do That?" and "I'll Never Love Again," since the soundtrack to A Star Is Born was released, you're definitely not alone. Lea Michele and Darren Criss even covered the film's breakout single, "Shallow," on Friday, Oct. 26 at a concert in Las Vegas. The singers channeled their Glee days for the powerful duet, which Michele revealed on Twitter was her "dream" to perform for an audience.
"Tonight... Shallow. This was my dream. I ❤️ you @DarrenCriss #LMDCtour," Michele captioned a video on Twitter, which showed the Scream Queens star belting out the famous bridge with the same intensity that Lady Gaga tackled the riff with in the trailer. But while it's not so surprising that Michele and Criss — who both rose to fame singing creative covers of pop songs on Glee — were able to nail Jackson Maine and Ally's emotional performance of "Shallow," it was shocking for fans to learn that the pair had never sung it together before that night.
"Because we haven't been on this tour in a few months, there have some new songs that have come out, [and] Lea and I have been like, 'Let's do that one!'" Criss told the audience before admitting to the audience that he's "obsessed" with A Star Is Born. "We've never done this before — do you guys want to be out guinea pigs?"
Michele confirmed her friend's statement, adding, "We've literally sang this — never!"
Michele and Criss first announced their joint LM/DC tour back in April, when they shared the exciting news on The Ellen DeGeneres Show. "It's a whole lot of stuff," Criss said at the time about what the pair would be performing every night. "It's obviously some Glee stuff, some Broadway stuff, some of her stuff, some of my original stuff, sort of a mixture of everything."
He added, "We've always played music together, and every time we do we go, 'we should do this more and take it to more cities.'" And they have indeed been adding more dates to the tour — in addition to their current shows in the US, the pair will kick off a UK tour in late November, with dates in England, Scotland and Ireland.
The pair first became friends while starring together on Glee — Criss joined in the show's second season as Blaine Anderson, who led the rival group the Dalton Academy Warblers — and their on-screen friendship has lasted and blossomed off-screen as well.
"This cast goes beyond friends," Michele told E! News back in April. "They are my family and we will be in each others' lives forever."
In the break between the first leg of the LM/DC tour, which traveled around the country over the summer, and this current one, Criss celebrated another major career milestone in September when he won an Emmy Award for his performance as Andrew Cunanan in American Crime Story: The Assassination of Gianni Versace.
"Some actors have to wait a lifetime for this kind of stuff," Criss told People about the complicated, difficult task of playing the famous murderer for the FX mini series. "This happened exactly when and how I would have liked it to happen in my life."
And if Criss wanted to use some of that career luck to fund yet another remake of A Star Is Born, starring himself and Michele, well, something tells us that fans would be pretty excited to go see it. Or, at the very least, maybe they can offer up a live rendition of "Digging My Grave."