Tom Holland Isn't Sharing ANY 'Spider-Man: Far From Home' Spoilers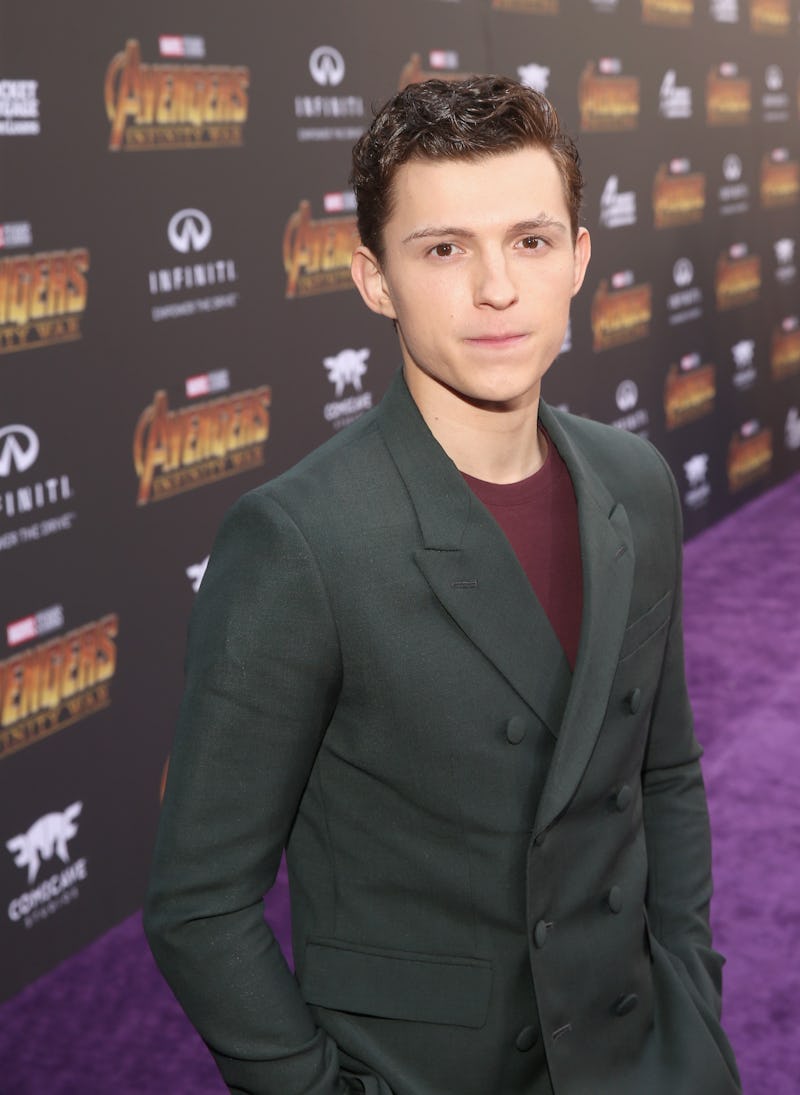 Jesse Grant/Getty Images Entertainment/Getty Images
Though he's known to be the Avenger most likely to accidentally spill secrets about the Marvel franchise, Tom Holland avoided Spider-Man: Far From Home spoilers during a recent appearance promoting the upcoming superhero sequel. Though he did reveal Spidey's new super suit during a recent appearance on Jimmy Kimmel Live!, the actor found a creative new way to stay mum when it came to sharing any details about the film's plot this time around.
Holland appeared on the talk show on Oct. 18 for Jimmy Kimmel's week of Brooklyn-set shows, during a surprise bit in which Kimmel's sidekick, Guillermo, stole Spider-Man's mask. But after Holland got Guillermo to hand the Spider-Man mask back, the actor faced a new challenge when Kimmel asked if Far From Home is a prequel to last summer's Spider-Man: Homecoming. Spoilers for Avengers: Infinity War ahead. "At the end of [Avengers:] Infinity War, you turned into like, black confetti ..." Kimmel said, while Holland-as-Peter Parker frantically shook his head.
"I think Thanos is robbing a bank so I'm going to go an fix that," a panicked Holland replied. And if you, also, think that might be a little unbelievable, everyone's friendly neighborhood Spider-Man had a great reason as to why Thanos would do such a thing. "Thanos is poor," Holland said, running off stage, before declaring "I gotta go!" and (literally) backflipping away from the awkward conversation.
Holland's panicked reaction to the possibility of revealing anything about the upcoming film makes sense, considering that he has a longstanding habit of accidentally dropping spoilers for the Marvel franchise in interviews and on social media. In fact, his habit of spoiling movies — including ones he hasn't even starred in, like when he told Chris Pratt the plot of Jurassic World: Fallen Kingdom — has earned Holland the nickname "Spoiler-Man" amongst Marvel fans last summer.
During the Avengers: Infinity War press tour, Holland also revealed that he wasn't allowed to read the full script, because Marvel was so worried that he would accidentally spill the film's secrets in interviews. And since it's unlikely that Marvel would keep the complete Spider-Man: Far From Home script from Holland, especially since he's the star of the movie, it seems as if the "Spoiler-Man" has finally gotten better about giving away all of the movie's secrets.
Still, even if Holland is keeping details about this movie under wraps, there are quite a few details about Spider-Man: Far From Home that fans already know. To start the film, which recently completed shooting in London, will see Peter Parker leave New York City and travel to different locales far from home as he deals with the fallout from Infinity War.
Far From Home will also see Holland's Peter reunite with potential love interest Michelle, played by Zendaya. And considering fans learned in Spider-Man: Homecoming that Michelle's "friends call [her] MJ," it seems as if Far From Home will put a new twist on the iconic Peter and MJ relationship from the comic books.
And with a new location comes a new super villain for Spider-Man to take down; this time around, the webslinger will face off against the legendary Marvel villain Mysterio, played by Jake Gyllenhaal. Though the identity "Mysterio" has been adopted by multiple Marvel characters over the years, the villain in Far From Home is most likely to be Quentin Beck, a special-effects expert and stunt man who used his expertise to create elaborate disguises and traps that he used in his fight against Spider-Man.
But Mysterio might not be Peter's only problem in the sequel. The Spider-Man: Homecoming post-credits scene teased the big-screen debut of one of Spidey's most notorious nemeses, Mac Gargan a.k.a. Scorpion, so it's entirely possible that Peter Parker might have more than one villain to take down in Far From Home.
Fans can see exactly who and their friendly neighborhood superhero is up against when Spider-Man: Far From Home is released on July 5. Let's just hope Holland can continue to hold onto the film's secrets until then.