Trump Just Smeared Sexual Assault Survivors Protesting Kavanaugh As "Paid Professionals"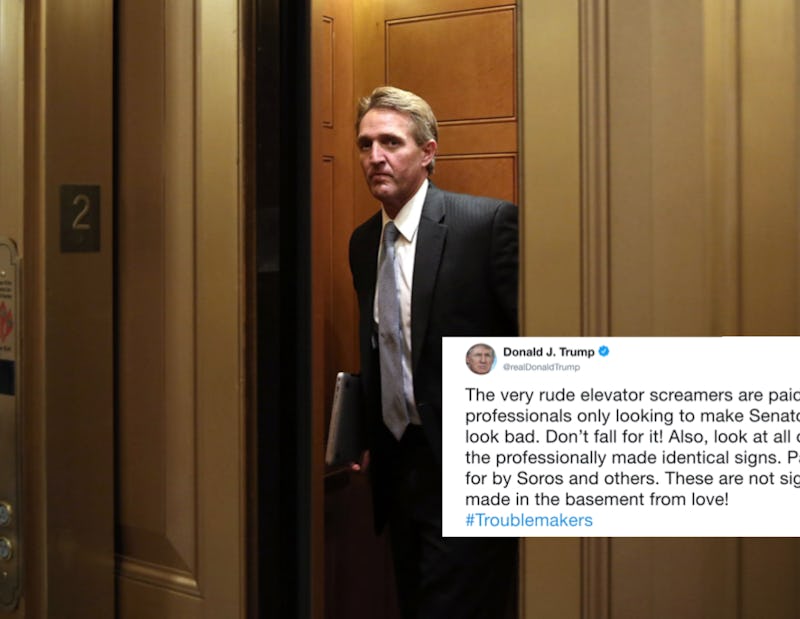 President Donald Trump has weighed in again on the contentious confirmation process of his Supreme Court nominee. This time, he unleashed vitriol seemingly against the two female activists who pressured Sen. Jeff Flake (R-Arizona) to oppose Brett Kavanaugh last week. On Friday, Trump tweeted about the Kavanaugh elevator protesters with a wild conspiracy theory.
"The very rude elevator screamers are paid professionals only looking to make Senators look bad," he tweeted on Friday. "Don't fall for it! Also, look at all of the professionally made identical signs. Paid for by Soros and others. These are not signs made in the basement from love!" Bustle has reached out to the White House for comment.
Ana Maria Archila and Maria Gallagher were the two women who confronted Flake last week. Per CNN, they'd met earlier that day while taking part in a protest opposing Kavanaugh (who had testified against Christine Blasey Ford's sexual assault allegations the day before): The Center for Popular Democracy (CPD)'s action arm brought activists together to occupy a U.S. Senate building. Archila is an activist and the co-executive director of CPD. Gallagher isn't affiliated with the group; a CPD spokesperson told The Miami Herald that she is "just a passionate person."
Conspiracy theories relating to the women's association with CPD have been circulating among right-wing outlets since the event. Many commentators have tried to use the theories to discredit them. The New York Post suggested that the women were not "sincere" because they were participating in CPD demonstrations as opposed to spontaneously coming to D.C. of their own accord (of course, large-scale protests are typically organized by groups). Breitbart called Archila "not just an ordinary concerned citizen" and Puppet String News labeled her a "so called protestor." The Western Journal implied that Archila and Gallagher could have been paid to demonstrate.
Of particular concern to conspiracy theorists is the fact that business magnate George Soros' philanthropic group, Open Society, donated $150,000 to CPD's action arm last year, according to the organization's records. Soros is a frequent target of attacks from radical right-wingers who see him as a rich puppet master controlling Democratic politics. Gateway Pundit called Archila and Gallagher "Soros-funded astroturfed activists." Conservative pundits as prominent as Laura Ingraham have also accused them of astroturfing.
Open Society has responded to these claims and insisted that Archila and Gallagher approached Flake of their own accord. "The decision to discuss the Kavanaugh nomination with Sen. Flake was obviously a deeply personal one, and Ms. Ana Maria Archila has explained her thinking and motivations for doing so," a spokesperson said in a statement to Fox News. "The decision was entirely independent of OSF's support. That said, the foundations proudly support the right of all citizens to make their voices heard by their elected representatives."
Archila and Gallagher met on the morning of Sept. 27. As they told CNN, they "discovered they had a similar pain and decided to go to Flake's office because they thought he could be their critical ally." Per CNN, they became emotional when news broke that Flake intended to support Kavanaugh. They reportedly pursued the senator when they saw him exiting his office. Then, in a spurt of inspiration, they prevented his elevator doors from closing and confronted him with stories of their own sexual assaults.
"No one can pay for someone's lived experiences," Archila said in a statement on Friday, obtained by Bustle. "The pain, the trauma, and the rage that I expressed when I spoke with Senator Jeff Flake in an elevator were my own."
"President Trump is, again, trying to ignore the experiences of people in this country by discrediting individuals who dare to raise our voices and force elected officials to listen to our stories, to look us in the eye, to not turn away," she continued. "But the lesson from my the elevator conversation is that when we force political leaders to connect with us, with our humanity, we can breathe life into our democracy. Regular people are the experts of their own experience, and our political leaders should constantly seek to govern by listening."
Read More About Brett Kavanaugh's Confirmation Process
Here's What Will Happen Next If Kavanaugh Is Confirmed To The Supreme Court
You Can Now Read Kavanaugh's Entire High School Yearbook — And What He Wrote In It
The Video Of Christine Ford's Opening Statement Is Gut-Wrenching
Trump Mocked Christine Blasey Ford In Front Of Thousands Of People
11 Brett Kavanaugh Petitions You Can Sign To Let Senators Know Where You Stand
How To Contact Joe Manchin, Susan Collins & Other Possible Kavanaugh Swing Voters