The SCOTUS Battle Will Continue If Kavanaugh Is Blocked — Here's How It Would Work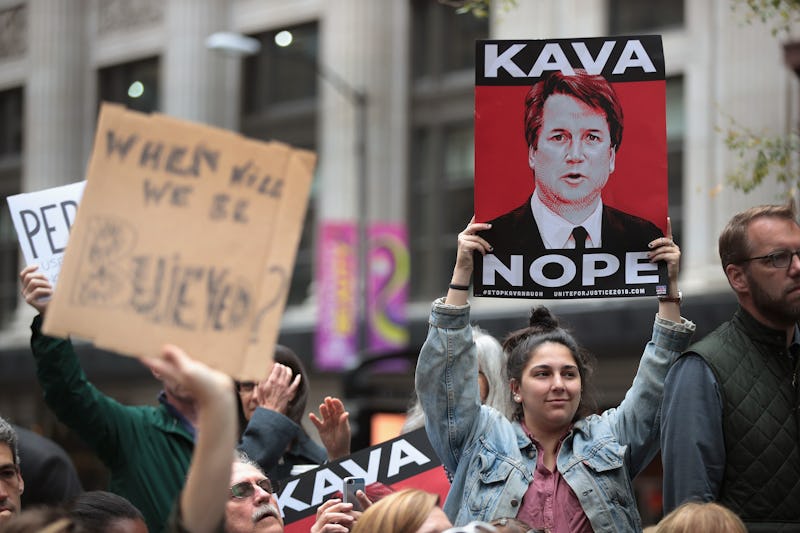 Scott Olson/Getty Images News/Getty Images
A vote on Supreme Court nominee Brett Kavanaugh could occur as soon as this week, and its outcome is far from certain. Democrats need to vote as a bloc and also secure at least two Republican "no"s to prevent him from moving forward. It's possible — a few senators are reported to be wavering — and if it happens, attention will immediately shift to what happens if Kavanaugh is blocked. Trump would certainly try to push through a new nominee; here's what that could look like.
The first question, of course, is whether or not the president has another name lined up and ready as his second-choice nominee. Metro's Michael Martin speculates that he does not, because reports varied widely about his top choices. Nina Totenberg of NPR had predicted that Amy Coney Barrett was just behind Kavanaugh on the list. Sources told The New York Times that Thomas M. Hardiman was the one in the second slot, while Above the Law's David Lat guessed it was Raymond Kethledge.
In all likelihood, Trump would choose one of those people or someone else from his original shortlist (Amul Thapar and Joan Larsen are the two remaining names). Even if he doesn't yet know who he would choose, he would likely speed up the process to pick someone as soon as possible. Even so, The New York Times reports that it's unlikely that a full confirmation process could take place before the midterm elections on Nov. 6.
The next step would depend on which party controls the Senate after the elections. To win the chamber, Democrats must flip two seats and also hang onto ten seats in states that Trump won in 2016; they do have a potential path to victory, but they're fighting an uphill battle. If Republicans maintain control, it's almost certain that Trump will eventually nominate a conservative justice that the Senate will confirm. If not, liberals have a chance of keeping the seat open until 2020, when a new president may take power.
The period after a new Congress is elected until it's seated (this year, Nov. 6 until Jan. 3) is known as a "lame duck session." According to the Heritage Foundation, a conservative think tank, these sessions were once used mostly for emergencies and issues that Congress had run out of time to consider during the regular session. Dealing with presidential nominations or major legislation during a "lame duck" period "undermines representative government by weakening the accountability link between the American people and their elected representatives," Heritage analysts James Wallner and Paul Winfree wrote in 2016.
But taking on more serious tasks during a "lame duck session" has become the norm in recent years. It wouldn't surprise many if Mitch McConnell would continue the confirmation process for a Supreme Court nominee after the midterm elections. If more moderate senators like Susan Collins or Jeff Flake decided to stick up for the old norms, they could oppose any nomination put forward during the "lame duck." But they may not be willing to do so.
A decision from McConnell to proceed through the "lame duck" would fly in the face of his rationale for refusing to hold a vote on President Obama's 2016 nominee, Merrick Garland. "This vacancy should not be filled by this lame duck president," McConnell said at the time. "The American people are perfectly capable of having their say on this issue, so let's give them a voice." But McConnell is unlikely to let this stand in the way of getting another conservative justice on the court.
Even if the Supreme Court seat is held open until January and Democrats win the Senate, it's still possible that a justice could be confirmed before 2020. As The New York Times' Peter Baker writes, "Democrats historically have had trouble maintaining the sort of party discipline in the Senate that Mr. McConnell has enforced on the Republican side." Many Democratic senators — possibly because they were reluctant to seem partisan — considered supporting Kavanaugh's nomination. Instead of keeping the seat empty, some liberal senators might use their leverage to force Trump to appoint someone who's more moderate.
If Kavanaugh's confirmation is blocked, the most likely outcome seems to be that the GOP at least attempts to push through another nominee before the next Congress is seated in January. But these days, nothing is guaranteed; contact your senators throughout the process to make it clear what you expect them to do.
As for Kavanaugh himself, if he gets blocked, he'd just go back to his normal life as a judge on the D.C. Circuit Court of Appeals (or at least as normal as possible given the circumstances), although he won't get to teach at Harvard Law School as he had planned. Meanwhile, there's some speculation that drama would follow him back in his judge position in the form of requests for his recusal on certain cases and ethics complaints. According to BuzzFeed's Zoe Tillman, ethics complaints already lodged against Kavanaugh in the D.C. Circuit are being managed by none other than... former nominee Garland.
Read More About Brett Kavanaugh's Confirmation Process
Here's What Will Happen Next If Kavanaugh Is Confirmed To The Supreme Court
You Can Now Read Kavanaugh's Entire High School Yearbook — And What He Wrote In It
The Video Of Christine Ford's Opening Statement Is Gut-Wrenching
Trump Mocked Christine Blasey Ford In Front Of Thousands Of People
11 Brett Kavanaugh Petitions You Can Sign To Let Senators Know Where You Stand
How To Contact Joe Manchin, Susan Collins & Other Possible Kavanaugh Swing Voters