Princess Eugenie's Wedding Starts Super Early On The East Coast, So Rest Up Now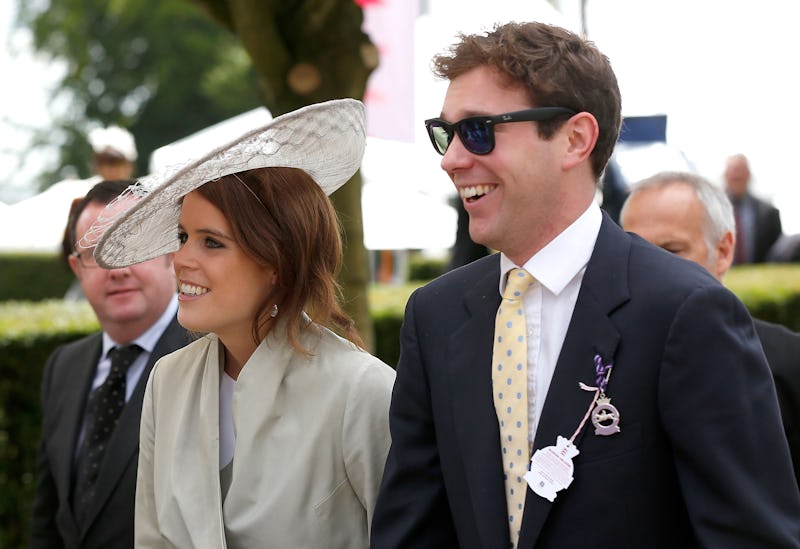 Tristan Fewings/Getty Images Entertainment/Getty Images
Fascinator? Check. Scones and tea? Check and check. An unruly amount of Union Jack flags, decor, and party favors? Check, check, check. Now that your royal wedding party plans are complete, you should probably go ahead and set your alarm. What time is Princess Eugenie's wedding in ET, you ask? Well, you're definitely going to want to turn in at a decent hour the night before, because the Oct. 12 festivities start super early — no matter which coast you'll be watching from.
Princess Eugenie and Jack Brooksbank's upcoming nuptials will mark the second royal wedding of the year. There'll be some similarities to when Prince Harry and Meghan Markle wed back in May — the venue, for example — but there'll be a considerable amount of differences, too.
First of all, Eugenie and Brooksbank's wedding will be on a Friday, not on a Saturday, like Harry and Markle's. In a perfect world, you knew this already, and requested to take the day off of work ages ago. OK, actually — in a *truly* perfect world, your employer is a royal family fan, too, and gave everyone in your office the day off to celebrate as soon as it was announced.
If Friday is going to be business as usual for you, though, make sure to stock up on caffeine and/or sleep. Whereas Harry and Markle's wedding went down at 12 p.m. BST, Eugenie and Brooksbank's ceremony will begin a whole hour earlier — 11 a.m. BST, which makes that 6 a.m. EST for fans in the states.
Now, what if you're a particularly early riser, or just like, super excited about tea and scones? Well, you're in luck, because there'll be plenty of pomp, circumstance, and celebrity arrivals happening well before sunrise. TLC will be "the exclusive U.S. broadcast partner for the royal wedding of Princess Eugenie," and their three-hour long, live, commercial-free coverage of the event — titled Royal Wedding Live: Princess Eugenie, and hosted by U.K. TV personalities, Eamonn Holmes and Ruth Langsford — will kick off at 4:25 a.m. EST.
Obviously, the main attraction will be the wedding ceremony itself. But after the couple says their "I dos" inside the hallowed walls of St. George's Chapel, fans will get to watch the newlyweds' carriage procession through the streets of Windsor as well. Their reception and day-after shindigs are, unfortunately, off-limits to the general public ... but there's nothing stopping you from throwing your very own "festival and funfair"-themed post-wedding party.
If you just can't bring yourself to wake up early enough to catch the live presentation of Eugenie and Brooksbank's wedding, fear not. The full ceremony be available on TLC GO immediately after everything concludes, and the network is airing an encore of the three-hour event at 7:25 a.m. EST, too. Granted, that's still kind of early for some folks (*cough cough, not it*), but at least the sun will have risen by then.
Regardless of where, when, and how you decide to tune in, this year's second royal wedding will undoubtedly be a memorable occasion. If you're not great in the mornings, though, you might have a better chance of remembering all the memorable moments after the live event airs. (No one would blame you, by the way. It's so, so early.)