14 Things To Watch On Netflix During MDW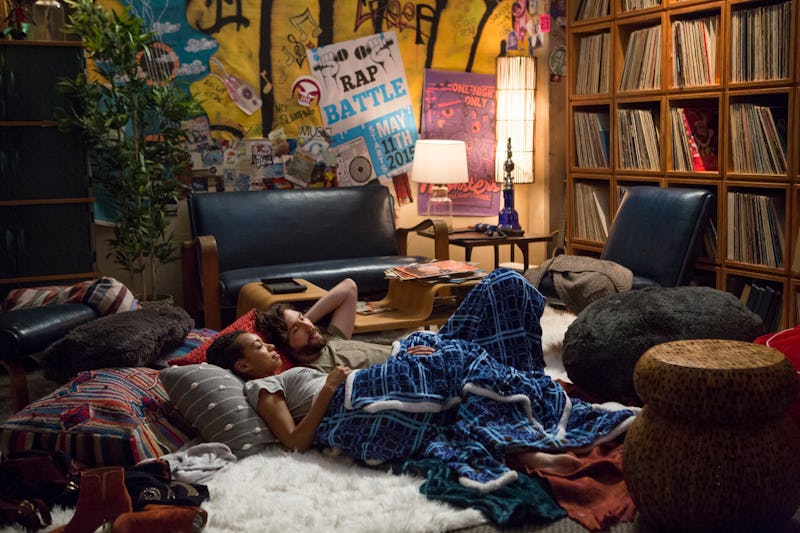 Adam Rose/Netflix
The unofficial kick-off to summer is finally upon us. And while BBQs and beach days may be the first things that come to mind as the weather begins to break, a three-day weekend doesn't always have to be spent outdoors. So, if you're a total homebody, finding something good to watch on Netflix may be just what you need to seamlessly navigate a Memorial Day weekend spent inside.
I mean, sure, there are some who have been patiently waiting for things to warm up, so they can leave the house without the nuisance of bundling up or layering on copious amounts of clothing. And then, there are those of us who would much rather spend our free time tucked away in the sanctuaries of our very own living quarters, eating pizza while taking in a newfound movie or original series on Netflix. Seriously, just thinking about it warms my soul, and to be totally honest, I really can't think of a more laidback and relaxing way to veg-out on this MDW.
I don't know about you, but I'm already counting down the days until I can Netflix and chill my way into the 2017 summer season.
1. Dear White People
If you're trying to "stay woke" while lying around dormant on your living room sofa, Dear White People may be the perfect fix. The Netflix original series, based off the 2014 movie of the same name, follows a group of black students as they attempt to navigate life and politics at an Ivy League college.
2. Grace & Frankie
It's certainly hard to go wrong when you fill your weekend with the comedic timing of Jane Fonda and Lily Tomlin. Grace & Frankie features a pair of former frenemies who hilariously team up after learning that their husbands decided to leave them to be together.
3. Santa Clarita Diet
This "zomedy" is about a married couple, portrayed by Drew Barrymore and Timothy Olyphant, whose lives take a major turn when Barrymore's character suddenly becomes a flesh-eating zombie. Santa Clarita Diet will easily keep you occupied as it's humorous and easy to watch — especially if zombies are your thing.
4. War Machine
This Netflix original movie stars Brad Pitt. It's a fictionalized tale, based on the firing of United States Army General Stanley McChrystal, becomes available for streaming on May 26, that way you can be the first to tell your co-workers all about it on Tuesday morning.
5. Haters Back Off!
This Netflix original centers around the character of Miranda Sings, a fictional and talentless YouTube star, who finds herself on the road to fame and stardom. With two seasons now under its belt, Haters will keep you entertained on your extra day off.
6. The Get Down
The Get Down details the rise of hip-hop in the late 1970s, following the activities of a group of young teens in the south Bronx trying to break their way into the music industry. The musical show will certainly have you nodding your head to the beat.
7. Don't Think Twice
This comedic movie follows the ups and downs experienced by six members of a New York City improv troupe. It's hilarious and definitely worth checking out this holiday weekend, having received critical acclaim upon its release in 2016.
8. Unbreakable Kimmy Schmidt
The brain child of Tina Fey, this brilliant sitcom follows a woman who re-emerges into society after 15 long years in a cult. Needless to say, it's totally marathon-worthy.
9. Love
This Judd Apatow-led rom-com is worth checking out on your time off. Love hilariously explores male and female perspectives of dating. The show was recently renewed for a third season, giving you plenty of reason to tune in.
10. Southpaw
One of my personal favorite movies of all time, Southpaw is making its premiere on Netflix just in time for Memorial Day weekend. The drama, which features the talents of Jake Gyllenhaal and Rachel McAdams, is certainly worth the trip down memory lane, if you've seen it already. If you haven't, you should treat yourself — it's a must-see.
11. Master Of None
Comedian Aziz Ansari stars as an actor trying to make his way through life in New York City. This Primetime Emmy Award-winning series has received rave reviews from critics since in premiere in 2015 with Variety calling Season 2 even better than Season 1. So if you haven't yet, you should check this one out.
Editor's Note: On Jan. 13, Ansari was accused of sexual misconduct by a woman who went on a date with him. Ansari has since responded to the claims, saying:
"In September of last year, I met a woman at a party. We exchanged numbers. We texted back and forth and eventually went on a date. We went out to dinner, and afterwards we ended up engaging in sexual activity, which by all indications was completely consensual.
The next day, I got a text from her saying that although 'it may have seemed okay,' upon further reflection, she felt uncomfortable. It was true that everything did seem okay to me, so when I heard that it was not the case for her, I was surprised and concerned. I took her words to heart and responded privately after taking the time to process what she had said.
I continue to support the movement that is happening in our culture. It is necessary and long overdue."
12. Riverdale
Fresh off of its first season, Riverdale heads straight to Netflix just in time for your holiday weekend viewing pleasure. If you haven't already checked out this CW drama, which is based off the characters of the Archie comics, this is your chance.
13. House Of Cards
With four seasons already available for streaming, House of Cards is a great option for an entire weekend of non-stop viewing pleasure. Plus, Memorial Weekend is the perfect time to get all caught up before Season 5 drops on May 30.
14. Bloodline
This action thriller was met with rave reviews upon its release in 2015. In a synopsis, Netflix describes Bloodline's plot as "a close-knit family of four adult siblings whose secrets and scars are revealed when their black sheep brother returns home." With the third and final season dropping on May 26, Bloodline certainly sounds like the weekend wind-down.
I don't know about you guys, but I can't wait for the start of summer. And with no plans in sight, I'll most likely be taking my own advice and cozying up to one of these amazing Netflix options.