Everything We Know About Wills' Relationship Status Post-'Bachelorette'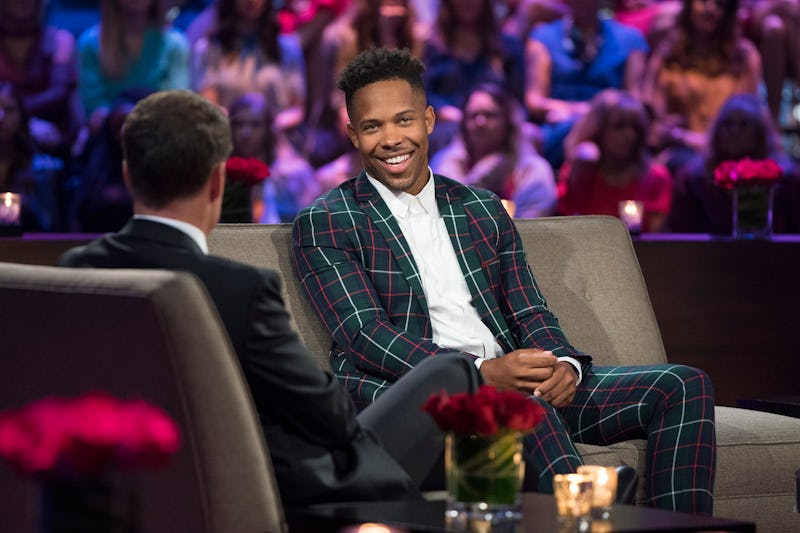 Paul Hebert/ABC
The stylish, chill, and utterly lovable Wills is returning to The Bachelorette after Becca broke his heart. But while he will appear on the Men Tell All special to talk about his relationship with Becca, fans are ready for this contestant to find love with someone new. Unfortunately, who Wills is dating after The Bachelorette is a bit of a mystery. After all, his current relationship status needs to be kept secret since he will be on Bachelor In Paradise this season. Yet, once he was sent home on The Bachelorette, Wills was open about the fact that he's looking for lasting love — and how he considers the reality TV franchise to be part of his journey to find a wife.
Fans were petitioning for Wills to become the next Bachelor even before Becca sent him home. But a The Bachelor season might not be necessary for him if he found romance in Paradise. After he was eliminated on The Bachelorette before hometowns, he sat down for an interview with Lauren Zima of Entertainment Tonight. Zima asked him what happened in Paradise and he simply said (complete with a wink), "You're gonna find out, so stayed tuned — watch that." When asked if he could reveal if he was currently single, Wills said, "I cannot."
However, his tease of Bachelor In Paradise doesn't necessarily mean that Wills couldn't still become the Bachelor. Due to the huge amount of support he has gotten, he said he would consider being the lead of the franchise. "I'm open to any and every opportunity," Wills told Zima. "I'm not gonna say no. If someone comes and talks to me, that's a discussion to be had and I'm all for it." But as of that July 10 interview, Wills revealed that he hadn't had any formal discussions about becoming the Bachelor.
As his involvement in Paradise shows, Wills is certainly down to continue with the franchise. And he said that despite the hurt he felt when Becca dumped him, he was "glad" for the experience since he feels it will lead him to his life partner. "Everything I go through is going to lead me to her, so this is just another chapter in leading me to her," Wills said before clarifying that the "her" he was talking about was "my wife, my future wife wherever she is." If he is still single after Paradise, that quote shows that he's already nailed the perfect pitch for why he should be the next Bachelor. And based on the tweets that he likes, it's pretty clear that he knows he'd make a damn good Bachelor too.
Wills also told ET what he's looking for in a partner. Wills said:
"I want someone who is not afraid to laugh at themselves. I want someone who is kind of goofy, but can also have a serious conversation. I also want someone who's kind. I know it sounds obvious, but I just want someone who is kind, nurturing because I'm going to be kind and nurturing for her. And I just want to build something together and have a great life together."
Again, he gave a total swoon-worthy answer that really shows just how great he would be as Bachelor. But some fans are actually hoping that he's already found these traits in another member of Bachelor Nation.
As a thread on Reddit shows, people are 'shipping Jaimi and Wills. Jaimi appeared on Nick's season of The Bachelor and Bachelor In Paradise Season 4. Like Wills, she had a very down-to-earth personality and she has even mentioned her admiration for Wills multiple times in her Bachelorette live tweets. It doesn't appear that Jaimi will be on Bachelor In Paradise for Season 5, but Wills posted a photo of them hanging out with Christon, Dominique, and Darius back in June. So this pair does have potential.
The women who will actually be in Paradise with him include Tia, Bibiana, Chelsea, and Kendall so far. Yet, Wills said in another interview that he didn't go to Paradise with the intention of pursuing a specific person. On iHeart Radio's Domenick Nati Show, Wills said, "I don't really have my eye on anyone specifically. I just wanted to go down there and see who I vibed with the most and see who would be interested in me."
Whether or not he ends up with a member of Bachelor Nation, Wills' visibility as a catch has certainly increased since he's been on The Bachelorette. In his ET interview, he acknowledged that he has been receiving a lot of interest online. "There has been an outpouring of support and love and admiration and I appreciate every single one of you," Wills said. So even if he doesn't become being the first black Bachelor, there's a good chance that Wills will find — or has already found — the love that his fans know he deserves.