Why JoJo Fletcher Really Wants 'Bachelor' Fans To Give Colton A Fair Chance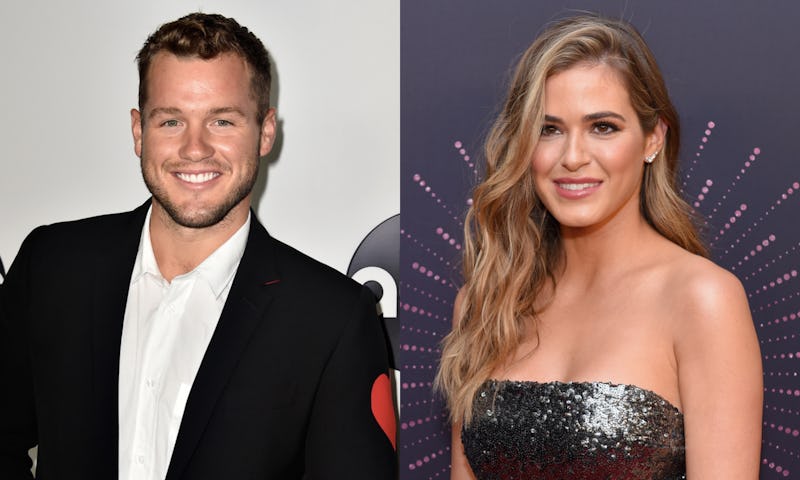 Frazer Harrison/Getty Images Entertainment/Getty Images; Jason Kempin/Getty Images Entertainment/Getty Images
It seems like every member of Bachelor Nation has shared their two cents about Colton Underwood being the next Bachelor. And, uh, most of those opinions were pretty critical. But one person who won't be spreading negativity is The Bachelorette alum JoJo Fletcher. JoJo says people should give Colton a chance during a recent interview with Bustle while promoting her Fletch clothing line at a pop-up shop in Brooklyn. And her perspective may inspire you to do exactly that.
When talking about the situation, JoJo manages to keep it real, yet avoids being cruel. It's rare feat, but that's why she's still one of the most beloved Bachelorette stars. "To be honest, I don't know Colton personally. I have never met him," JoJo admits. Nevertheless, she doesn't have to be best friends with the new Bachelor to share her feelings.
"I never like to say anything negative about people going into the situation," she explains. "I know there may be people who have their doubts, but you've got to give everyone their chance."
Even if the fandom is not universally pleased to have Colton as the Bachelor, JoJo wishes him nothing but the best. "I think that no matter what people think of him, he will really enjoy this experience," she says. "Hopefully something great comes out of that."
So, why is JoJo one of the few people not jumping on the anti-Colton bandwagon? Because of her own experiences in the franchise, of course. The Dallas native says, "Everyone is always going to pass judgment. I know what it's like to have judgment passed on you and for people to assume that they know who you are. You just need to give people the benefit of the doubt sometimes, you know?"
JoJo also points out, "The last couple Bachelors have had a tough go." And she's right; Colton isn't the only one to receive a cold reception from the fandom. Viewers were less than pleased when two-time Bachelorette runner-up Nick Viall nabbed the lead role on The Bachelor for the 2017 season. The very next year, Arie Luyendyk Jr. felt like a very random choice for The Bachelor Season 22. He had been out of the franchise for five years.
Plus, Arie didn't make things any better for himself when he proposed to Becca Kufrin, broke up with her, and then left her for runner-up Lauren Burnham. Pretty much everyone hated on Arie for the switch-a-roo, but again, that's just not JoJo's style.
"People were very mad. I get it. My heart broke for Becca during that moment," JoJo reflects. "Now everyone is with who they are meant to be with." She's not wrong — Becca became the Bachelorette and got engaged to Garrett Yrigoyen, a match that gets JoJo's seal of approval.
She declares, "I love the fact that she got her own chance. I love the fact that she found Garrett. I think that they are so perfect together. Everything that happened with that whole situation happened how it was supposed to happen." It really did. Becca and Garrett are happy. Arie and Lauren have a baby on the way. What's the point of hating? Especially now.
JoJo continues, "Anyone who is talking poorly about Arie and Lauren, they really shouldn't be. Let them be happy. They have found something great throughout the show, no matter how it happened, and so did Becca. Everyone is good."
Sure, it's easy for people to hate on the leads in the Bachelor franchise. And it doesn't exactly help that a lot of them don't actually end up with the final recipient. Nevertheless, JoJo has a great philosophy about the Bachelor experience.
"Everything happens for a reason," she explains. "Even if nothing happens for you as a result of the show, it is just one of the coolest things you can do in your entire life. It is something you can always talk about and remember fondly. You'll meet a lot of cool friends. You'll get to travel the world. Then hopefully, you find somebody along the way."
So really, there's no point in hating on Colton. Follow JoJo's lead — give him a chance, and root for the love story. Everything really does happen the way that it's supposed to.