Why Taylor Swift Should Be At The Women's March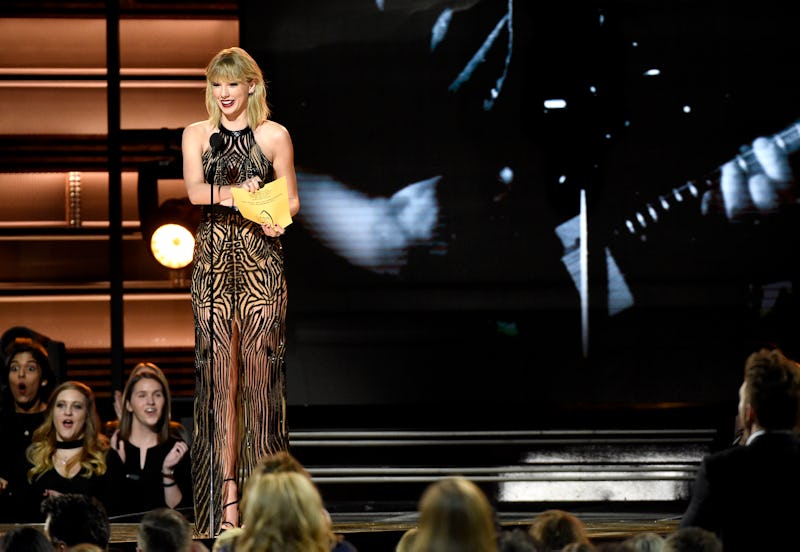 Gustavo Caballero/Getty Images Entertainment/Getty Images
When you think of Taylor Swift, you probably think of power, since her influence is undeniable. At the time of writing this article, she has 83.1 million followers on Twitter and 96.1 million followers on Instagram, and her political alliance was hotly debated in the lead-up to the election. This makes it all the more essential that Swift should be at the Women's March on Washington on Saturday, Jan. 21. Bustle has reached out to Swift's rep for a statement, but has not received a response at the time of publication.
While Swift hasn't publicly commented about attending the event one way or another, the fact that I'm even discussing this shows how far the singer has come. As you may recall, she hasn't always identified as a feminist. In 2012, when the Daily Beast asked if Swift considered herself a feminist, she stated:
"I don't really think about things as guys versus girls. I never have. I was raised by parents who brought me up to think if you work as hard as guys, you can go far in life."
But in 2014, she told The Guardian that her friendship with Lena Dunham had led her to reconsider her stance, arguing that as a teenager she hadn't understood the nuance of the word and had assumed it meant "you hate men," whereas her conversations with Dunham "without her preaching to me, but just seeing why she believes what she believes, why she says what she says, why she stands for what she stands for" had led Swift to realize "that I've been taking a feminist stance without actually saying so."
Undeniably, there have been a few lows in Swift's brand of feminism. There was the time she seemed to take Nicki Minaj's general critique of the lack of inclusion in the music industry (in response to "Anaconda" not getting nominated for Video of the Year at the 2015 VMAs) as an attack against other women, including herself (since she was nominated for "Bad Blood"). Thus resulting in some heated back and forth on Twitter.
And there was the time Swift responded to her Album of the Year award at the 2016 Grammys with a speech, where she attempted to position the victory as an inspiring win for all women against the forces of sexism — which was widely interpreted as a dig at Kanye West, whom, at the time, she claimed referenced her in his track "Famous" without asking for permission. Then in July, Kim Kardashian released a Snapchat video of an alleged phone call, where Swift seemingly approved of West's song — or at least part of it. Afterward, Swift posted a statement on Instagram, where she claimed she never heard the lyric where West called her a "b*tch." She wrote, "Being falsely painted as a liar when I was never given the full story or played any part of the song is character assassination."
Still, despite these bumps in the road, much of the above could be interpreted as learning moments, and who among us hasn't had those? After all, Swift apologized to Minaj, tweeting, "I thought I was being called out. I missed the point, I misunderstood, then misspoke. I'm sorry, Nicki." The two even hugged onstage at the award show and performed together.
But none of the above was as tough for feminists — who want to root for Swift as a woman fighting for other women's rights — as Swift never coming out and stating who she was voting for in the 2016 election. I get it: It's none of our business, and just because she's in the public eye doesn't mean we're entitled to know every one of her deeply held political or spiritual beliefs. I get that on a logical basis.
But on an emotional basis? I think of Swift and her squad and how her brand — a brand that's worth $170 million, as of 2016 — has been built on the shoulders of women. I think of the argument Rebecca Bohanan has already outlined on the Huffington Post, stating that Swift's feminism can be interpreted as being only public when it serves her. Bohanan pointed out that Swift has never publicly supported "funding Planned Parenthood, Hillary Clinton, the Equal Rights Amendment, or any other piece of feminist legislature." And I think of how, in 2017, it could be possible to be a self-declared, out-and-proud feminist and not position yourself in opposition to a man who has made the comments about women that Donald Trump has. (Not to mention the sexual assault allegations against Trump, which the president-elect adamantly denied and called "totally and absolutely false.")
Back in 2012, Swift told Time:
"I follow [the election], and I try to keep myself as educated and informed as possible. But I don't talk about politics because it might influence other people. And I don't think that I know enough yet in life to be telling people who to vote for."
This sounds humble and and sweet on a first reading. But then again, Swift doesn't seem to mind influencing the public on matters that are close to her heart. Remember that op-ed she penned about Spotify underpaying its artists? Or her open letter to the CEO of Apple asking him to compensate musicians on Apple Music fairly.
So screw political neutrality. At this stage, so close to Trump's inauguration, staying silent is not the same as remaining neutral. Staying silent and not using your power, if you have it, to fight on behalf of all the women who are in more vulnerable circumstances than you is disappointing, to say the least. In Trump's era, to call yourself a feminist is now, more than ever, a political act, because it positions you in opposition to arguably the most misogynistic president-elect of the past 20 years. So it's up to Swift to decide: Does she want to be politically neutral? Or does she want to be a feminist? Because in 2017, you can't really be both.