Why Saying "Men Can't Be Feminists" Makes No Sense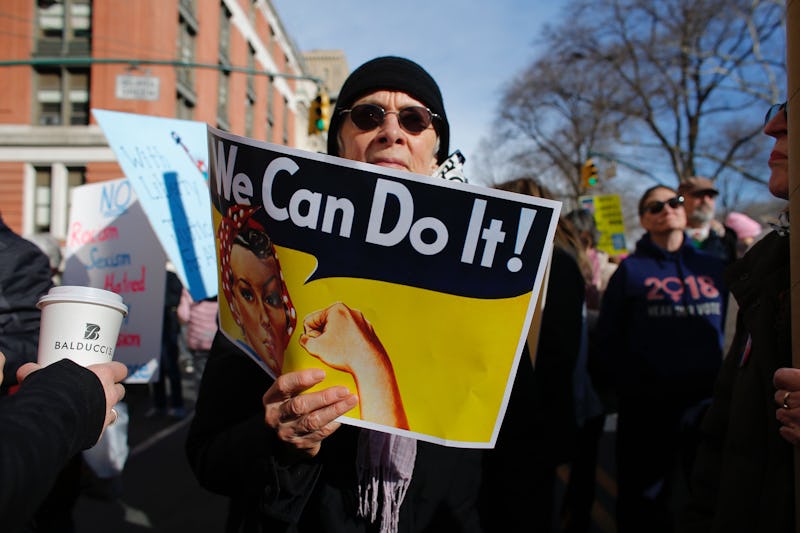 KENA BETANCUR/AFP/Getty Images
As more and more women embrace feminism, one question has come to the forefront: can men be feminists? And the answer is that they absolutely can. People employ all kinds of arguments to suggest that they cannot, but every one of these has problems — and in fact, trying to argue that men can't be feminists makes no sense whatsoever.
Feminism, according to Dictionary.com, is "the doctrine advocating social, political, and all other rights of women equal to those of men." Similarly, Merriam-Webster considers feminism "the belief that men and women should have equal rights and opportunities." In practice, feminism also includes the advocacy of equal rights based on race, class, sexuality, and every other part of your identity. This intersectionality is important because so much more than gender plays into oppression. You can obviously hold these ideologies regardless of your gender, cultural background, or pretty much anything else.
A number of male public figures openly identify with feminism, including actor Matt McGory, singer John Legend, and President Obama himself. They recognize that gender roles hurt everyone, and combatting them creates a freer world for us all. They simultaneously recognize that men have a different role in feminism than women or non-binary people because gender is a system that affords them privilege, and feminism means giving up some of that privilege in order to lift up less privileged people. But that doesn't mean feminism doesn't help them.
Here are some of the most common arguments against the idea that men can be feminists — and the best counterarguments against each.
Image: Unsplash