Here's What The Future Might Hold For The Shapeshifting Teens Of 'The Innocents'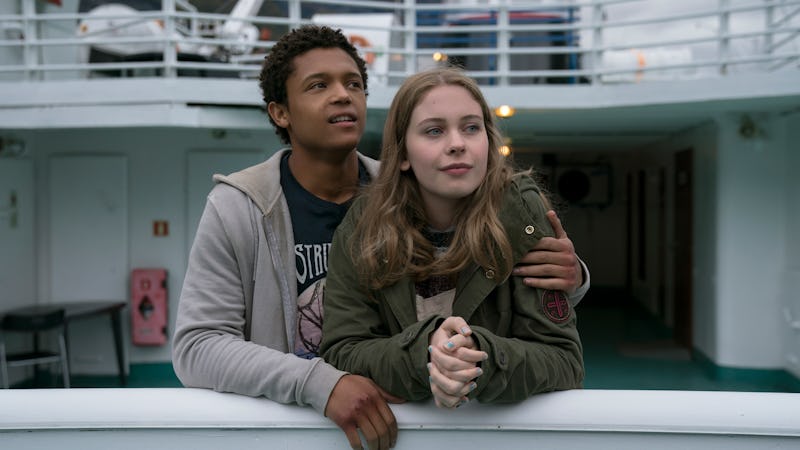 Aimee Spinks / Netflix
The Innocents is a simple tale about two young lovers on the run — until one of those young lovers discovers that they're actually a shapeshifter and learns that there are more shapeshifters in the world and a suspicious doctor played by Guy Pearce offers to fix her. While the plot of The Innocents goes from simple to complicated very quickly, audiences that are interested in the premise will want to watch as much of the show as possible upon it's premiere. The first season of the show premieres on Aug. 24, but it's not yet known when The Innocents will return for a second season, or if it will get renewed.
While the fate of The Innocents is as uncertain as the fate of the young shapeshifter at its center, it bodes well for the show that its premiere marks the continuation of a trend in Netflix Original Series. Netflix seems to offer different shows for people from various backgrounds, but it's only been in the past few years that Netflix seemed to learn what networks like The CW and Freeform learned years ago — teens watch television. And grownups who love teen stories do, too.
In fact, teens watch a lot of television, and that's been reflected in Netflix's choice to produce The Innocents, and the many other teen programs that have premiered on their platform in the past few years. While The Innocents popularity will likely play a role in Netflix's decision to renew the series or not, it may be more important to the platform to have a diverse roster of Young Adult programming — and can you really say you appeal to teens without having a paranormal YA show on your platform?
The Innocents seems to be the platform's first supernatural show that is explicitly targeted at a YA market — unless you consider Stranger Things a YA show — but it's far from the platform's first YA show. It seems that Netflix took the success of 13 Reasons Why as a sign that more subscribers want YA content, which is why 2018 has seen the debut of a variety of teen-focused programming on Netflix, including the dark-comedy The End Of The F***ing World, the controversial Insatiable, the down-to-earth comedy On My Block, and 90's-inspired one-season wonder Everything Sucks!, not to mention the the upcoming premiere of Chilling Adventures Of Sabrina. 2018 has proven that Netflix is serious about YA programming, and is willing to take chances for the sake of expanding their programming.
While not all of those series are coming back for future seasons, The Innocents fills in a crucial hole in Netflix's programming by offering a paranormal teen thriller amongst their original series. While Chilling Adventures Of Sabrina may be a more high-profile supernatural show, thanks to its association with YA smash hit Riverdale, The Innocents could end up being a surprise hit in the same way that Stranger Things became an overnight sensation. Until Netflix announces whether or not The Innocents will return for a second season, however, audiences will have to hope that Netflix is committed enough to their YA programming to keep it around and keep building their library of shows.
This article was originally published on