We've Been Saying Chrissy Teigen's Name Wrong All These Years & Nothing Matters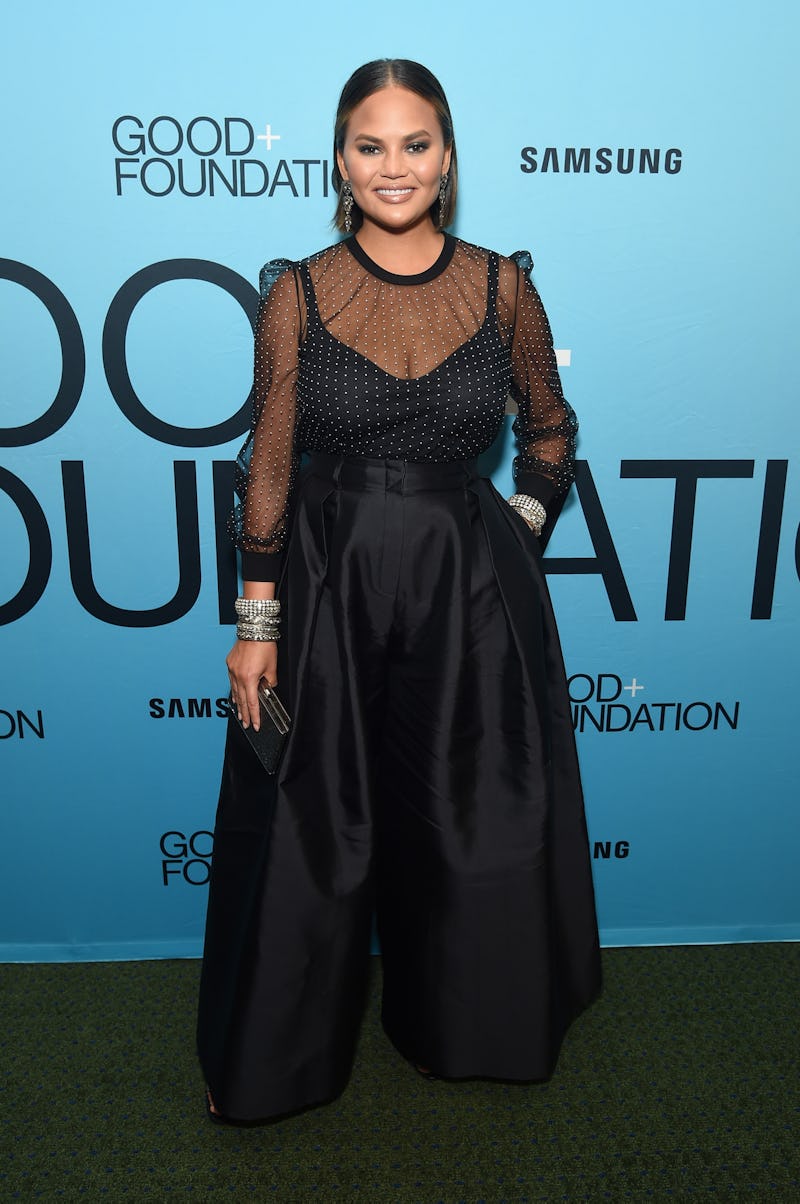 Jamie McCarthy/Getty Images Entertainment/Getty Images
Remember that feeling when you discovered the actual pronunciation of Ariana Grande's last name? Get ready for the ground to fall out from under you again because Chrissy Teigen just dropped the truth about her own last name on Twitter. Turns out, everyone has been saying Teigen's last name wrong. She tweeted on Sunday night that the correct pronunciation is with a long "i" sound and not a long "e" sound — so it sounds like "Tie-gen" instead of "Tee-gen." This shocking revelation may have you feeling lost and utterly confused. But thankfully, Teigen has provided some fun commentary to help fans navigate this brave new world.
This revelation came about after someone on Twitter shared how she just found out how to pronounce Grande's last name. During an August interview with Beats 1, Grande said her last name and pronounced it as "Gran-dee," as opposed to "Grahn-day." Grande explained that her brother decided they should pronounce their last name as the more flashy "Grahn-day" while her grandfather always said "Gran-dee."
Someone retweeted the post about Grande and wrote, "You know how innocent you have to be to allow a world to pronounce yo last name wrong yo whole life and just go along with it?" Then, someone else retweeted that and wrote, "Well we pronounce @chrissyteigen's name wrong all the time." To which Teigen responded, "word! gave up a long time ago. last name is tie-gen not tee-gen."
But like with Grande, there is a reason that the public has never known this. One Twitter user responded to Teigen, "But wait...when you say it YOU say tee-gen!" Teigen replied and admitted that she hasn't helped the confusion. "I know. I even correct people when they say it correctly. it's all v effed up," she wrote.
Teigen has spoken out about her last name before when she explained why she chose to keep her name rather than take husband John Legend's last name. (Spoiler alert: "Legend" is a stage name, y'all.) But this time, she wrote that it's just a simple case of her not correcting people. "I don't correct people, ever. They can call me Janet and I won't. Wrong order? I'll eat it. Taxi going to the wrong airport? I'll change my flight." If you're surprised to hear that considering how outspoken she is, Teigen explained, "I don't correct people but I do I don't know im so tired please let me go." And clearly, even if she isn't afraid to criticize Donald Trump, she hasn't been making an effort to tell people how to say her surname the correct way.
Lest you think she's lying about her last name, she brought in backup. Teigen got her mom Vilailuck — who famously lives with Teigen and Legend — to chime in. Vilailuck has proven that social media prowess runs in the family with her Instagram account pepperthai2. And when Teigen says in the below video, "I'm tired of living this lie. It's 'Tie-gen.' Isn't it, mom?" Vilailuck simply and hilariously replies from the kitchen, "Yep!"
However, Teigen's last name actually comes from her dad, Ron Teigen. (As Us Weekly reported, Teigen has confirmed her parents are still married, but that her father lives just 10 minutes away from her household.) While Vilailuck is Thai, the name Teigen is Norwegian. Ancestry.com has that Teigen comes from the Old Norse word teigr, which means "strip of land." Ancestry also notes how a similar last name is "Eiken," which helps to demonstrate how the "ei" should be pronounced as "i" and not "ee."
As Teigen is an established celeb, the world will most likely continue to call her "Tee-gen." After all, the model, mother, host, advocate, and author has encouraged the incorrect pronunciation. But it will be interesting to see on the Emmys red carpet if any of the commentators take notice of this name bombshell. And no matter how you pronounce it, Teigen has proven that even if people don't say you're name right, it doesn't have to stop you from living your best life.