We Asked 21 Women How Much They Really Spend On Skin Care Each Month & We're So Fascinated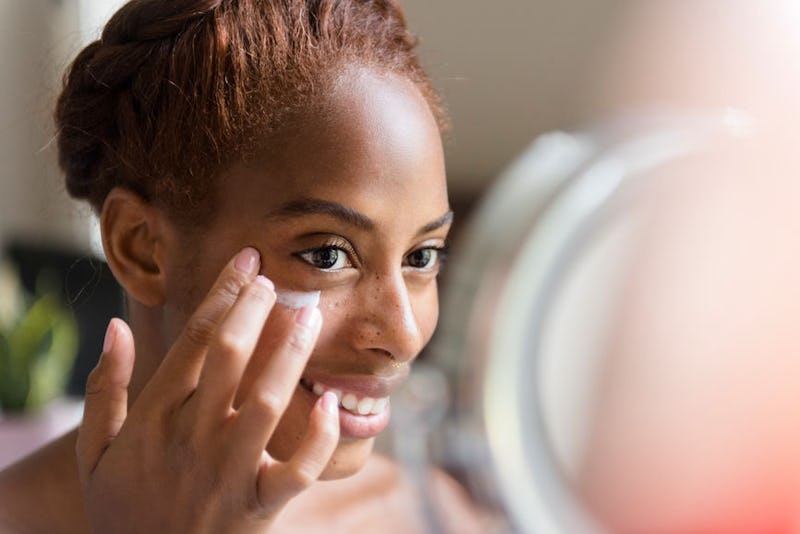 Jamie Grill Atlas/Stocksy
In Bustle's series How Much I Spent, women get honest about how much they're investing in a particular aspect of their lives, and why. For Bustle's beauty issue, Advice Haul, we asked 21 women with different budgets and skin types to break down exactly how much money skin care costs them each month — and to reveal the one product in their regimen they love the most.
With countless options out there to choose from, figuring out the best skin care products for you can definitely feel a little challenging — and, depending on what you're buying, expensive. Do you have to break the bank and get the most pricey options, or will you get the same (or even better) results with less expensive skin care products? Everyone's routine (and budget) will vary, but there are a few things that experts say are good to keep in mind when picking out your products.
To make sure you're getting high-quality, effective beauty products, it's important to first look at the ingredients label of what you're buying. "When it comes to cheap products, you're likely to be dealing with fillers and additives which could be avoided with more expensive products," Adina Mahalli, hair and skin care expert at Maple Holistics, tells Bustle. "Conversely, you could be paying a fortune for a less-than-desirable formula, so you're essentially just paying extra for fancy packaging and a brand name."
"You just have to know what you're looking for so that you don't spend $100 on the exact same formula you could get for $7."
So which ingredients are actually worth spending a little extra money on? "Pure essential oils, patented technologies, and rare ingredients are obviously going to cost more — and give you a better product in return — than their drugstore alternatives," Mahalli says. "You just have to know what you're looking for so that you don't spend $100 on the exact same formula you could get for $7."
Also keep in mind that your skin care regimen doesn't have to include a million different products in order to work, either. "In the absence of acne, I find it best to keep the regimen simple and consistent," Dr. Janet Prystowsky, dermatologic surgeon in practice at Citywide Dermatology in Midtown Manhattan, tells Bustle. "For instance, using a mild beauty bar like Dove is all you need to clean your face." To remove makeup, she likes POND's Cold Cream, and she also suggests using a moisturizer with SPF under your makeup in the morning.
You don't have to spend a fortune to build a skin care plan that's right for you. Below, 21 women share their routine and their favorite go-to skin care products, as well as how much they estimate they spend per month. Of course, one product may work well for one person, but not another — and that's OK. If you need some skin care inspo, look no further.