8 Times Jenna Ortega, Miley Cyrus, & More Owned The Hooded Dress Trend
Grace Jones' signature style has made a major comeback for 2023.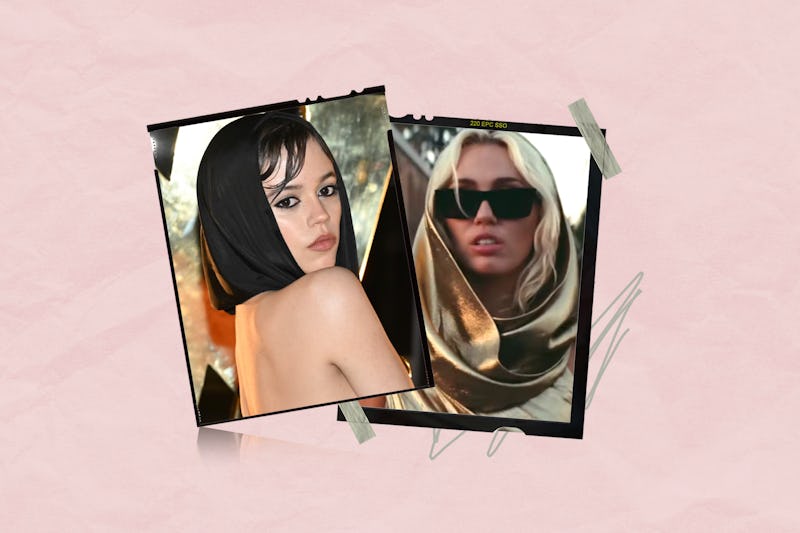 Stephane Cardinale/Corbis/Getty Images/YouTube/MileyCyrus
When it comes to taking the incredibly humble hoodie and transforming it into a fashion moment, there's surely no better expert than the iconic musician and actor Grace Jones. The first Bond girl to have a direct hand in designing her own costumes, her villainous character May Day wore an entire parade of wickedly chic hooded garments for A View To Kill, and nearly forty years after its release, her signature style is making a *major* comeback.
Dramatic hoods first began to creep back into view last year, with Rihanna channelling high fashion Little Red Riding Hood in a custom Alaïa coat-dress in Feb. 2022, and Simone Ashley wearing a hooded lilac gown by 16Arlington to the British Fashion Awards in Dec. 2022. Even bona fide super modelling legend Kate Moss approved of the moment, joining in with a sheer, hooded Saint Laurent dress the previous month.
And rolling into Spring 2023, it looks like hooded outfits are here to stay. From Jenna Ortega's gothic take on the look to Maya Jama's daring outfit, see below for how celebrities are embracing the trend.
Miley Cyrus
Though it might not be the most sensible idea to attempt any lengthy hikes wearing vintage '90s Yves St. Laurent, Miley Cyrus still makes it look effortless in the music video for her break-up anthem "Flowers," which sees the singer rock a hooded gold outfit.
Maya Jama
Love Island host Maya Jama made the hooded dress trend her own when she attended Christian Louboutin's Paris Fashion Week show on March 2. The presenter wore a black, hooded Alaïa ensemble with a thigh-high slit.
Drew Barrymore
If you think Drew Barrymore's take on the trend, for a recent Victoria Beckham campaign, has a hint of The Handmaid's Tale about it, you're not alone. "It's giving Little Edie!" commented one fan on Beckham's Instagram post. "Under his eye" quipped another.
Olivia Wilde
As Olivia Wilde amusingly revealed during Paris Fashion Week on her Instagram story, there was an unsung hero doing a lot of heavy lifting as she attended Saint Laurent's runway show – glue. By the time 1am rolled around, the hood of her black gown was still firmly stuck to her head thanks to its ""extremely powerful" anchoring.
Getty Images/Stephane Cardinale, Corbis
Getty Images/Stephane Cardinale, Corbis
Dua Lipa
The Red Pill or The Blue Pill? Channelling major matrix vibes, Dua Lipa also embraced the hooded trend at… you guessed it, Saint Laurent's show at Paris Fashion Week.
Getty Images/Pascal Le Segretain
Getty Images/Pascal Le Segretain
Jenna Ortega
Also flying the flag for Saint Laurent, Wednesday actor Jenna Ortega attended Paris Fashion Week in an Addams Family-approved gothic look, and we love to see it.
Anne Hathaway
Walking the red carpet at the Berlinale International Film Festival, Anne Hathaway also went down the all-black route with this hooded cotton dress by Alaïa.
Getty Images/Picture Alliance
Getty Images/Picture Alliance
Anya Taylor-Joy
Checkmate! The Queen's Gambit star Anya Taylor-Joy took the hood concept to the extreme for the BAFTAs. The striking look, which came complete with a dramatic, floor-length velvet head covering, is from Schiaparelli's SS23 Couture collection.