10 Tattoo Ideas To Celebrate Aquarius Season
Calling all water bearers.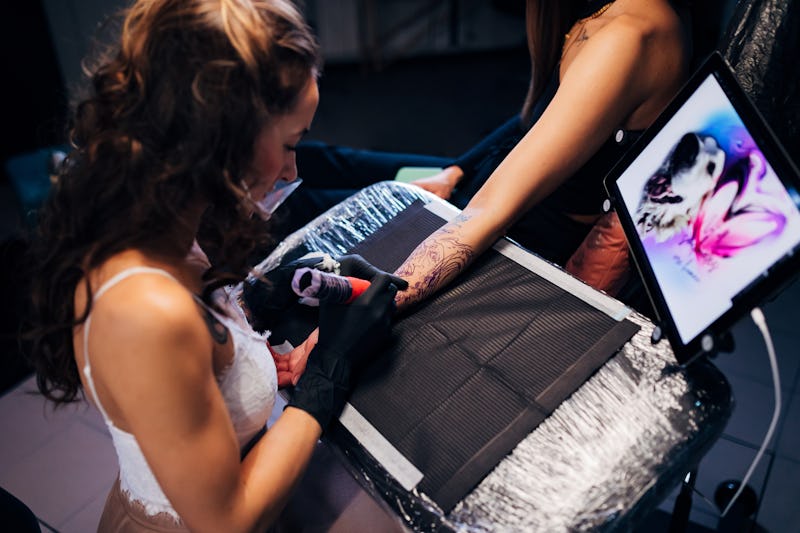 Kosamtu/E+/Getty Images
January 20 to February 18 is a magical time. Why you might ask? Well, those whose birthdays fall in between those glorious dates know the answer: It's Aquarius season. And there's no better way to celebrate than with an Aquarius tattoo.
In a no way biased assessment of all the zodiac signs from someone whose birthday may or may not be in early February, being an Aquarius is simply the best IMO. (If you have an Aquarius in your life, consider yourself to be extremely blessed.) Rebellious, unique, visionary, an Aquarius pushes boundaries and is the ultimate sign when it comes to loving and celebrating people's unique characteristics.
"Aquarius energy [challenges] us to remember our responsibility to ourselves; to shed conformity; to recognize marginality and the unseen; and to shine in our originality," Aquarius-born astrologer Alyssia Osorio once told Bustle. "Aquarians love to enact big-picture goals through their will — fueled only by belief and a dash of tenacity. Headstrong but also innovative, Aquarius can create the future they crave to be in."
You can see these qualities in some of our favorite celebrities. Oprah, Megan Thee Stallion, and Paris Hilton are just a few famous Aquarians that have blessed the public with their presence. So if you're in the market for new ink or thinking of getting a tattoo for the first time, consider going the astrology route if this is an important sign for you. Celebrate the water bearer and scroll down for the 10 coolest Aquarius tattoo ideas.