Bustle's Most Wanted Awards
31 Summertime Body Care Essentials That'll Keep You Glowy All Season Long
As chosen by our editors.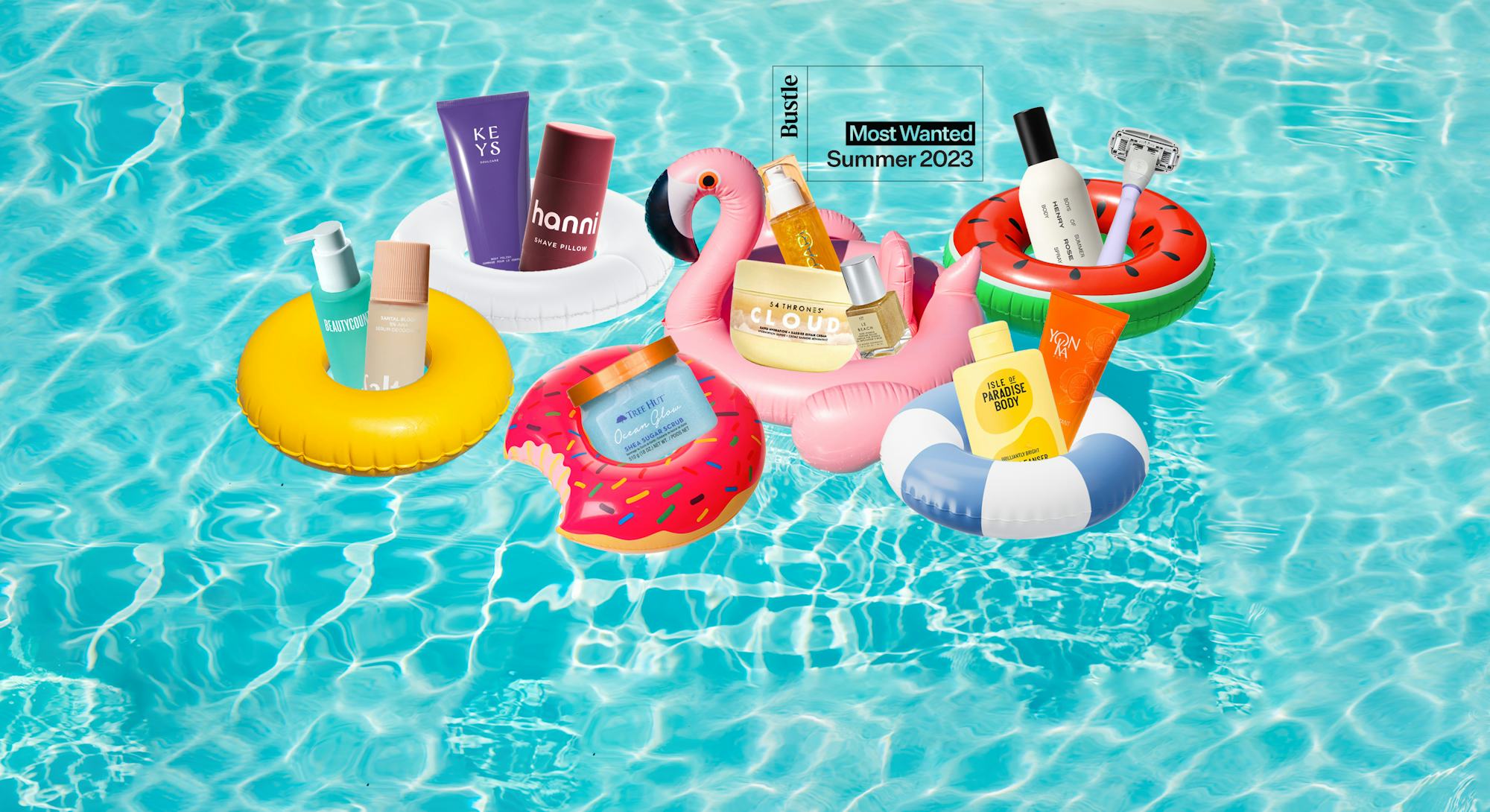 In the summertime, your beauty routine can change quite a bit, whether you're combatting humidity's effects on your strands or reaching for brighter nail polish colors like Barbiecore pink on your fingertips. Taking up most of your regimen, however, is caring for your skin — not only on your face, but the skin beneath your neck as well, as you frolic about in dresses, jorts, and swimsuits. 'Tis the season of body care, folks.
Thankfully, the beauty shelves are chock-full of dreamy formulas that'll keep your limbs positively glowing as you enjoy your fave warm-weather festivities. Think: sunscreen sprays that protect while providing a light-catching shimmer, body oils that double as perfume, self-tanners that deliver without the messy aftermath, scrubs that slough away strawberry skin — and many, many more.
To ensure your skin stays nourished and radiant all season, Bustle's beauty team has curated the ultimate shopping guide to remove the guesswork. Keep scrolling for the absolute best body care products of summer 2023, each of which will keep you positively luminous from head to toe.
Body wash is the star of your everything shower, so it can either make or break the experience. If you suds up with this cleanser, your skin will be nice, smooth, and nourished, thanks to vitamin C, hyaluronic acid, and niacinamide — and its tropical notes of pineapple and grapefruit will transport you straight to vacation mode (even if you're far from it).
While this Barbie-pink bottle will brighten up any shower, the formula inside is the star. Made with a cocktail of AHAs, it gently sloughs off dead skin cells, leaving skin feeling baby-soft. Plus, the scent will instantly transport you to a sipping-on-a-mai-tai state of mind.
Editors love Flamingo razors for their ergonomic design and smooth shave. The Starter Set comes with the brand's Foaming Shave Gel, which ensures a silky glide, and a shower holder to display the razor like the work of art it is.
Keys Soulcare's body polish is less of a harsh scrub and more of a gentle clay-based exfoliant that melts into the skin to leave it silky-smooth. The soothing oat scent leaves you feeling instantly relaxed and turns any shower into a spa.
Scrub your way to silky smooth skin with a combination of sugar, shea butter, and natural oils (such as macadamia, avocado, and sweet almond). The dreamy scent will make you want to reach for it during every shower session, and luckily, it's got enough grit to exfoliate away dead skin cells while being gentle enough for daily use.
The ultimate summer travel companion, Hanni's Shave Pillow — a richly hydrating mix of glycerin, olive oil, and cactus water — can be used in multiple ways. In the shower, you can swipe it on damp skin before shaving to help your razor glide smoothly over your limbs and protect against nicks. Alternatively, the product can be used on dry skin to moisturize on the go.
Milky beauty products are trending right now, which is a good thing for your skin. Channel your inner Cleopatra by splashing some of By/Rosie Jane's weightless toner-slash-moisturizer onto your limbs, and then enjoy how much softer your skin feels.
Taunt has recently become an it-girl fragrance beloved for its enticing blend of bergamot, vanilla, and amber notes. Thankfully, DedCool has done the world a favor by incorporating the famous scent into its hand and body lotion, so you can smell absolutely divine — and stay moisturized — all day long.
Every Uni product is Earth-conscious and sleekly designed, but the 24-Hour Serum is a standout. Inspired by facial skin care, the potent serum sinks in instantly (no greasy feeling!) and is filled with active ingredients like Australian lime caviar and kakadu plum to brighten, tone, and boost elasticity over time.
Yes, your body needs retinol, too. Nécessaire's version is made with a potent 0.1% pure retinol with 10% AHAs to help smooth and brighten sun spots, crepiness, and bumps on the body, leaving your limbs smooth and summer-ready.
A solid serum stick might not be high on your list of must-haves, but Being Frenshe's offering is perfect for adding hydration on limbs, elbows, and anywhere else you need on the go, and the Cashmere Vanilla scent is an instant mood-lifter.
Peptides and hyaluronic acid are buzzy ingredients when it comes to facial products, and the skin below your neck deserves the same TLC. Combining those ingredients with shea butter, jojoba oil, and other hydrators, the 54 Thrones Barrier Cream is a heavenly body-focused formula that smells like vanilla and honey.
Whether or not you're moisturizing a pregnant belly, the Dezi Skin Bebé Balm is a decadently rich cream that feels yummy and lush all over. Formulated with a lively combination of mango, aloe, tangerine, and cocoa seed butter, the deep body hydration is akin to what slugging does for your face (and has a subtle aroma that is reminiscent of the tropics). Your routine won't be the same without it.
Consider this the most luxurious way to moisturize your skin this summer. The oil is light yet filled with a potent roster of nourishing skin essentials, including rice bran, squalane, calendula, and jojoba oil. Immediately after your limbs soak it up, you're left with a gorgeous glow — and smelling like an enticing blend of bergamot, pear, jasmine, coconut, and amber. Wear this in lieu of fragrance to smell tropical all day long.
In the wonderful world of fragrance, perfumes are often associated with a certain long-lastingness that is luxe and mature, while body mists and sprays are their playful, sweet-smelling counterparts that quickly fade. The Henry Rose Body Sprays, however, defy that (sometimes accurate) reputation, with a collection of genderless aromas that are all things complex and powerful.
Le Monde Gourmand already has one TikTok-viral fragrance in its arsenal, and Le Beach is truly an aroma that embodies peak summer (and is well on its way to gaining a cult following, too). Brimming with sunny ylang-ylang, soothing coconut water, earthy jasmine, and smooth vanilla, this perfume oil radiates a carefree, Euro summer aura. What's more, the sparkling elixir adds a dewy glimmer to one's skin, making it the perfect accessory for those intimate, sultry moments when the summer sun sets.
With nourishing argan oil and vitamin E, this dry body oil leaves velvet-soft, luminous skin and an intoxicatingly decadent yet delicate aroma in its wake. Inspired by the sultry aura of Cleopatra herself, the scent by Tocca is made bright by way of juicy grapefruit, which quickly melts away as dreamy jasmine, earthy patchouli, and a sweet vanilla note take center stage.
Natural deodorants can be tricky, but the Saltair Serum Deodorant is a unicorn within the category; you can trust it to work its magic in the summer heat while smelling soft and yummy. The formula is filled with skin-loving ingredients like niacinamide, which works to brighten and soothe the underarm area, and mandelic acid, which keeps you feeling fresh through sweaty workouts.
Even if you've long been a stan of Dove's body care essentials, you're sure to fall in love with its latest launch in the deodorant category. For one, it's safe for sensitive skin, much like everything else by the brand. Most impressively, however, is that it offers a full 72 hours of protection — without being irritating or heavy on the skin. That's thanks to its gentle, hydrating formula that goes on dry. The only remaining trace? Its minty fresh cucumber scent.
Why not reach for a sunscreen that makes you shimmer in the sun like a siren? Kopari's Sun Shield Body Glow protects, sure, but it does so as it hydrates with coconut, avocado, and macadamia seed oils — and gives you a golden, mermaid-esque radiance thanks to sustainably sourced mica. Perhaps the best part (besides the glow) is that it smells like a freshly made piña colada.
If you're diligent about applying sunscreen to your face but not your body, this is exactly what you need: a body lotion that's secretly spiked with mineral-based SPF 30 protection. It feels like a perfect, everyday moisturizer, but it's working double duty.
Have sensitive skin and prefer mineral sunscreens? Slather on this lightweight SPF 50. It's water-resistant, suitable for all skin types, and can be used on both your face and your body. Consider it the ultimate summertime multitasker.
Ignore everything you thought you knew about body SPFs. The opposite of thick, white, and gloppy, Supergoop's Glow Oil drenches the body in a sheen of gleamy hydration without feeling greasy. Plus, the SPF 50 ensures adequate sun protection (but don't forget to reapply!).
A self-tanner in foam form might make you wary, but all those fears will fade after you try this one from Saltyface. All you need is one pump per area; it goes on clear, won't transfer, and won't turn you orange — and it's filled with skin boosters like aloe vera, glycerin, and chamomile flower extract. You're in control of how dark you want to go: The tan will continue developing for 24 hours, but you can rinse after an hour or two if you're looking for something more subtle.
Self-tanning at home can be tricky to nail, with orange wrists and fingers a common faux pas. This tanning water, however, gives the most subtle, natural glow to the fairest of skin, and truly is foolproof. Plus, its skin-loving formula is filled with hydrating hyaluronic acid and firming vitamin C. What's more, the sun-kissed glow only takes about 30 minutes to develop, cutting down a typical self-tan routine by hours.
Ever wondered how countless A-listers achieve their sun-kissed, "just went to the islands" glow? Well, Isabel Alyssa is likely the tan artist behind their glistening skin — and luckily, she's dropped a collection of luxe tan-centric products that enhance your natural complexion's tone. The Mia Instant Body Glow, for one, is a stain-proof, transfer-proof, scentless, lightweight cream formula that effortlessly glides on the skin, adding a red carpet-approved golden shimmer all over.
An antioxidant-rich body milk that adds a natural-looking glow? Sign us up. Yon-Ka created a cult hit with its Lait Auto-Bronzant, which feels like a silky serum, has no fake-tan smell, and allows you to build your glow over time. What's not to love?
Ingrown hairs are a nuisance, but they don't have to be. Cut the annoyance out of your body care routine by using these foolproof pads: They're like a toner for your bikini line that works specifically to prevent those pesky bumps from forming post-shave. With witch hazel plus exfoliating salicylic and glycolic acids, your skin's in good hands.
Formulating with exfoliating lactic and glycolic acids along with avocado and macadamia seed oils, Beautycounter's body peel rids dullness and brightens as you snooze. Smooth it on your body before bedtime and you'll have softer, more glowy skin by the time you wake up in the morning.
Prefer to go the fragrance-free route? If you opt for Naturium's offering, you'll get that and a powerhouse mixture of 10% glycolic acid — which boosts cell turnover, smoothes, and brightens — and hydrating shea butter. Your skin will drink it right up.
Consider this your smooth-skin savior. The exfoliating scrub targets strawberry skin, bumps, and rough patches with its blend of alpha-hydroxy acids and a physical exfoliant (perlite, which comes from volcanic rock). Add it to your shower routine two to three times a week for dolphin skin.