Cleansing Sticks Are The Ultimate Lazy Girl Beauty Product
They make washing your face feel less like a chore.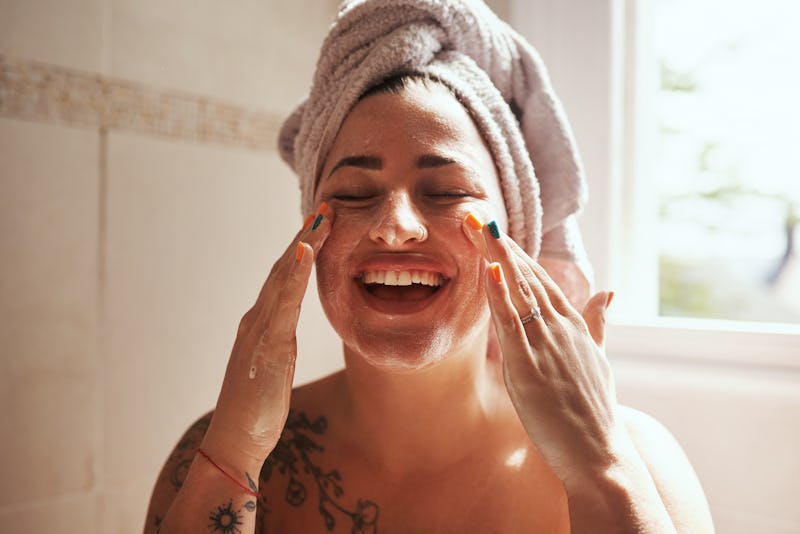 Getty Images/ PeopleImages
I've recently discovered the ultimate lazy girl beauty hack for those among us who, like me, have a hard time sticking to a robust skin care routine: cleansing sticks. And they make the task of washing your face much easier.
The beauty product category has been thriving, even more so during the pandemic. According to a report by analytics platform Trendalytics on the current state of the industry, searches for cleansing sticks have gone up by a whopping 268%. Of course, the main appeal is the product's ease — but cleansing sticks are also portable and waterless, the latter of which gives them major sustainability points.
Though they may look like lip balm, they're actually a solid cleanser that you simply rub over your face to remove gunk and buildup. Typically, you wet your skin, rub the cleansing stick over your cheeks, chin, and forehead, then use your fingers to create a foam. You rinse it off as you would any other cleanser, but without any of the goop or mess that can come with a liquid or foam version. And that's it.
Cleansing facial sticks get expert approval, too. "They offer the same types of benefits as cleansing bars and an ultra-portable delivery system," says Dr. Joshua Zeichner, M.D., a board-certified dermatologist based in New York City. The products are perfect for travel because they're not liquids, so you can throw one in your purse without any fear of getting hounded by the TSA. Honestly, you'll never have a good enough excuse to be caught without face wash ever again. Plus, since you're working with a solid rather than a liquid or oil, it's fairly simple to target specific areas on your face. It's like point masking, except with cleansing.
When it comes to picking a specific product, the efficacy comes down to ingredients and finding a formula that makes sense for your skin type. A pro tip: "If you have sensitive skin, avoid sticks that contain fragrances and look for those that use gentle, non-soap cleansing ingredients," says Zeichner. That's because A) fragrances can cause irritation and B) cleansing agents like sulfates can be drying and irritating.
There are plenty of options on the shelves to choose from, each of which does something slightly different. If you're ready to ditch your soap for a stick, here are seven cleansing sticks that might just change the way you think about washing your face forever.
We only include products that have been independently selected by Bustle's editorial team. However, we may receive a portion of sales if you purchase a product through a link in this article.
Shop Cleansing Sticks
A Tried & True Cleansing Balm
This Julep stick is an oil-based formula with rice bran, camellia seed, and grapefruit peel oils, and works to effectively remove makeup while still remaining gentle enough to use every day.
A K-beauty Classic
Like many skin care trends, cleansing sticks first gained popularity in the K-beauty market. This one by Neogen does it all — it's packed with oils to hydrate and cleanse skin while the green tea gently exfoliates the skin and keeps pH levels low.
A Gentle Exfoliant
A big part of the cleansing stick's appeal is the grab-and-go aspect. If you find yourself overwhelmed by the accumulated grime on your epidermis throughout the day, whip this out for a mess-free way to gently exfoliate any buildup with rice grains.
A Mask-Stick Hybrid
If the transition to a solid face wash seems a bit much, consider this option from Tarte, which is somewhere in between a cleansing stick and a gel. While it does the face washing job, it can also be used as quick mask for when your skin needs a quick reset. The fossilized sea algae in the formula absorbs excess oil, exfoliates, and hydrates all at once.
The Multitasker
You can basically check off three skin care steps with a few swipes of this cleansing stick. It'll handle your makeup, dirt, and then leave your complexion hydrated. You're also feeding your skin its greens: green tea, spinach leaf, and parsley extracts in the formula nourish your face so it stays plump and protected.
The Drugstore Buy
Drugstore staple brand St. Ives is even on the cleansing stick train. Massage this coconut oil-based tube — which also contains hydrating cactus water and hibiscus extract — into your skin to infuse your complexion with moisture, even after you rinse.
The Sweet-Smelling Option
This cleansing-slash-exfoliating stick from Hempz removes the gunk from your pores, sure, but it also smells nice. Koa and sweet almond extract treat you to a nice fragrance as you wash your face, and your skin stays hydrated because of the pure hemp extract, glycerin, and sunflower seed oil within the formula.
This article was originally published on