TikTok's "Eyeshadow Nail" Hack Gives Your At-Home Manis A Major Glow-Up
Grab your nearest eyeshadow palette.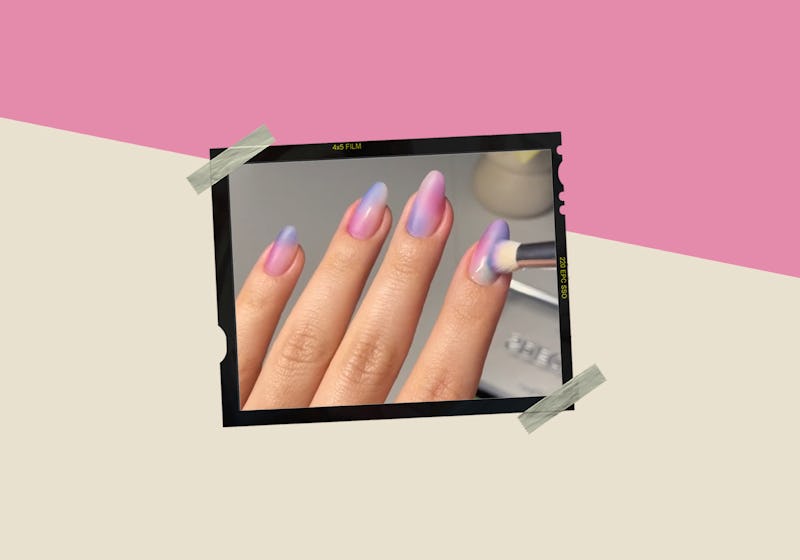 TikTok/@simlynail
Whether you've been wondering what to do with your stack of almost-empty eyeshadow palettes or just want to get funky and creative with your next manicure, then you need to brush some eyeshadow onto your nails ASAP. That's right: eyeshadow.
With over 5.6 billion views on TikTok, eyeshadow nails have quickly become one of this year's buzziest nail art trends. What sets them apart is the color. In a world of neutral lip gloss nails, creamy glazed donut manis, and milky white polish, a bright, bold pop of eyeshadow feels like a welcome change — and is the easiest way to DIY an airbrushed, tie dye-esque manicure at home.
Take a look at all the eyeshadow nail polish videos on TikTok, and you'll see creators going to town with neons, pastels, metallics, and glitters. Some blend multiple colors on their nails for an aura manicure with spirals of pigment, while others dot shimmery shades just on their fingertips for a dazzling pop. With eyeshadow nails, it's all fair game.
Here's what to do: After laying down a top coat or base nail polish, dip into an eyeshadow of your choice. Use a makeup brush to tap the eyeshadow onto your nail right before the base coat fully dries. That way, the powder will melt into the polish and create a soft, textured, airbrushed effect that feels so right for summer. Finish with a clear top coat and you'll be set.
Seriously, how pretty is this look from @simlynail? After creating a clean, neutral base with a pink or clear polish, all you have to do is gently dust on some color using a small brush. To create a tie dye effect, go for shades in the same family, like pink, purple, and blue.
While it's always fun to step out for a manicure, eyeshadow nails are an easy way to create a new nail look all on your own— and save some cash in the process. It's also ideal if you're feeling #thrifty and want to put forgotten palettes to good use.
You can also turn to the eyeshadow nail art hack for a chrome-like finish. Just take a sponge, dip it into one eyeshadow color — glitter works great for chrome nails — and tap it all over your nails. Once you slick on a top coat, it'll smooth the powder for a flawless finish. Easy peasy.
Eyeshadow also sticks nicely on the tips for a DIY micro French or ombre effect. Do your at-home manicure as per usual, then pat the pigment onto the ends of your nails. Go for darker tips and blend into a slightly lighter shade as you reach the middle of your nail. This trend is pretty much foolproof, and the results are swoon-worthy.