Experts Demystify Those Foot Peel Masks You're Seeing All Over TikTok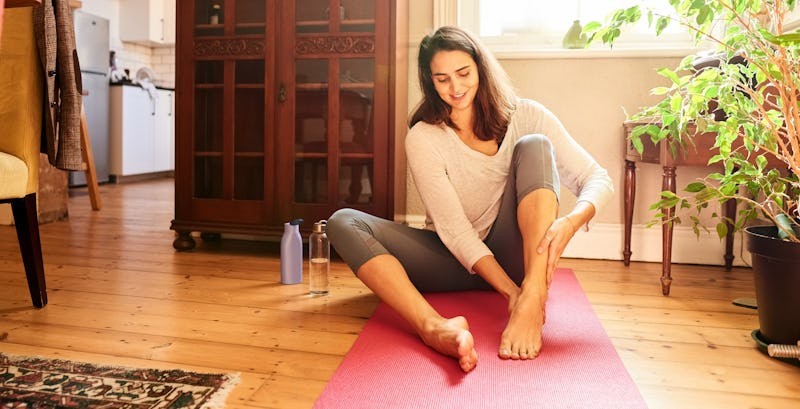 Getty Images/AJ_Watt
If you happen to search for foot peel masks on TikTok, you'll come across over 4 million graphic videos of people sharing their experiences using the trending product category. Similar to a chunk of the population's affinity for watching pimple-popping videos or blackheads being squeezed out of noses, foot peels have grown to become quite the gross-but-oddly-satisfying beauty trend. But that begs the question: Are they actually good for you?
Basically, foot peeling masks work by using chemical exfoliants to slough away the large amount of dead skin cell buildup on your soles (especially your heels). "They contain a variety of ingredients, most commonly urea, salicylic acid, hyaluronic acid, ceramides, and essentially a combination of ingredients that break up dead skin cells and hydrate," says Dr. Rachel Nazarian, MD, a board-certified dermatologist based in New York City. After wearing a mask on each foot (kind of like a sheet mask-sock hybrid) for about an hour, you're left with molting layers of skin for up to a week as your soles shed to reveal — after a pretty gross process — fresh and baby-smooth softness.
Your feet do need extra TLC when it comes to skin care, which can be hard to keep top of mind since they're usually tucked inside of socks or shoes. "If you look under a microscope, the dead skin layer of your soles is tremendous, like a mountain," says Dr. Loretta Ciraldo, MD, board-certified dermatologist and founder of Dr. Loretta skin care. "It's the thickest skin on your body, and it's kind of like a coat of armor." Being on your feet causes them to get even thicker: "Most people find that their skin starts to thicken and build up, especially if they're super active or run a lot," says Nazarian.
As you can do with your face, you can remove dead skin cell buildup on your feet with either physical or chemical exfoliants. But dermatologists have mixed feelings about using these chemical-based exfoliating masks. Nazarian's a fan, though notes there's a downside: "The biggest issue is that you can't walk around or get any work done until you take them off," she tells Bustle.
According to Ciraldo, skin peeling often indicates inflammation — which isn't a good thing. "I'd proceed with caution — you don't want to be on your feet as they're peeling," she says. "Especially if you have sensitive skin or are on your feet a lot during the day, you're putting a good amount of pressure on your feet. So you'll have lots of discomfort." Podiatrist and TikTok user @Toppodiatry also points to the strong acids that lead to so much exfoliation: "I don't recommend these and don't see the need to remove every bit of skin on the feet — it can be highly dangerous and lead to complications like blisters and infections," he said in a video posted on his account.
What can you do to combat thick, cracked heels then? Ciraldo is all about physical exfoliants. "I'd suggest using a pumice stone or a grater exfoliant you can get at the drugstore," she tells Bustle. "Just scrub your feet with one of these once a week when you get out of the shower and you're still damp to prevent that buildup."
If you just really want to try one of these all-famous peels, however, Ciraldo recommends leaving it on for less time than the instructions say (30 instead of 45, for instance). "Feet can be so sensitive," she says. She also advises steering clear of these if you have any kind of rash, like athlete's foot, or a condition like eczema or psoriasis because it could exacerbate the issue. Other than that, get ready to deal with days of shedding. Nazarian's pro tip? "Just focus on how beautiful your feet look afterward!"