How To Recreate Mary-Kate & Ashley's Signature Hair, According To Their Stylist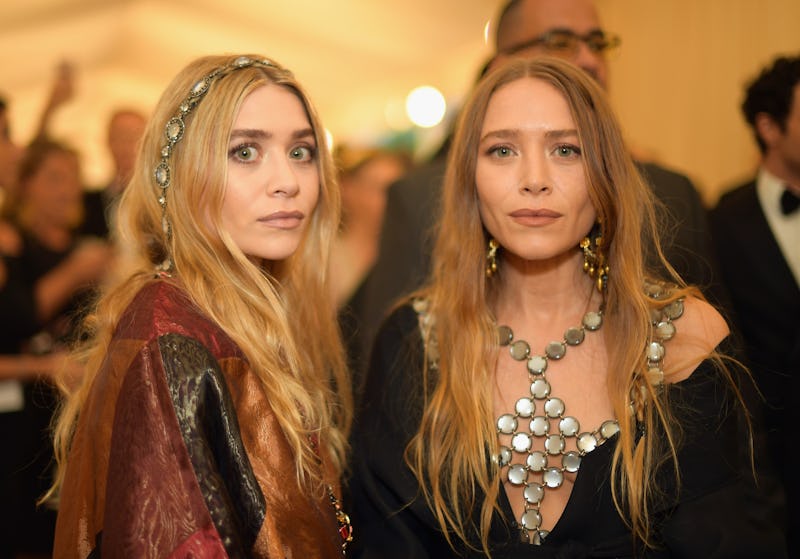 Matt Winkelmeyer/MG18/Getty Images Entertainment/Getty Images
In terms of iconic celebrity hairstyles, few have reached the same mythical heights of the Olsen twins' signature undone, perfectly messy 'do. The style is theoretically simple — but, if you've ever attempted it at home, it's not that easy to achieve... which only adds to its intrigue. In the quest for Mary-Kate and Ashley's hair, Bustle spoke to their actual hairstylist to get the lowdown.
The pro in question? Mark Townsend, the stylist responsible for the luscious manes of many celebrities, including Dakota Johnson, Riley Keough, Elizabeth Olsen, and — of course — the ones in question: the Olsen twins. Mary-Kate and Ashley are known for their Rapunzel-level strands that always have the chicest waves and tousled, effortless vibe, whether they're worn in a messy bun or flowing down their backs. The twins' laissez-faire approach to their hair is just... *chef's kiss*.
When thinking about recreating their undone-but-done look, you've got to consider what you're working with: your hair type, texture, and length. According to Townsend, anyone can replicate the style, but your texture will determine how many steps it'll take to do so. If your hair is curly, for instance, he says you'll have to blow it out straight first.
Your hair should have some length to work with when nailing the MKA look. Townsend says it can be anywhere from a bob to waist-length. Then, figure out what part to go with. "The style is usually seen with a middle part but can be done on a side part — just expect more volume," he tells Bustle. When it comes to freshly washed or day(s) old hair, the choice is also yours. "Ashley will usually sit down with clean hair straight out of the shower and Mary-Kate will usually have second-day hair," he shares. With this preliminary info in tow, here's the step-by-step on recreating Mary-Kate and Ashley's hair, straight from their stylist.
We only include products that have been independently selected by Bustle's editorial team. However, we may receive a portion of sales if you purchase a product through a link in this article.
1. Dry Your Hair
If your hair is freshly washed and soaking wet, Townsend says to begin by applying a defining mousse to your strands. Then, "if you have the time, air-dry your hair in two loose braids," he says, explaining that this will allow you to skip the forthcoming steps involving a hair iron.
2. Style The Roots
If you are working with second or third-day hair, Townsend says to refresh your scalp with dry shampoo. Freshly shampooed your locks? "Take a blow dryer and dry the top section of the hair to create volume and smoothness," he says.
Once you've taken care of the base of your roots, Townsend says to spritz your hair with a heat protectant spray before moving onto the styling tools. "This will work to smooth flyaways and add shine to the hair," he says.
3. Use Your Styling Tools
Time for your heat styling tools. For this step, you can use a double-barrel iron, a curling iron, or a flat iron. "A double-barrel iron to achieve this look is my personal preference," Townsend says.
"Take the double-barrel iron and create an uneven bend to create waves on 2 to 4-inch sections of hair," he tells Bustle. To maintain the ease and "undone" nature of the Olsen twin look, he says to avoid making these sections perfect or symmetrical — the bits should be random.
If you are using a curling iron or a flat iron, Townsend advises to use it "like a wand and just wrap the hair around the iron instead of the clamp" when creating the waves.
4. Zhuzh The Hair
Finishing off the style comes down to personal preference, but Townsend has a few tips. If you want some lift at the roots, apply a dry shampoo to the crown and backcomb. If your hair needs some added treatment, whether with a smoothing serum or finishing cream, you can work that into your strands.
And to maintain the look of ease throughout the day (and beyond): "Use a flexible holding spray and a natural bristle brush to tame down any flyaways on the hairline," says Townsend And finito — enjoy your enviable Olsen twin-style hair.