7 Things You Didn't Realize Happen To Your Hair When You Air Dry It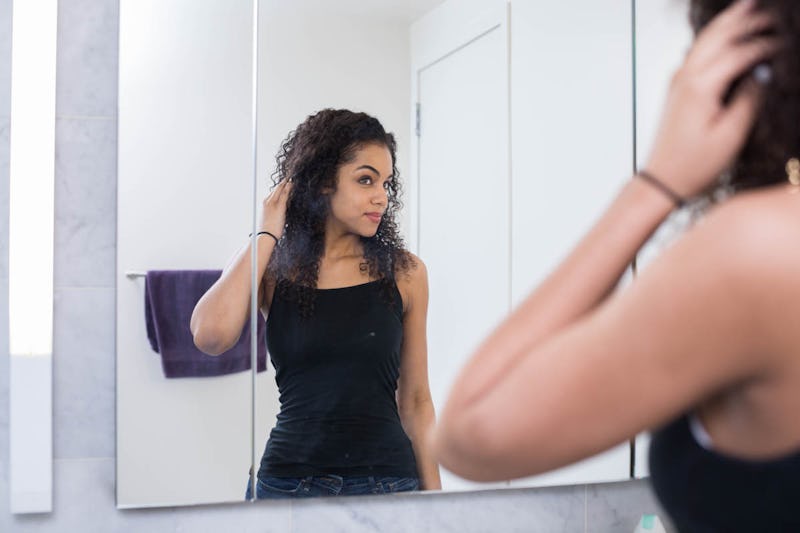 Ashley Batz/Bustle
When you've stepped out of the shower, you likely go directly into your most comfortable hair routine; without necessarily thinking about what's best for your hair's health in the long-term. Luckily, air drying hair is no better or worse than heat-styling it. You just have to make sure you understand the pros and cons.
Air drying can be convenient for those who like a no-fuss hair routine. It can prevent long-term damage due to heat-styling as well. But it can be bothersome. Anyone who's gone out in the cold or fallen asleep with wet hair knows that it isn't always easy to let your hair dry naturally.
Air drying your hair isn't great if you want to achieve a specific look, either. "The benefit of air drying hair is that you are not using any real heat to dry your hair; however, you cannot manipulate the way it dries like you can with heat," Edward Tricomi, master stylist from Warren Tricomi, tells Bustle. "There are some haircuts that air dry better ... [but] at the end of the day, it is the luck of the draw when it comes to air drying." Because it's such a tossup, it's important to ask your stylist's advice, and understand what's really going on with your hair when you air dry it.
Here are seven things you didn't realize happen to your hair when you air dry it, according to experts.