Hundreds Of Top Beauty Brands Are Coming To Kohl's Sephora Stores
Including Fenty Beauty, Drunk Elephant, and more cult faves.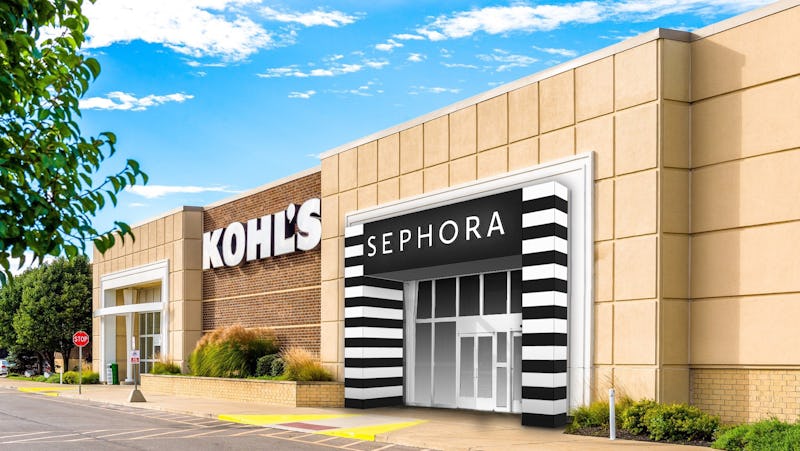 Kohl's
Kohl's may have started out as your typical department store but it has evolved into a true one-stop-shop. When you find yourself at one of its many locations dotting the country, you can grocery shop at Aldi, drop off Amazon returns, and even get in a workout at Planet Fitness next door. And, starting in August you'll also be able to re-up your skin care and makeup supplies when hundreds of prestige beauty brands launch at Sephora at Kohl's locations.
Although Kohl's partnership with Sephora has been underway for almost a year now, a wide selection of the beauty retailer's exclusive brands and products will be available at 200 of these in-store locations and on Kohls.com this August. Kohl's, which has 1,150 stores nationwide, plans to integrate the new prestige lines into at least 850 stores by 2023.
The beauty brands coming to Kohl's include serious cult favorites: Think Drunk Elephant, Fenty Beauty and Skin, Rare Beauty by Selena Gomez, and way more. According to the retailer, at least 75% of the products stocked at these in-store locations will be exclusive to Sephora and Sephora at Kohl's, and span skin care, hair, makeup, and fragrance essentials. Considering there are roughly 500 Sephora stores across the country, this partnership means that getting your hands on those covetable beauty products is about to become way more accessible. Plus, Kohl's has purported that 85% of the US population lives within 15 miles of a store — so snagging that latest Fenty Beauty drop will be easier than ever.
If you haven't yet experienced Sephora at Kohl's, expect to see a beauty haven of 2,500 square feet filled with a plethora of must-have items. As a bonus, you'll be able to reap those same sweet Sephora rewards member perks when you shop at these locations. With launches of iconic brands like Tatcha, Milk Makeup, Briogeo, Ole Henriksen (and so many more), the Sephora at Kohl's locations will be an air-conditioned way to stock up on your summer beauty essentials.