If You Buy Nothing Else From The Ordinary, Buy This
It's the unsung hero of the cult-favorite brand's entire line.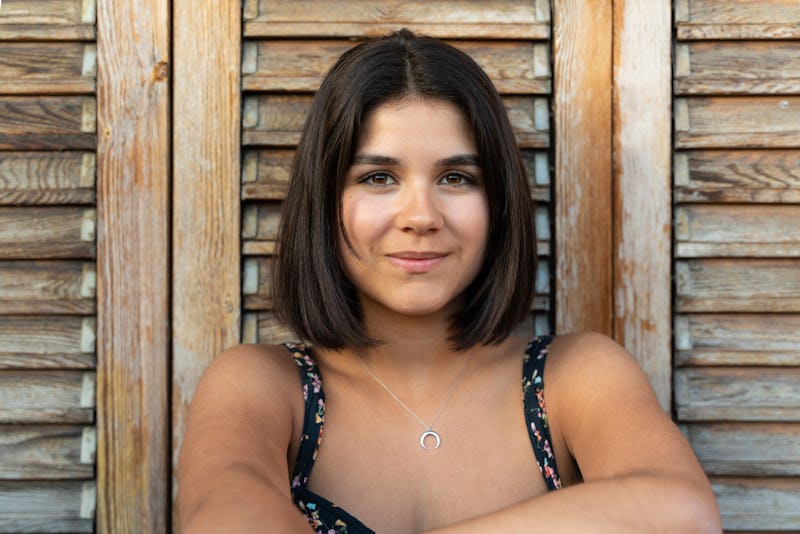 Getty Images/ caracterdesign
Beauty devotees already know about the clout behind skin care brand The Ordinary. They may have already gone through a few bottles of its cult-favorite AHA + BHA Peeling Solution, "Buffet," and Hyaluronic Acid 2% + B5 serum. But I'm here to argue that its most slept-on product is The Ordinary's 100% Niacinamide Powder.
As is the case with the majority of The Ordinary's skin care line, the product name is transparent — so, with this one, you're literally getting niacinamide in powder form. Nothing more, nothing less. The brand has another niacinamide-based product — the Niacinamide 10% + Zinc 1% — but it contains serum formula necessities like water and preservatives. If you want to soak up as much of the active ingredient as humanly possible, you're going to want to opt for the niacinamide powder.
Niacinamide, aka vitamin B3, is having quite a moment. The all-star antioxidant bestows your skin with a long list of covetable benefits when applied topically: It combats hyperpigmentation, strengthens the skin barrier, fights acne, soothes irritation, and improves the appearance of fine lines. "[Niacinamide] kind of does it all," says Dr. Adarsh Vijay Mudgil, M.D., a board-certified dermatologist based in New York City. What it's mainly renowned for? "It reduces redness and inflammation in the skin, helps those who are acne or rosacea-prone, and can even help with pore size," he tells Bustle, noting that the vitamin is one of his favorites for skin care (that's a big deal for a derm to say, BTW). Beauty pros previously told Bustle they anticipate niacinamide as being one of the year's buzziest ingredients, too, which is yet another reason to add this skin care powder to your cart ASAP.
We only include products that have been independently selected by Bustle's editorial team. However, we may receive a portion of sales if you purchase a product through a link in this article.
When you use niacinamide powder — rather than a serum or cream — you're getting the ingredient in its most direct, potent form. In theory, this means you'll also have less of a risk of irritation. Your typical beauty product has a much longer ingredients list, and each item on the list may or may not interact well with your complexion. Since this is just niacinamide powder, your skin gets to drink up the active without any fillers or preservatives (if you don't count the product you mix it with as your vessel).
How To Use It
It can feel intimidating to work with a beauty product in dust form, but The Ordinary makes it easy. The niacinamide powder comes with a tiny scooper for you to measure it out with: All you need is a quarter of the spoon (basically a pinch) mixed with a water-based serum or cream, and you're good to go. The vitamin is water-soluble, hence the mixing instructions — go with something like a hyaluronic acid serum or other gentle, water-based formula.
Be sure to avoid any other highly-concentrated actives — steer clear of culprits like vitamin C, chemical exfoliants (think glycolic or salicylic acid), retinol, and anything with a pH level of five or lower. (If you're a vitamin C user, The Ordinary suggests applying it at a different time than your niacinamide powder, like morning versus nighttime.) This is to ensure your complexion doesn't have any adverse reactions from two (or more) superstar actives fighting head-to-head on your top layer of skin.
I've been mixing the niacinamide powder with a simple hydrating serum (Typology's Microbiome-Balancing Serum to be exact) each morning for almost two weeks now, and I'm blown away. I'm not new to the vitamin B3 game — I've gone through bottles of products spiked with the ingredient — but this is the first time I am really seeing everything it promises to deliver to your skin. My stressed-out complexion is less red, more radiant, plumper, and overall... better looking. If you've been considering the MVP beauty ingredient for your own routine, take it from me: Try The Ordinary's Niacinamide Powder. I'm a firm believer it's the unsung hero of the brand's entire collection.
Studies referenced:
Bissett, D. (2005). Niacinamide: A B vitamin that improves aging facial skin appearance. Drmatol Surg. https://pubmed.ncbi.nlm.nih.gov/16029679/
Draelos, Z. (2006). The effect of 2% niacinamide on facial sebum production. J Cosmet Laser Ther. https://pubmed.ncbi.nlm.nih.gov/16766489/
Levin, J. (2010). How Much Do We Really Know About Our Favorite Cosmeceutical Ingredients? The Journal of Clinical and Aesthetic Dermatology. https://www.ncbi.nlm.nih.gov/pmc/articles/PMC2921764/
Experts:
Dr. Adarsh Vijay Mudgil, M.D., a board-certified dermatologist based in New York City