14 Household Items Women Have Used As Sex Toys
You'll never look at a vegetable the same way.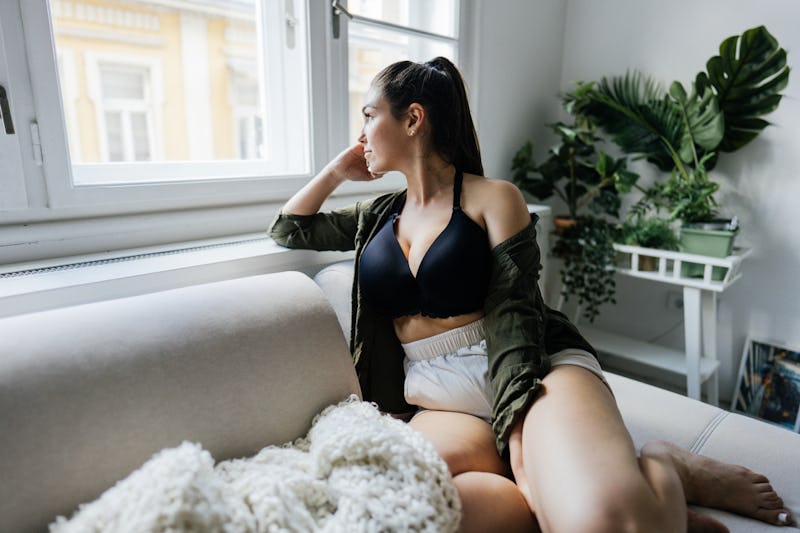 AleksandarNakic/E+/Getty Images
While you might have a solid stash of vibrators on hand, sometimes boredom — like the kind we're all experiencing during the pandemic — can push you to rummage through your apartment in search of household items to use in the bedroom. In other words, if your hairbrush or remote control are starting to look mighty sexy, you definitely aren't alone.
The desire to play around with elongated instruments, however, is nothing new. According to a 2016 survey from Superdrug Online Doctor of 976 people, ages 18 to 71, 70% of women have used a household item for sexual pleasure. Whether it was during a masturbation session or with a partner, the survey didn't say. But it just goes to show that there are more ways to have fun while stuck at home than you might think.
Research has also shown it's healthy to experiment and see what feels good. In fact, a 2019 study published in The Journal of Sex Research reported that sex toy use is a common and beneficial sexual behavior. So, if you want to see what it feels like to play around with a hairbrush handle, be safe — and give it a try! Here, the 14 most common things to masturbate with, according to SuperDrug Online Doctor.
Sources:
Superdrug. (n.d.). Sex toy 101. Retrieved March 03, 2021, from https://onlinedoctor.superdrug.com/sex-toy-101/
Döring, N., & Poeschl, S. (2019). Experiences with DIVERSE sex toys among GERMAN Heterosexual Adults: Findings from a national online survey. The Journal of Sex Research, 57(7), 885-896. doi:10.1080/00224499.2019.1578329
Carvalheira, A., & Leal, I. (2013). Masturbation among women: Associated factors and sexual response in a portuguese community sample. Journal of Sex & Marital Therapy, 39(4), 347-367. doi:10.1080/0092623x.2011.628440